The power of plants in film
Plants are amazing, there's no denying that. Incorporating plants into our homes connects us to nature and can add architectural interest and colour to our interior design scheme. Importantly, they also clean the air. Let's take a look at some memorable scenes in films which demonstrate the astonishing power of plants and allow us to introduce you to a handsome little green-tech air filter which is as powerful as over three thousand houseplants.
The oak tree in Passengers
In the sci-fi Passengers, an immense interstellar spacecraft called Avalon is carrying thousands of people to a colony 60 light years from Earth. Two passengers, Jim and Aurora (Chris Pratt and Jennifer Lawrence ) are awakened 90 years early from their induced hibernation.
Avalon has been filled with thousands of pods to preserve plants, animals, and other genetic material that would be essential to their survival and during the film Jim plants a small Pin Oak into the deck of the spaceship.
Nearly 90 years later, in the film's finale, we discover a huge oak tree in the ship's grand concourse, with trailing vines, lush vegetation and flying birds – a real Garden of Eden.
The spaceship is transformed into a beautiful natural oasis and since plants absorb carbon dioxide and emit oxygen, the increased oxygen level on board Avalon can only have enhanced the much needed O2 levels.
Watch Passengers final speech scene, which shows the green oasis, below.
The Aglaonema plant in Leon: The Professional
Solitary hitman Leon, when not efficiently despatching enemies of his Mafioso employer, displays a surprising tenderness as he looks after his 'best friend', an Aglaonema silver queen.
This plant injects colour into the room which is otherwise a dreary blend of dirty, faded neutrals. The whole picture mumbles tired neglect in contrast to the plant itself which is full of life and perky vigour, a symbol of hope and the redemptive powers of the natural world.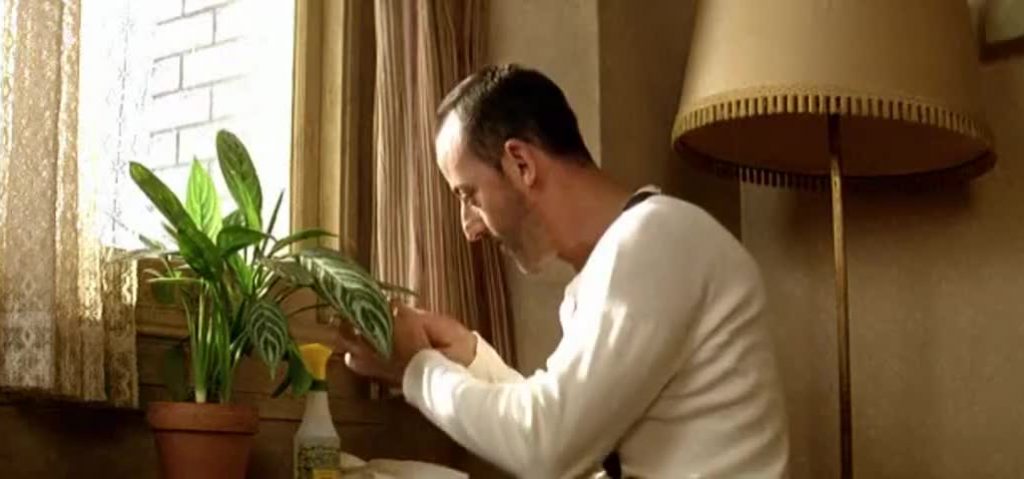 The Aglaonema plant helps to improve the air quality of indoor spaces with the ability to filter indoor air pollutants and toxins. So this leafy little indoor plant was more of a benefit to Leon than he or we might realise.
The plant in WALL-E
How could we forget the delicate sapling in WALL-E? This little plant held all the power of Earth's future in those leaves.
The small seedling tree was growing in a broken fridge on Earth and discovered by WALL-E, the cute little robot programmed to clean up and compact Earth's trash. It's the only green thing we see in an otherwise barren, polluted landscape devoid of life (save his plucky cockroach friend).
WALL-E keeps it safe in an old boot he found and takes it to the transport vehicle where he lives and where he hoards all his interesting finds. This humble plant may well be the last plant on earth and plays a pivotal role in the film: The precious plant needs looking after so humanity can return to earth – a reminder of the importance of looking after nature and biodiversity on our planet which chimes true in this warming world.
At the end of the movie the plant has grown into a big tree—a reference to the Tree of Life. 
The potato plants in The Martian
In The Martian, the botanist-cum-astronaut Mark Watney (Matt Damon) becomes stranded on Mars after a storm and is forced to rely on his ingenuity to survive while finding a way to signal to Earth that he is alive, in the hope of rescue.
His knowledge of plants and soil becomes his life-saver and he creates a garden to supplement his food whilst awaiting in hope for a rescue.
The humble potato crop he nurtures is a success and sustains him until his rescue.
The happiness plant in Little Joe
In Little Joe, single mother Alice is a dedicated senior plant breeder at a corporation engaged in developing new species. She has engineered a very special crimson flower, remarkable not only for its beauty but also for its therapeutic value: If kept at the ideal temperature, fed properly and spoken to regularly, this plant makes its owner happy.
The truth is we don't need an engineered plant to make us happy as plants naturally do this! Plants mean clean oxygen-rich air and good air quality means better sleep, higher energy levels and improved brain function. 
However, if you're not very green fingered or want to clean the air more efficiently then allow us to introduce you to the Briiv air filter, a handsome little green-tech unit which will look great in your home and which is as powerful as 3,043 medium size houseplants. So you can enjoy the benefits of a household of plants without the worry of available space and the tending time. The fact it looks utterly beautiful and even feels like something teleported from a sci-fi movie naturally ticks many F&F boxes!
Using 90% natural and renewable materials, Briiv can say with confidence it is the most sustainable air filter on the market. Creating safe, clean homes through plant power, it works by removing daily pollutants. These harmful particles are released every time we cook, use cleaning products and play with our pets. 
There are other filters of course, but listen to this… 15,000,000 air filters were purchased in ONE year recently, but since most use plastic-based filters (that need replacing every 6-8 months) this means our air might be clean, but the environment ends up with more unrecyclable waste as these filters can't be recycled. Briiv however, is designed to return to the Earth: Using three fully biodegradable filters, it incorporates the natural micro-structures of moss, coconut, carbon and silk to filter air.
In this age of climate change and air pollution, the message is hopefully and finally ingrained in all of us about the need to care for the environment and to live more sustainably before it's too late. There are some incredible films (some positive, and some apocalyptic) which remind us about the consequences of not doing so. Cleaning the air in our own homes with a unit that uses the power of natural materials and which uses less plastics than any other air purifier on the market, means we are very happy to use a Briiv here at Film and Furniture HQ.
You can discover more about Briiv on the Briiv website.
Sponsored post.