Inspiring home tours: A cinephile's dream home cinema
We've discovered some truly inspiring home decor and intriguing home offices on our travels. When it comes to film fans who are also design lovers, an interesting home, somewhere to kick back and watch movies and a dedicated space to display your movie memorabilia is often high on the agenda. Such is true for Steve Tyrell Crosbie who, after sharing snippets of his home decor with us on social media, now throws open the doors to show us how a love of movies, music and modernism led him to create his dream home cinema in a house dedicated to film and furniture.
Welcome friends, to the second in our series of tours of film fan homes…
A Blade Runner superfan
Scottish-born, Canadian-based Steve Crosbie takes film seriously. He legally added 'Tyrell' to his name in honour of the 1982 film noir Blade Runner. "I went through all the characters from my favourite film and Tyrell seemed to roll off the tongue the best" he told us. Some might say the name of replicant Batty would have been more appropriate but either way, I think we can all agree that changing your name in honour of your favourite film safely puts you in the super-fan category!
Step back into the 80s and you'd find Crosbie's DJ turnable graced with the sounds of New Romantic bands like Visage, Ultravox and Human League. His interest in electronic music stemmed from hearing the album Replicas (Gary Numan's second and final studio album with English new wave band Tubeway Army). Describing the sound as 'detached and robotic-like', it's no surprise to learn that his love of film began with Ridley Scott's Blade Runner released in 1982.
"I got heavily into Sci-Fi and electronic music around the early 80s and my love affair continues to this day" says Crosbie. "These interests also led me to modernism, design and architecture. I describe myself as a modernist, a minimalist, and my passions include film, music, architecture, product design and futurism" he adds.
Blade Runner is one of those films which has a profound effect on those who delve into its dystopian future and Crosbie is no exception: "It threw me for a loop" he says, "I came out of the film right around my birthday back in '82. I was filled with a kind of feeling, ethereal almost, and extremely moved by it".
Over fifty viewings later, he now limits himself to one revisit per year. Each viewing is accompanied by a whisky or two from his Arnolfo di Cambio Cibi glass, a tumbler which has become synonymous with the film ever since Deckard (played by Harrison Ford) was seen drinking from this exact glassware in his LA apartment in the film. The same glass tumbler design also made an appearance in the sequel Blade Runner 2049.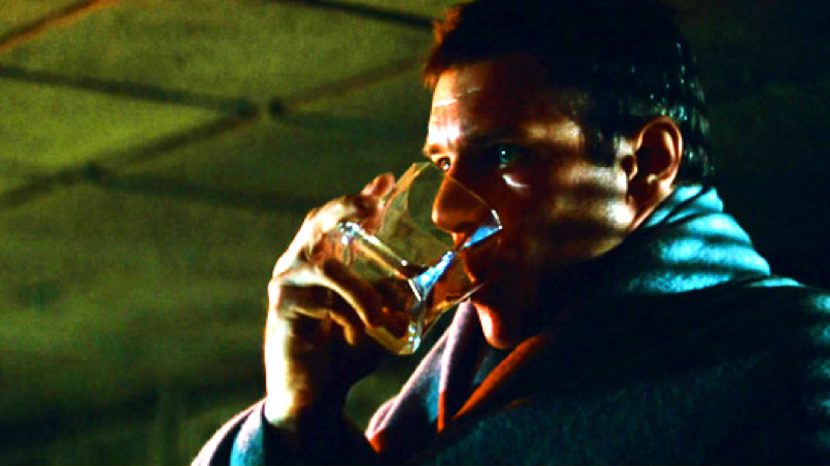 Crosbie's limited edition Johnnie Walker Black Label whisky – released in a distinctive, futuristic-shaped bottle in honour of the release of the 2017 sequel, remains unopened. 
Home cinema goals
Crosbie watches films from his dedicated home cinema, a room he'd dreamed of having most of his life and which became reality soon after acquiring what he describes as a 'humble 1600sq ft bungalow' on his 50th birthday.
He named his home cinema The Bradbury after the LA building which plays the home of Blade Runner's toymaker Sebastian and where Deckard has the final showdown with Batty.
Fitted out with black walls, black ceiling, black carpet and a 120″ screen, this home theatre also houses a double tier of seats: Three fully reclining seats at the front and three seats to the rear, each completed with a Tyrell Corporation logo on the head-rest.
His dedication to Blade Runner continues throughout the theatre with dioramas, replicas of Deckard's blaster weapon and spinner vehicles, every possible version of the film (including VHS, Laserdisc, briefcase collectors editions and DVDs), film posters (he owns the original film posters from many international territories including Russia and Japan), T-shirts, coasters, magazines, novels, video games and board games. Even a neon umbrella makes up part of this vast collection.
At the entrance hangs an art piece of Pris holding a doll. On one shelf sits a ceramic turtle from a garden centre, which lies on its back (a little reference for other Blade Runner superfans).
On the back of the home theatre door sits the number 9732, Deckard's apartment number. "You're probably thinking I am a nerdy mega-fan of the film" Crosbie said, "I know it's a crazy obsession, but I've been into it for 40 plus years, so the collection is large and varied".
Making an entrance
Above the entrance to 'The Bradbury'  sits a 'Hundertwasser' street sign and the number 1187 – nods to the address of Blade Runner's Nexus-6 replicant Leon.
Other movie memorabilia collection continues in this space with special edition DVD's of Alien (also Ridley Scott), Predator, I, Robot, life-sized heads and an Alien egg DVD. His enthusiasm for Alien also extends to his own body with an H. R. Giger tattoo (the Swiss artist with a cult following and best known for his work on Alien).
A collection of The Matrix films, toy cars from Starsky and Hutch, a speed racer, a Bat mobile, a bunny from Monty Python and the Holy Grail all nestle side by side.
Mad for Modernism
In addition to his film obsession Crosbie explains "I also have many 'designer' objects kicking around: A set of Le Corbusier LC chairs and sofas as well as the chaise longue [as seen in film such as The Big Lebowski, Sherlock and Judy], a Ball Chair [a design created by Eero Aarnio for his own home in 1963 and as seen in Mars Attacks!, Tommy, The Prisoner and Dazed and Confused], a Corona Chair by Poul M. Volther, the instantly recognisable Coconut Chair designed by George Nelson and a Nelson Ball Clock".
An Arne Jacobsen Egg chair (as seen in Help!, The Bridge and Men in Black II) also sits amongst this extensive collection of Mid Century Modern classics.
The UP5 chair and ottoman designed by Gaetano Pesce which has featured in films as diverse as Diamonds Are Forever and How Do You Know also grace this house together with a Kundalini E.T.A floor lamp.
The designer collection doesn't end there: The house features items such as coffee tables, dish racks and clocks designed by such respected designers such as Karim Rashid, Eileen Gray, Philippe Starck, Marc Newson and the late, great Zaha Hadid. "They are truly iconic pieces that make me feel happy just looking at them" Crosbie exclaims, adding "I suppose anyone into modernism 'gets' the value in the beauty of clean, modern design. The modern music and films I love are a huge influence on my taste".
Back to my roots
The ladderback, stained black ashwood Hill House Chair made an appearance in Patrick Bateman's apartment in American Psycho, but Crosbie's version of this chair has a far more cheerful story behind it.
The inclusion of a Hill House Chair, designed in 1902 by Scottish designer and architect Charles Renne Macintosh, makes a nod to Crosbie's roots, although this is a piece he actually made himself.
"I made it one New Years Eve, with a friend who had a wood shed and was about to give up the lease. We spent the whole evening making four chairs. I wish it was the real thing, but that lottery win is taking longer than I thought! While everyone was out partying on New Years Eve, my friend Jeff and and I were making chairs until midnight. Good times! I take my love of design seriously and would rather have a cool chair than drunken memories!" jokes Crosbie. We hear you Steve, we hear you…

See the first in our series of inspiring home tours here >