Inspiring home office tours: BattleBots founder Greg Munson
Everyone's talking about WFH (Working From Home) but when it comes to film fans and design lovers, we've discovered some truly inspiring homes and intriguing home offices: After BattleBots co-founder Greg Munson bought a Hicks Hexagon The Shining rug from us for his Californian home office, we asked for a sneak peak. What we found was a workspace filled to the rafters with film references and movie memorabilia so we were compelled to ask more. Welcome to the first up in our series of tours of film fans homes and offices…
Film and Furniture: We spy lots of music and film references plus a number of robots in your Californian home office. Now we've learned you are the co-founder of TV show BattleBots, tell us about your robot fascination: Where and how did it start?
Greg Munson: I came into robots through the backdoor. I've been a maker/tinkerer for most of my life, mainly confined to creating short films and videos, building models/LEGO and hacking together electric guitars. But in 1994, at the behest of my friends, I attended a small event called Robot Wars in San Francisco (created by Marc Thorpe). It was there that I experienced the wonderful world of remote control machines made for the express purpose of beating the crap out of each other. 
I had to get involved. This budding sport combined so many areas of interest to me; I found it fascinating: A sport like a science fiction movie come to life. A sport were audiences could witness archetypal stories of life and death without actual bloodshed. A sport were a plucky, kludged together DavidBot could go up against a sleek, CNC'd Goliath and win. A sport were everyone was on the same playing field: men/women, young/old, rich/poor. A sport for nerds, geeks and makers. A sport that inspired kids to think up their own bots and then get their hands dirty. A sport with a sense of humour. A sport for the mind. A sport for design. I was in…
So my cousin and I created our own robot fightingleague/brand. We called it BattleBots.
We held our first event in 1999 in Long Beach, California and since then it has been a whirlwind of sparks flying and robots dying. There have been many ups and downs (read about some of them in the book Gearheads: The Turbulent Rise Of Robotic Sports by Brad Stone). But some 20 odd years later, including 9 seasons of television across three TV networks appearing worldwide in over 154 counties, I still find myself fascinated by the spectacle and story of two homemade robots going at it to the death.
F&F: Why did you choose The Shining rug for your home office?
GM: I work from home mostly, cooped up for hours in my home office downstairs. What better rug to have than the one from The Shining!
Despite the cabin fever, the rug also reminds me of Stanley Kubrick, who is a creative hero. One of my favourite Kubrick films is actually the documentary by Jon Ronson called Stanley Kubrick's Boxes. It's about how obsessive and focused Stanley was – his attention to detail. I want to strive for that level of commitment in my creative projects.
Things like the rug remind me to measure up, don't get lazy and do my best. And the rug is just beautiful. The hexagon pattern that David Hicks designed is both relaxing and mesmerising, almost in a meditative way, and reminiscent of the BattleBots Giant Nut trophy which is a cool bonus.
F&F: What are your favourite 3 films?
GM: Star Wars: The film that made me want to get into film/TV.
Blue Velvet: The film that showed me films can be wonderfully weird and artistic
Fantastic Mr. Fox: The film the showed me every frame of what you create should be well considered, but also fun.
F&F: Talk us around your home office den.
GM: Where do we start? I guess first and foremost I should establish that it's really hard for me to work in an environment that isn't inspirational. I'm probably very spoiled that I can work from home and have free rein to design my workspace as I like. The idea of working in a beige, blasé, box is a bit torturous. Throughout my life, whether it be in school or at old jobs, I've always decorated my desk or work area with little trinkets or tableaux that make me happy and give me some encouragement – little muses that get me through the day. 
Blade Runner Spinner
I think the pièce de résistance is most definitely the custom LEGO Spinner from the movie Blade Runner. LEGO honoured conceptual artist Syd Mead with a one-of-a-kind LEGO build of the futuristic flying car he created for the film.
I, like many LEGO geeks, was enamoured with the piece when it popped up in an obscure YouTube video. I scoured the internet for a brick inventory and instructions on how to make my own, but all my searches came up tumbleweeds and crickets. Then, on my 50th birthday, my friend and LEGO artist Peter Abrahamson surprised me with a dead-on, reverse engineered, recreation of the build. He even mounted it in mid flight, extending from a frame that included a prop license plate from the actual film. WOW!
This piece reminds me that the entertainment business is all about the art of the possible. I thought it was a lost cause to try and recreate this model, but Pete put in the hard work and delivered something beyond expectations. That's what we should all strive for. 
Lightsabers 
Next up are my two my two lightsabers, painstakingly recreated using the same materials that the prop masters used in the original films.
The first saber is an exact replica of Luke's hilt from A New Hope. The second is a replica including the modifications they made to the prop for The Empire Strikes Back.
I put together the New Hope version myself, slowly over the course of 3 years, perfecting it over and over again. The Empire version I commissioned from Artist Martin Beyer in Germany who made the most incredible interior chamber complete with a glowing crystal (whoa!).
Each saber is equipped with an RGB LED and a motion sensing sound board for realistic light, audio and full Jedi geekery. These pieces remind me to never give up and to keep improving. I worked forever sourcing parts and building the original saber. I went back to the drawing board many times. But that's fine. The journey is the reward. 
BattleBots Painting
Next, we have the original BattleBots painting by Marc Gabbana. When it came time to create a logo for the newly formed BattleBots, I knew we needed something different and extraordinary.
On advice from Robot Wars creator Marc Thorpe, I approached legendary concept artist Marc Gabbana. Marc was excited to take on the project and not only created an incredible logo, but also embedded it into a futuristic, airbrushed painting for what he hoped the sport would one day become. Amazing!
This piece always reminds me to keep advancing our BattleBot TV show. Each season we should try and up the ante, and create the future now.
Homemade Guitars
Last but on least are the two guitars I pieced together in High School. I probably should have spent more time practicing, but the young rocker in me wanted to create something cool and different, even though I had no luthier experience.
My friend Mark Setrakian did the amazing paint jobs and helped with much of the construction (look him up to see the incredible work he's doing now in robotics!). For the background pattern on the skeleton guitar, Mark made use of a dumpster recovered stencil that was originally used to paint details on the Return of the Jedi Death Star (Lucasfilm's effects house ILM was in our hood growing up).
These guitars have always been symbolic to me to keep rolling up my sleeves and doing things myself. Even if you screw it up, you'll learn so much. Don't be intimidated to try your hand. And work with a great team—people who are way more talented than yourself. 
I love surrounding myself with objects with a story to tell, which is why I'm so fond of Film and Furniture.
Thanks Greg for the tour!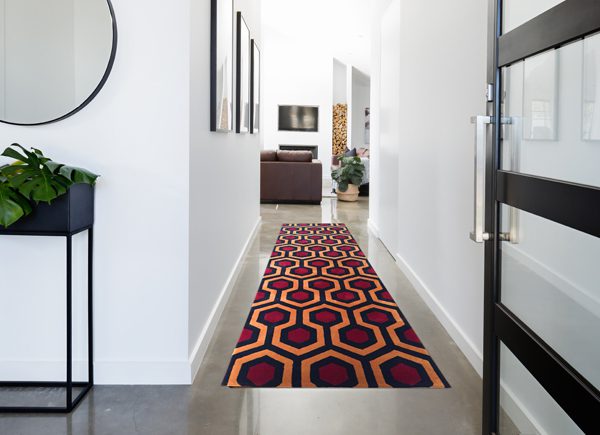 Standard and custom sized officially licensed Hicks Hexagon rugs, runners and wall-to-wall carpet, as seen in The Shining, are available from our store.
Discover home office desks to suit the task in hand and your available space at Habitat (currently with 30% off selected furniture).
Do you have an interesting home office? We'd love to hear from you: Please email [email protected]