David Lynch makes furniture as well as strange and beautiful films.
We know him best for Blue Velvet, Eraserhead, Mulholland Drive and innovative TV series Twin Peaks yet Academy Award-winning filmmaker David Lynch is also an artist and furniture designer.
In fact, he was an artist long before he started writing and directing films and era-defining TV series': Lynch studied at the Boston Museum School and the Pennsylvania Academy of the Fine Arts (PAFA) in the late 1960s and it was here that he envisioned his first 'moving painting' – a multidimensional painting beneath a moving projection titled Six Men Getting Sick (Six Times) (1967). This multimedia work marked Lynch's first foray into video and filmmaking.
Lynch has also been designing furniture for many years. In April 1997 he presented a furniture collection at Salone del Mobile in Milan and his film Lost Highway released in the same year features some of his furniture designs as well as his own Frank Lloyd Wright home.
"Films and furniture are based on ideas. You get an idea. And then you're hooked." said Lynch.
His current exhibition Squeaky Flies in the Mud at Sperone Westwater in New York presents David Lynch's new work and features paintings, works on paper, watercolours as well as lamp sculptures and furniture.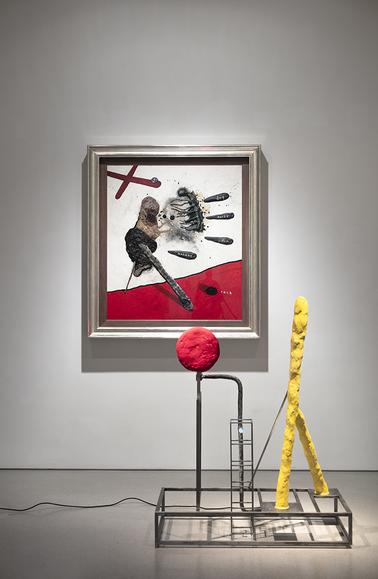 It was an interest in electrics and working with wood that brought Lynch to making lamps: "I love electricity. I love light bulbs, especially light bulbs from the early days of electricity and light—the filament, the glass, and the shapes" he told Town and Country. "[Lamps] are sculpture, but they have a purpose in a home as well, and I really like that. I'd like to do a lot more with lamps and sculpture".
In which ever medium the creative polymath Lynch applies his vision, he creates environments and mise-en-scene that dwell in the mind. He even designed a French nightclub inspired by and named after Club Silencio from the film Mulholland Drive.
You may have noticed he has a penchant for zig zags patterns. We see bold, graphic zig zagged flooring in both Twin Peaks and Eraserhead. 
Squeaky Flies in the Mud continues until 21 December 2019 at New York gallery Sperone Westwater.