A VR walkthrough of 2001: A Space Odyssey
Interior Design graduate Erika Bonat has an obsession with the film sets of Kubrick's 2001: A Space Odyssey and who can blame her? She's always been interested in interior design and architecture and during her interior design studies in Verona, Italy she discovered a new found love of 3D modelling and rendering. Coupled with the fact that watching movies is another passion she decided to create a 3D VR walkthrough of some key scenes of 2001: A Space Odyssey.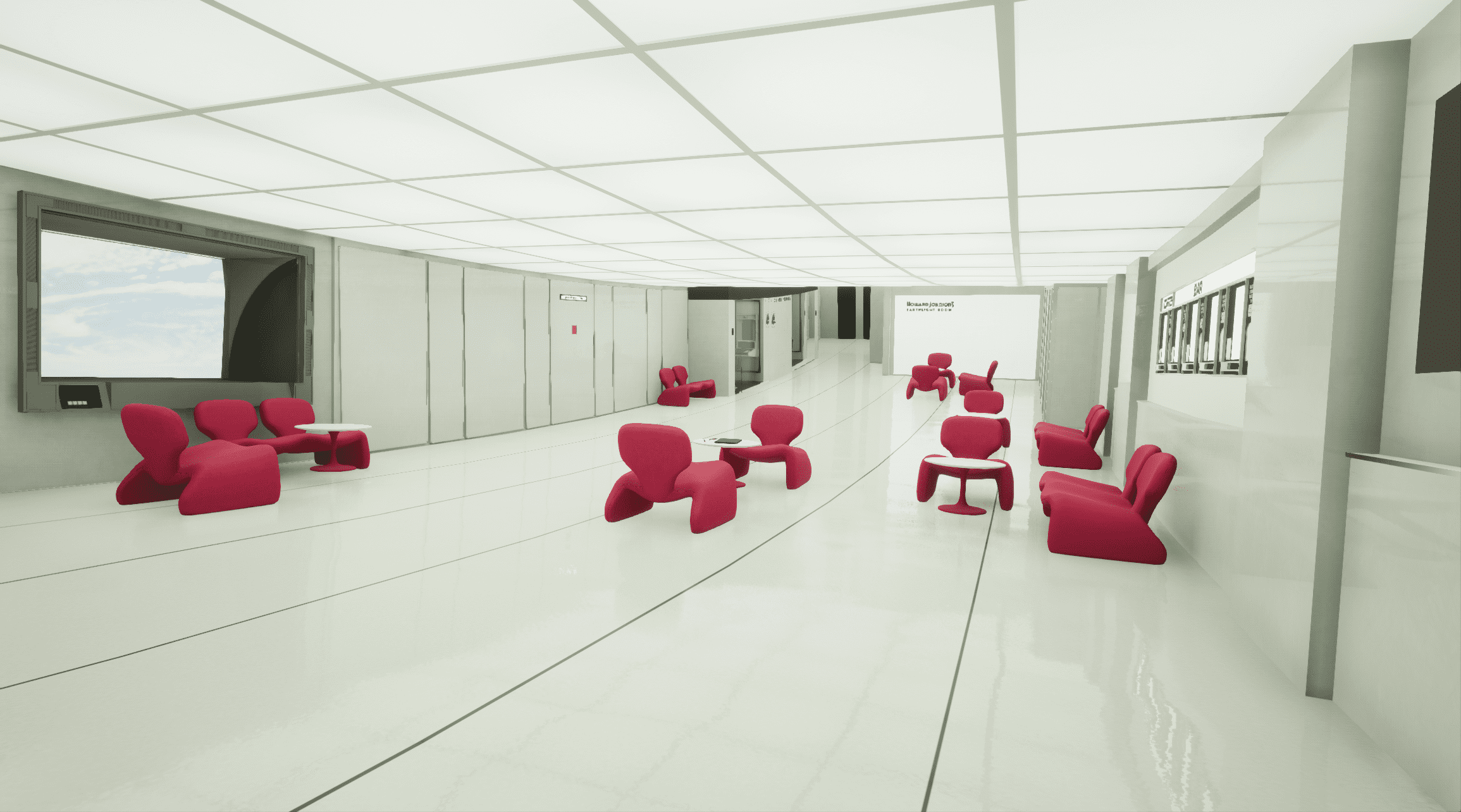 "I created this VR walkthrough experience as my thesis as I wanted to create a project that united all of my passions. I analysed the interiors of 2001: A Space Odyssey and then replicated some of its environments. The users of this VR experience can enter the spaces of the movie in person." Bonat told Film and Furniture. 
Watch the 3D VR walkthough and read our interview with Erika Bonat below.
F&F: Why did you choose Kubrick's 2001 as the subject for your VR experience?
Erika Bonat: I chose 2001: A Space Odyssey because this movie really caught my attention. I didn't quite get all the story the first time I saw it but I was mesmerised by the interiors. When I was searching for a movie to analyse for my thesis, 2001 was the first film that came to mind and after I watched it again and did some more research, I knew it was the perfect choice for my project".
F&F: Why did you choose the the Aries shuttle interior, the Hilton Lobby of Space Station V and the interior of Hal9000 in particular?
EB: I did an analysis of the interiors of the entire movie but when I had to choose which room to recreate I had consider several different aspects. I replicated only three rooms because I had a limited amount of time to do this project, and I chose these because they were interesting from an interior design point of view. It would have been interesting to replicate the 'renaissance room' of the movie but it was too complicated to recreate within the time available".
F&F: What was the biggest challenge?
EB: One of the biggest challenges was to get the dimensions of the spaces right. I recreated everything based of the images of the movie without having many other references, but the perspective of a room can be distorted by the lenses used in filming and the depth of field of an image. Virtual Reality is different because you experience it in first person and you can move through space whereas in movies it is the director that shows you the space as they want you to see it.
F&F: How did you go about creating this VR walkthrough – what tech and software did you use?
EB: I started by modelling the 3D spaces and objects of the various rooms with software called Blender. Once I modelled everything I used Unreal Engine to create the VR experience. I took care of shading and lighting but the programming and production were done by a VR company in Verona called Ximula.
F&F: How long did this take?
EB: I took almost a year to complete everything because I was also studying at the same time and bearing in mind this was my first VR project!
F&F: Do you love the film sets and objects of 2001 even more now you've spent so long studying them or are you now sick or the sight of them?!
EB: When I was developing the project I got tired of seeing them! but now that I have finished it – I can say that I appreciate them even more.
F&F: What's your favourite film interior and why?
If I had to choose a movie based on its interiors it would be Inception.
Watch the VR walkthrough below:-
You can find more features on 2001: A Space Odyssey film sets together with furniture and merchandise from the film here >