Behind the scenes of 2001: A Space Odyssey like you've never seen before
Not many people were allowed on to the 1960s live film set of 2001: A Space Odyssey, possibly one of the most influential films ever made. Director Stanley Kubrick liked to keep things very tightly controlled. However, lucky for us who love to get behind the scenes, pioneering illustrator Brian Sanders was allowed unfettered access (at the invitation of Kubrick himself) and the resulting illustrated record of the filming process and the film sets are currently being exhibited nearly 40 years after the film's release. Brian Sanders: Selected Works: From 2001 A Space Odyssey to Mad Men is open at The Lever Gallery in London's Clerkenwell.
Sanders is part of the British post war art and illustration talent that first made it's mark in the 1960s. He was an early adopter of the new techniques and compositional styles of commercial art coming out of America at the time, and he mastered a combination of draughtsmanship with a technique called "bubble and streak" which makes for very textural illustrations. Such an approach put him in great demand with many magazines of the time including the highly influential NOVA.
In 1965 Kubrick invited Sanders onto the set of 2001, where he drew on set two days a week and then working up larger paintings in his studio. Most of these remained unpublished for decades. If you're in London, these really are the kind of things you need to see in the flesh. Simply stunning. And what's more some limited edition prints are available for sale.
The exhibition also contains Sanders 60s and 70s work from The Sunday Times and Nova and his 2011 work on Mad Men, but it's the Space Odyssey work which had us at Film and Furniture gawping most intensely.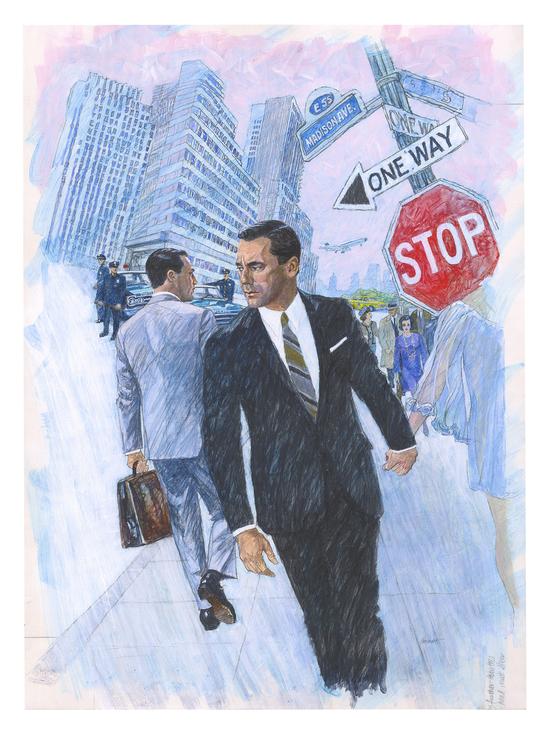 The exhibition Brian Sanders: Selected Works: From 2001 A Space Odyssey to Mad Men
is open until July 29th 2017
at the Lever Gallery, Clerkenwell, London.
You may also be interested in: