A masterclass in 60s furniture: The set design of The Beatles Help! (prompted by new film Eight Days a Week)
Ron Howard's new film The Beatles: Eight Days A Week – The Touring Years (2016) hits the cinemas today (15th September) and what a roller coaster of a ride it is, bringing us many insights into life on the road as the world's most wanted foursome.
It's an almighty story, superbly told. This first feature-length documentary authorized by The Beatles since the band's breakup in 1970, reminds us not only of the seismic and enduring impact they had on all aspects of culture but also of the strong bond between the fab four. Their charisma and cheeky sense of humour (demonstrated in the press conference footage featured in the film) makes today's bands press conferences feel like bland corporate product launches by comparison.
After their now-legendary North American debut on "The Ed Sullivan Show" in 1964, The Beatles transfixed the U.S. and the tremors were felt worldwide. Eight Days A Week explores the history of The Beatles through the lens of the group's concert performances, from their early days playing small clubs in Liverpool and Hamburg to their unprecedented world tours in packed stadiums around the globe from New York to Melbourne to Tokyo. Eight Days a Week features rare and never-before-seen archival footage of shows and interviews, plus new interviews with Paul McCartney, Ringo Starr and numerous prominent observers.
The band's 'cheeky chappy' sense of fun was also captured in the comedy adventure Help! (1965) and during Eight Days A Week we catch some footage of the amazing set design of The Beatles Help! which prompted us to revisit it and dig a little deeper.
John Lennon, Paul McCartney, George Harrison and Ringo Starr play independent and upwardly mobile young men of the 1960s, where they come up against an evil cult in a plot that feels either like a Bond parody or a story line from the original Man From Uncle TV series. Directed by Richard Lester, Help! was shot in glorious colour and followed the Beatles' first film, A Hard Day's Night (1964).

Filmed around London, as well as Cliveden House in Berkshire, Larkhill in Salisbury, the Bahamas, and the Austrian Alps (see Movie Locations), it's the band's residence filmed at numbers 5, 7, 9 and 11 Ailsa Avenue, Twickenham in Help! which caught our attention. The house is entered via four separate front doors (colour-coded for each band member) but once we get behind these fairly ordinary doors of this fairly ordinary terrace we are presented with one, knocked-through, open-plan space, which is zoned by colour for each member of the band.
The set decoration puts the use of colour, used for the first time for a Beatles movie, to maximum effect. It's a 60's masterclass in furniture, interior design and pop art colour. As The Independent put it "The house is a fantasy world where expectations created by the outside are subverted by the inside view".
George's green zone

George's zone has a green theme: A grass floor, green walls, green artworks and a green lamp – all complimented by a typical 60s mid century teak sideboard and a brass bed. (I suddenly realised revisiting this film set why I've often hankered for a green, grass-effect rug in my house, I just hadn't logged the source.)
John's brown zone

John's zone has a brown theme, with hazlenut carpet, a revolving library of books and a much referenced sunken bed. See that black armchair in the background? We're 99% sure that's a G-plan 6250 chair. G Plan borrowed the swivel idea from the very best offices in the 60's, adding the hypnotic appeal of rocking and the sheer convenience of gliding. The black vinyl version of the G Plan 6250 became an iconic chair of the 60's. Original models are highly collectable today and G Plan received so many requests that in 2012 the iconic armchair known as 'The World's Most Comfortable Chair' – the 6250 – was reintroduced as 'The Sixty Two'.
Below we see John Lennon reclining, playing guitar on the black G-Plan chair, Ringo playing tambourine from John's sunken bed and George serenading on a chrome-mounted, black leather sofa, which looks very much like a Florence Knoll design called Relax, designed in 1954.
The back leather three seater Relax Florence Knoll sofa is comfort and style personified and is available from Design Within Reach >
For vintage originals try Layer Home or 1st Dibs.
Here's the other view of the brown zone, showing Paul playing guitar next to a TV on legs before the days they became thin enough to mount on a wall.

Ringo's blue zone
Ringo's zone is a rhapsody in blue and even has an in-house vending machine and drinks dispenser.

A blue lamp shade, on blue base against a blue wall is one piece of interior design we can all take inspiration from. The matching pop art picture and blue soft toy horse echo the whole style of an era that influences design and interiors to this day.

Ringo's zone also sports a mighty Arne Jacobsen egg chair in matching blue as seen below to the left.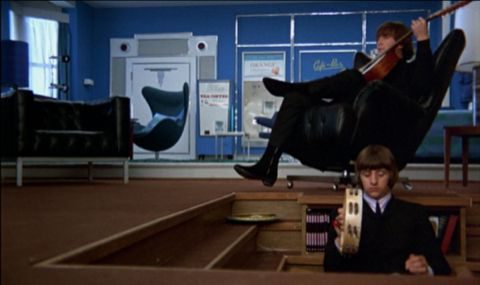 You can find an authentic licensed Jacobsen egg chair, made by the highly respected Fritz Hanson, in many different colours to suit all decors – from The Conran Shop >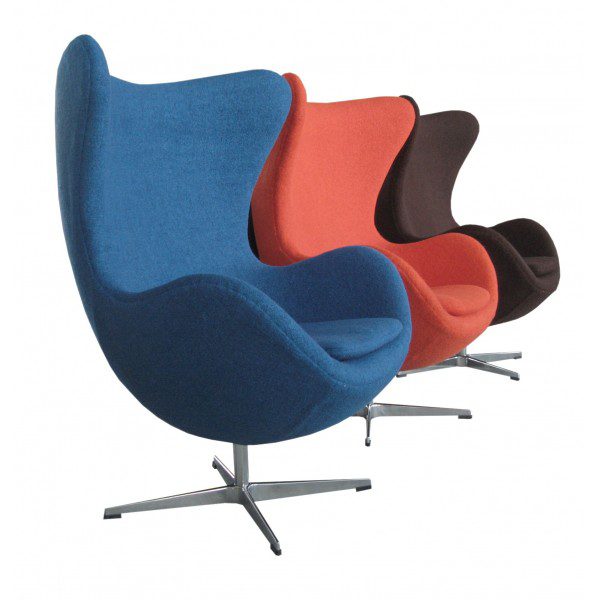 For vintage originals try Layer, 1st Dibs or Etsy.
Paul's white zone
Paul's area features a huge, white, glowing organ, white carpet and the Daddy of all free standing lights – the Arco lamp.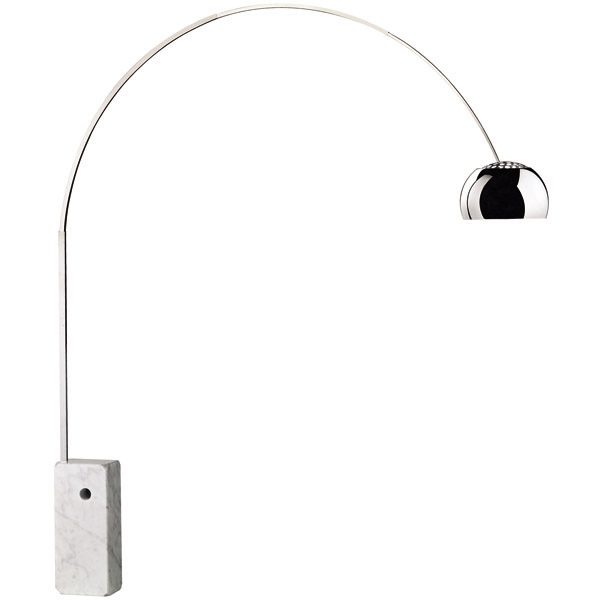 The Arco makes a star appearance in many movie homes including Tony Starks mansion in Iron Man and is the epitome of a design classic. Designed by Achille Castiglioni in 1962 it remains one of the most enduring pieces of Italian design. Inspired by a street lamp, Arco has a beautiful white Carrara marble base with a satin finish stainless steel telescopic stem and polished aluminium adjustable reflector.
The Arco Lamp looks great over a table or seating area and is a true investment piece. Beware of rip-offs! Authentic licensed newly made Arco's can be bought from The Conran Shop.

The band (as heard from the horses mouth in Eight Days a Week) filmed most of Help! whilst experimenting with marijuana. I'm sure sitting in this fabulous film set whilst stoned must have been a delightfully heady experience.

Beatles: Eight Days a Week – in cinemas only from 15th September 2016.
Anyone attending on the 15th in the UK will be able to watch the World Premiere live stream and 30 minutes of exclusive restored concert footage.
Book tickets here >
Watch the trailer >

Help! is available on DVD and Bluray.
Buy on Bluray >
Buy on DVD >

Emilio Lari's book, celebrating the photographs he took on the set during the filming of Help! is available here>