Wes Anderson's Asteroid City combines design, decor and colour to craft a captivating 1950s Americana
Prepare to be mesmerised as visionary filmmaker Wes Anderson once again showcases his distinctive visual style and meticulous attention to detail in his latest project: Asteroid City. Anderson's creative genius takes centre stage as he combines design, furniture, typography, and colours to craft a visually captivating 1950s Americana that is both enchanting and, dare we say, meticulously organised.
Known for his inclination towards categorisation and precise cataloging within his films, Wes Anderson's vision for Asteroid City takes this penchant to new heights. The project unfolds as a film within a play within a film, with scenes carefully nested within acts, creating a rich and layered narrative experience that reflects his unique storytelling approach.
To help bring this vision to life, Anderson has enlisted the talents of long-term collaborator Adam Stockhausen as the Production Designer. With Stockhausen's expertise, audiences can expect nothing short of a visual treat.
Adding to the allure of Asteroid City is its star-studded cast, which includes the likes of Bryan Cranston, Edward Norton, Jason Schwartzman, Scarlett Johansson, Hope Davies and Tom Hanks, to name just a few. With such formidable talent on board, audiences are in for a cinematic treat.
The design of Asteroid City itself is a testament to Anderson's ability to seamlessly blend retro-futurism with irresistible charm. The film sets exude an atmosphere of nostalgic elegance, transporting viewers to a world that feels both familiar and extraordinary. Anderson's attention to detail is evident in every nook and cranny, with every element meticulously crafted to contribute to the overall visual harmony.
Film sets for Asteroid City were painstakingly created in Chinchón, a medieval town nestled on the outskirts of Madrid.
The furniture and decor embraces Anderson's signature quirkiness. Unexpected combinations of materials and patterns, and vibrant 50s colours define the eclectic decor. From 1950s floral curtains, black and white striped awnings and multi-coloured festoon lights, to red and white checked table cloths and pastel-coloured bar stools, every item is carefully selected to evoke a sense of nostalgia and whimsy. The decor becomes an integral part of the visual storytelling, adding depth and character.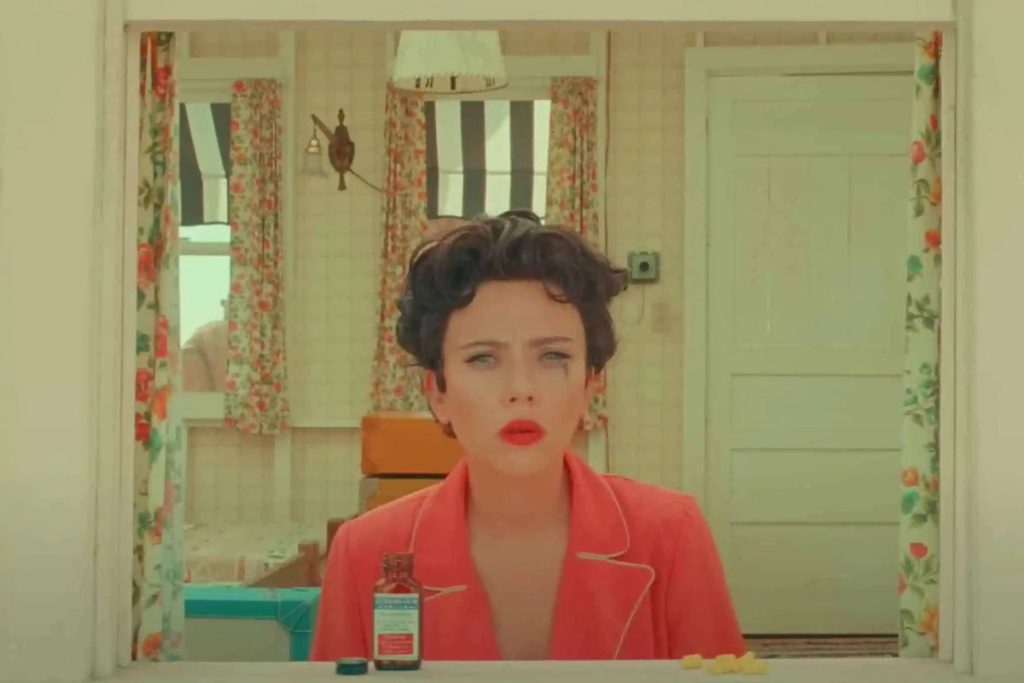 You can find a wide selection of vintage floral curtains and fabrics on Etsy, and get the Wes Anderson look by making your own black and white awning using striped Dralon waterproof outdoor fabric also from Etsy.
Colours play a pivotal role in Anderson's visual storytelling, and Asteroid City is no exception. The cityscape bursts with a delightful palette of pastel shades, vivid hues, and contrasting tones. Soft pinks, mint greens, sunny yellows, and vibrant blues dominate the landscape, infusing the city with a sense of cheerfulness. 
One of the defining characteristics of Anderson's work is his impeccable attention to detail, and Asteroid City is a testament to this. Every corner is filled with intricate elements including carefully crafted signage and typography. Anderson's obsession with symmetry and precision creates a sense of visual harmony, drawing the audience into a meticulously constructed world where even the smallest details matter.
In true Wes Anderson fashion, the design of Asteroid City and it's furniture and colours seamlessly integrate with the narrative. The visual elements become a language of their own, enhancing storytelling, and immersing the audience in the otherworldliness of the film. Every design choice supports the narrative and enhances the overall cinematic experience.
As the curtain rises on Asteroid City, you will no doubt find yourself captivated by the meticulous organisation, the enchanting design, and the extraordinary cast that make this project a true testament to Wes Anderson. Prepare to embark on a cinematic journey, where imagination and meticulousness intertwine.
An exhibition of the 1950s sets, props, miniature models, costumes and artwork used in Asteroid City is now open at 180 The Strand in London. The exhibition was designed to immerse visitors in the film's fictitious world – a desert town in 1950s America famous for its meteor crater and celestial observatory. The Asteroid City exhibition is on display from 17 June to 8 July 2023.