Iconic movie bathroom sets – How to get the look
Let's face it – if we had free rein on who to hire to carry out your next interior design project, many of us would jump at the chance to put a professional film set decorator on the job.
There are probably two good reasons for this. First, film set designers are obviously very good at their job, making a career out of building fabulous spaces that form the canvas for the action. Second, we're immersed in movie culture, so many of our ideas for what we like and don't like about interior design are likely to originate, consciously or not, from the films we watch.
There is a rich heritage of bathroom scenes throughout the history of cinema, which means there is an equally rich vein of bathroom set design running through the industry. Even the fact that there is a slightly unsettling correlation between bathroom scenes and horror movies (something about vulnerability, maybe?) can't take away from just how influential many of these sets are on our sensibilities around style.
Unless you know people in the right circles, you might struggle to hire a film set specialist to refit your next bathroom. But that doesn't mean you can't have a good go yourself. Here, designer bathroom specialists Aston Matthews talk us through 'the look' of some of the most iconic bathrooms in movie history.
Paddington
Let's start with a heart-warming family favourite, Paul King's 2014 adaptation of Michael Bond's much-loved Paddington Bear. There is certainly something very comforting and homely about the retro style of the bathroom at the Brown's London townhouse – until the eponymous bear completely trashes it soon after he arrives, that is!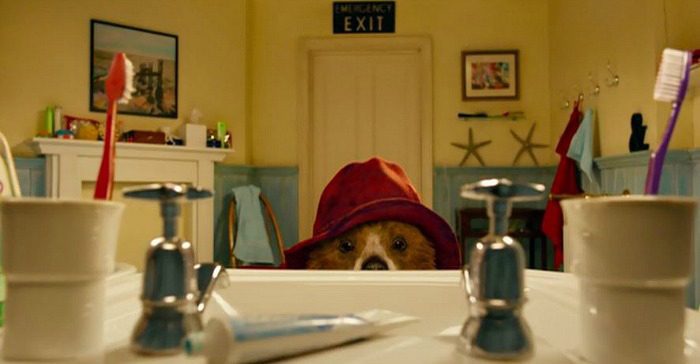 The look is built around a classical suite of roll top enamel bath, pedestal wash basin and early 20th-century style high-level toilet cistern – all in immaculate white, of course. This is offset with some beautiful half-height, tastefully distressed pale blue panelling with yellow painted walls above, a gorgeous feature mirror and spotlights above the sink, and our favourite touch – a column radiator with beautiful brass towel rail.
Stuart Little
Sticking with the family comedy theme, the Little's New York home is famous for being an incongruous gabled Greek Revival brownstone sandwiched between giant grey neo-classical piles.
While the bathroom might not be quite as grandiose as the rest of the stunning interior set, it does make it a very easy look to recreate.
Again, a roll top freestanding bath forms the centrepiece, this time a single-ended cast iron version painted pale yellow. A key part of 'the look' is the heavy use of tiling, both on the split-level floor and the attractive floor-to-ceiling green that makes up the alcove the bath sits in. The shelf that runs the length of one wall is a great above-the-bath storage solution for any home.
The Shining
A complete change of direction, and perhaps the archetypal example of a bathroom scene in a horror movie (the other famous contender would be from Psycho). Kubrick's adaptation of Stephen King's spine-tingling novel is full of famously frightening scenes set all over the eerie hotel, and the one in the pale green bathroom is one of the most terrifying of all.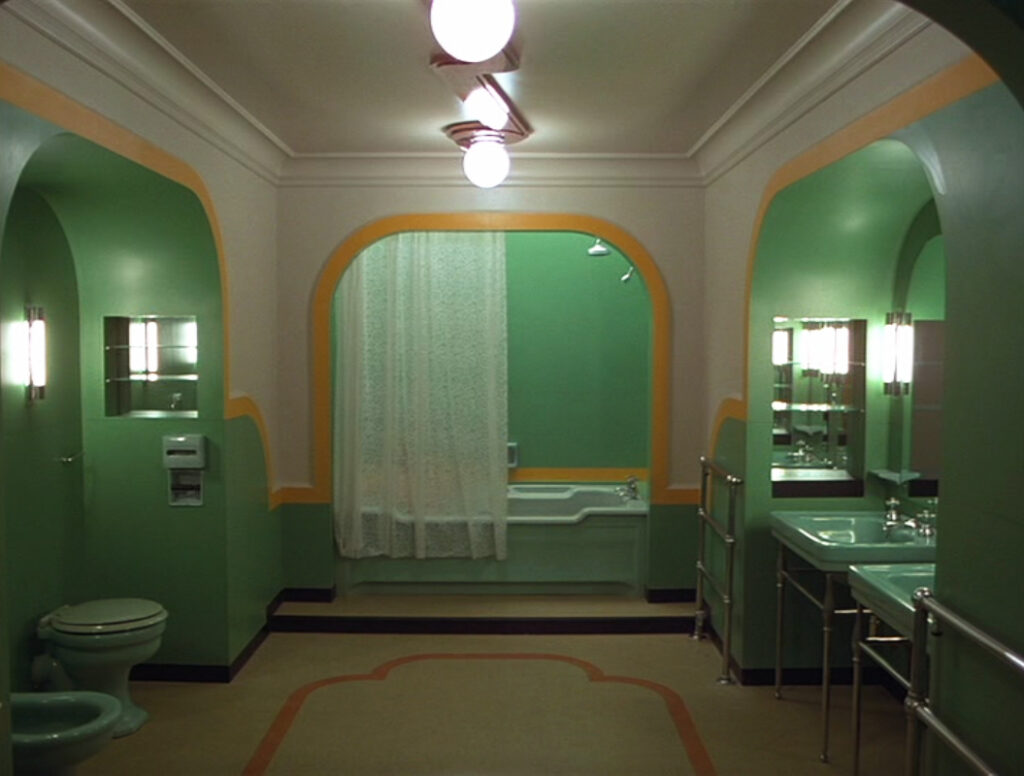 Even if memories of that scene bring a shudder, the design itself is an Art Deco masterclass – the symmetrical layout with the three arched recesses, the simple, stylized repeated patterns, the defined contrasts, the mirrored alcoves with glass shelving and stark lighting. We particularly love the double console washbasins, the chrome stands (matching the chrome towel rails) providing a superb contrast to the heavy uniform use of that pale green on the walls and fixtures.
A Clockwork Orange
Stanley Kubrick clearly had a thing about bathrooms, and he was at it again with his adaptation of Anthony Burgess's classic novel. The climactic scene of A Clockwork Orange where the main character Alex DeLarge (Malcolm McDowell) is finally rumbled by the benefactor he viciously attacked years before takes place while McDowell is soaking in the bath.
The bathroom itself oozes 1960s chic – the pale turquoise fitted tub with unusually positioned deck mounted mixer taps and shower, floor-to-ceiling mirrors, and that delightful purple painted high alcove, stacked with potted plants and a wonderful giant bulb light.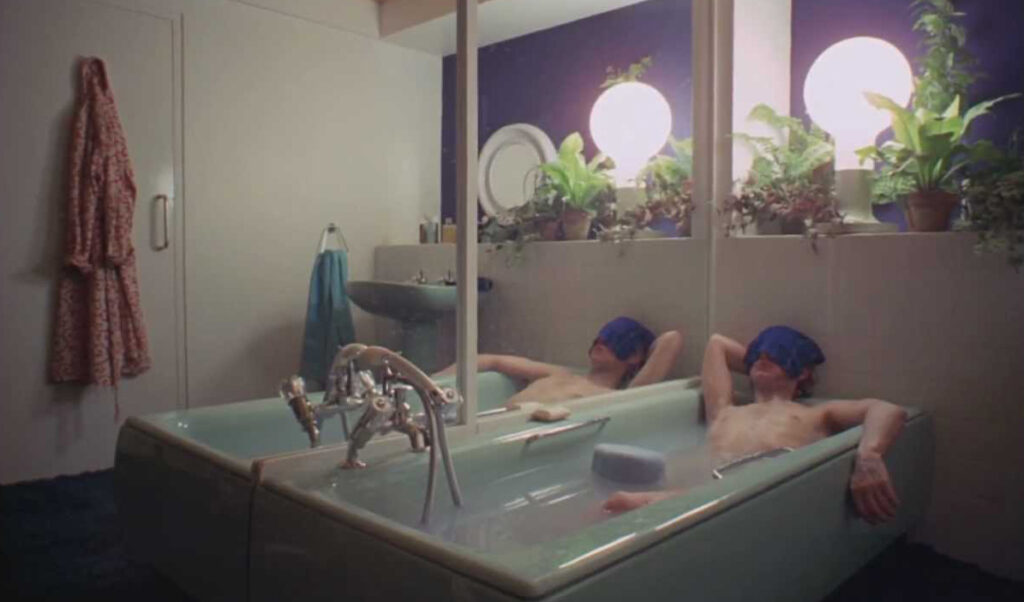 Discover more: The film sets and furniture of A Clockwork Orange.
Marie Antoinette
If Kubrick liked to introduce a threat to a room devoted to privacy, Marie Antionette is a historical figure who epitomises the indulgent and luxurious side of bathing.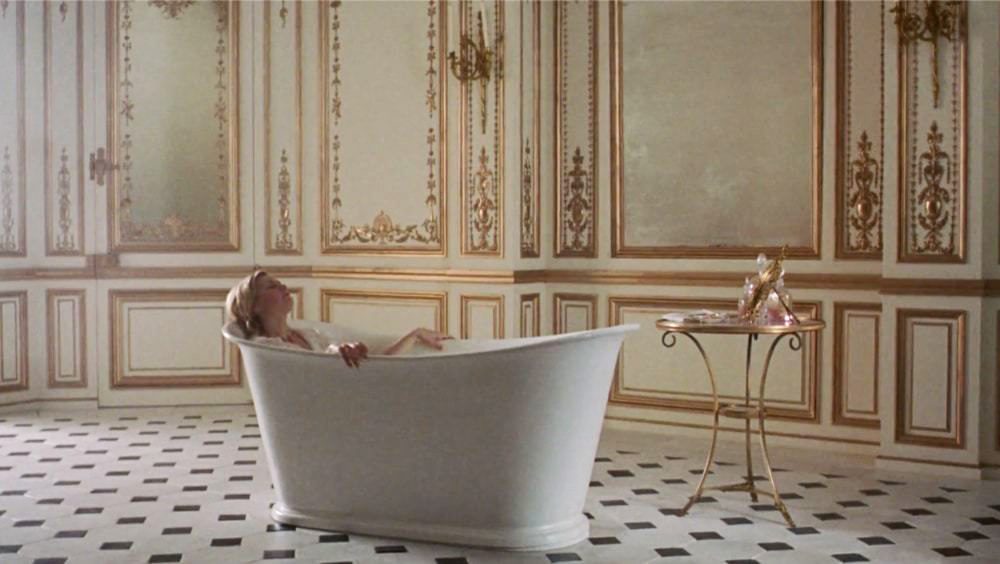 The famed queen of France was well known for her love of bathing, and Sophie Coppola's 2006 biopic does that reputation no disservice with some sumptuously regal bathroom scenes. Admittedly, you might have your work cut out replicating the full-length gold inlaid wainscoting that adorns the walls of Marie's palatial private chamber in Marie Antoinette. But for undisputed elegance, the pedestal-mounted slipper bath actress Kirsten Dunst gets to recline in is simply stunning. That is plain white, a simple checkerboard tiled floor and an elegant table for holding her essentials – what more could you need for a bathing experience in the lap of luxury?
Pretty Woman
Finally, no list of iconic movie bathrooms would be complete without THAT astonishing suite Julia Roberts finds herself singing in.
In truth, replicating the Pretty Woman bathroom is arguably even more ambitious than aiming to bathe like Marie Antionette, but don't we all deserve to dream big? Again, this bathroom is really all about the tub, in this case, an enormous oblong sunken exhibit on a huge marble pedestal. In fact, marble is a key part of the look, with the decorated rose-coloured stone covering almost all of the floor and ceiling.
Even if exact replication is beyond your means, you can still capture the spirit of the look by focusing on the contrast between the darker and lighter shades of pink on the walls (we love the parallel tramline motif to separate the contrasting areas), the gold plate taps and other fittings, and the oval mirror (the oval feature window too, if you want to push the boat out). We also love the classic wall mounted basin with a towel rack beneath.
Thanks to Aston Matthews for this sponsored post, we love a good movie bathroom design. To find out more about designer bathrooms and find a plethora of bathroom design inspiration, take a look at Aston Matthews' website.