Blue is the colour, Bridgerton is the game…
We often reference film sets for design inspiration here at Film and Furniture, pointing out the details of the furniture and décor for your delectation, but it's not so often we come across a home accessory which influences the design of a whole series of film sets (as well as the costumes).
The recently released Netflix costume drama Bridgerton, which takes place in early 1800s London, takes specific reference for its design from "Wedgwood Blue" – the colour most commonly associated with the famous English fine china and porcelain company, Wedgwood.
Wedgwood's founder Josiah Wedgwood I started as an independent potter story in 1759, in Burslem, England aged just twenty-nine. Fast forward over 260 years and they're still producing many of the materials he invented, such as Jasper, Queen's Ware and Black Basalt. 
Jasper, the most famous of Josiah's inventions, first appeared in 1774 after thousands of experiments. An unglazed vitreous fine stoneware, it was made in blue, green, lilac, yellow, black or white; sometimes one piece combined three or more of these colours. Classical and contemporary reliefs were applied upon these delicately coloured grounds and are still made today from moulds reproduced from the originals. The iconic light blue jasper gave rise to the expression "Wedgwood Blue" and remains a recognisable Wedgwood signature worldwide.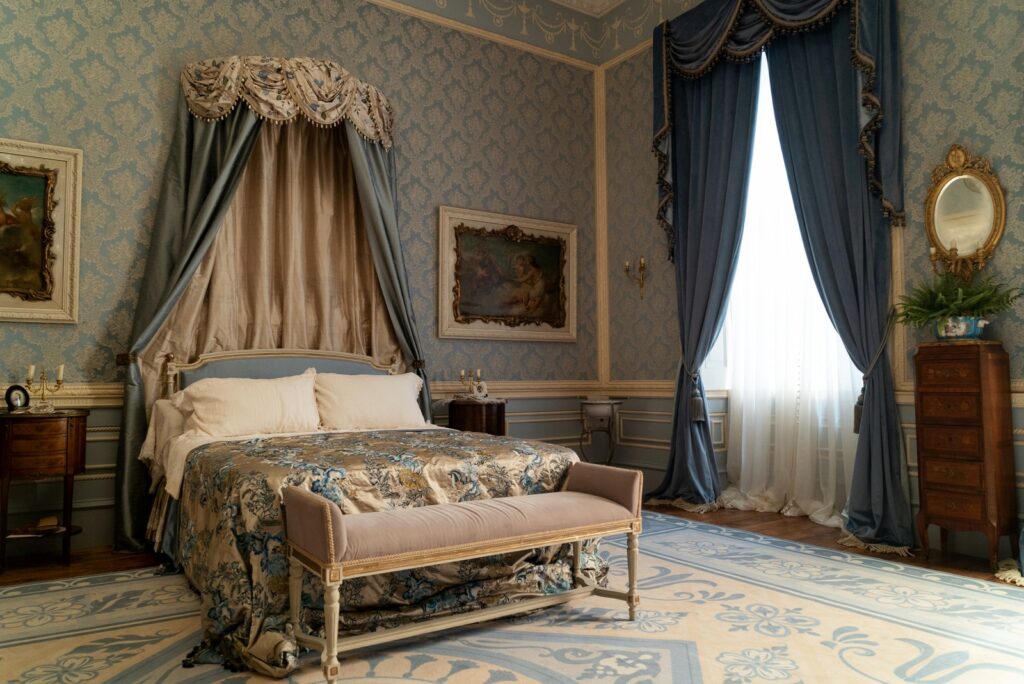 Wedgwood blue is incorporated with aplomb in the interior colour scheme of the Bridgerton family home, and in the matching costumes.
See if you can spot the Wedgwood ceramic on Daphne's dressing table in the TV series.
Production designer Will Hughes-Jones studied Kubrick's Barry Lyndon and Sophia Coppola's Marie Antoinette in his design of Bridgerton and, together with set decorator Gina Cromwell and their team, they built over 250 sets for the drama.
Bridgerton is out now on Netflix.