Where is the real Grand Budapest Hotel?
Wes Anderson's eighth feature film, The Grand Budapest Hotel (2014) is up for a few Oscars this Sunday (22nd Feb 2015) and if the The Academy of Motion Picture Arts and Sciences (AMPAS) members have voted with any sense, then it should surely win one for Production Design at least. Adam Stockhausen (Production Design) Anna Pinnock (Set Decoration) are a team to be reckoned with.
The Grand Budapest Hotel setting is in the fictional eastern European state of Zubrowka (inspired by the spa city of Karlovy Vary, Czech Republic and named after a Polish bison grass vodka) and centers around the coming and goings of a fictional deluxe hotel (inspired by hotels like Grandhotel Pupp and the Hotel Bristol Palace). The hotel transitions throughout the film from its 1930s heyday to wartime occupation and 1960s communist austerity. Such is the cult around Anderson's movies there's even a listing on Trip Advisor for the fictional hotel where people have left reviews and comments.
American writer-director Wes Anderson has gathered a devoted following through his highly distinctive approach to story telling, script, thoughtful shooting style and his film sets. To say he shows great attention to detail is an understatement. His strong sense of colour, his famed 90 degree pans, and horizontal sweeps, and his obsession for framing with perfect symmetry are just a few reasons we at Film and Furniture find his films compelling viewing. (The short film 'Wes Anderson, Centered' by Kogonada is well worth a watch). Even this press shot below featuring Wes and Jude in the 196o's version of the hotel lobby sees them sitting symmetrically and wearing matching suits!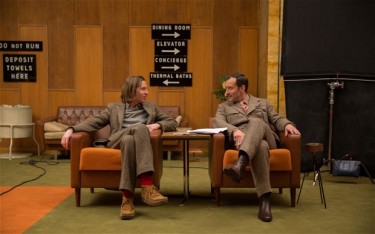 The brilliant Ralph Fiennes plays the hero of this story, M Gustave H, the legendary concierge and rightful owner of a priceless painting, Boy with Apple, by the imaginary Dutch Renaissance master Johannes van Hoytl. The lobby boy Zero Moustafa (Tony Revolori) becomes his most trusted friend.
The main hotel set was filmed at Görlitzer Warenhaus – a former department store building in eastern Germany on the border of Poland. Location scouting and set decorating for Wes must be a dream job and Adam Stockhausen thought the grand lobby, stairways and lifts of this 1913 building fitted the bill perfectly and he and his team transformed the space having referenced hundred of archival photographs of real eastern European hotels.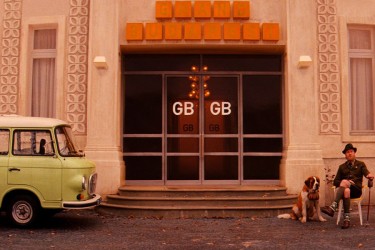 Architectural Digest explains how the German artistic style Jugendstil (popular from the mid-1890s to the early 20th century) was the primary influence for the hotel's decor. "It's an interesting style with a lot of variation, not as singular as Art Deco or even the classic Art Nouveau I was used to seeing in books," says Stockhausen.
Adam Stockhausen and his design team had a massive undertaking to redesign the hotel lobby set for the 1960s scenes, changing the color scheme from a bright pink and red to oranges, browns and greens.
Deputy Kovacs (Jeff Goldblum) is seen here behind an unusual antler desk which set decorator Anna Pinnock found at Alte Dekorationen, a shop outside of Munich where the owner has a large collection of unusual and unique antler and horn furniture. Their website is well worth a visit: www.alte-dekorationen.de
Check out these crazy beauties from Alte Dekorationen: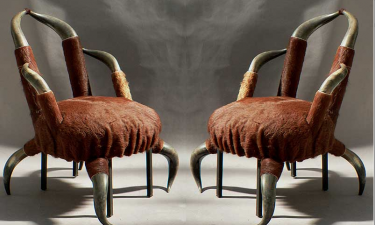 British creators of antler furniture include Clockhouse Furniture.
A creamery in Dresdon known as Pfunds Molkerei became Mendl's confectionery and bakery shop. The interiors of this shop, with ornate tiling and accompanied by Mendl's pink packaging are so pretty it's spellbinding (Bert and May or the Reclaimed Tile Company are good sources for original European tiles in the UK).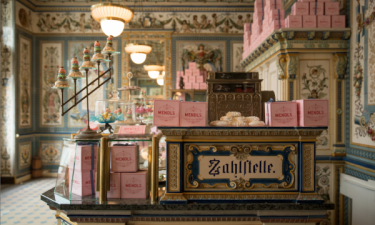 This pastel room for the children's birthday party is a typical Wes colour palette and oozes retro-cool. Just check out that pistachio green wall.
These are the kind of sets and interior design which stay embedded in one's mind, like an illustrated story book from childhood and will be influential and referenced for many years to come. If Budapest Hotel doesn't win for production design on Sunday I'll eat Zero's bell boy hat.
You may also be interested in…
Typography heads will know that Wes is known for his love of the font Futura but he branched out for Budapest Hotel with a font called Archer.
Read the script by Wes Anderson >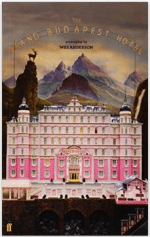 Watch it!
Watch on Amazon Instant Video now! >