The Architect (Arkitekten) explores Scandinavian architecture, design and societal imbalances
Norwegian miniseries The Architect (Arkitekten) is set in the very near future against a backdrop of stylish Scandinavian architecture and design, yet is as bleak as it is beautiful.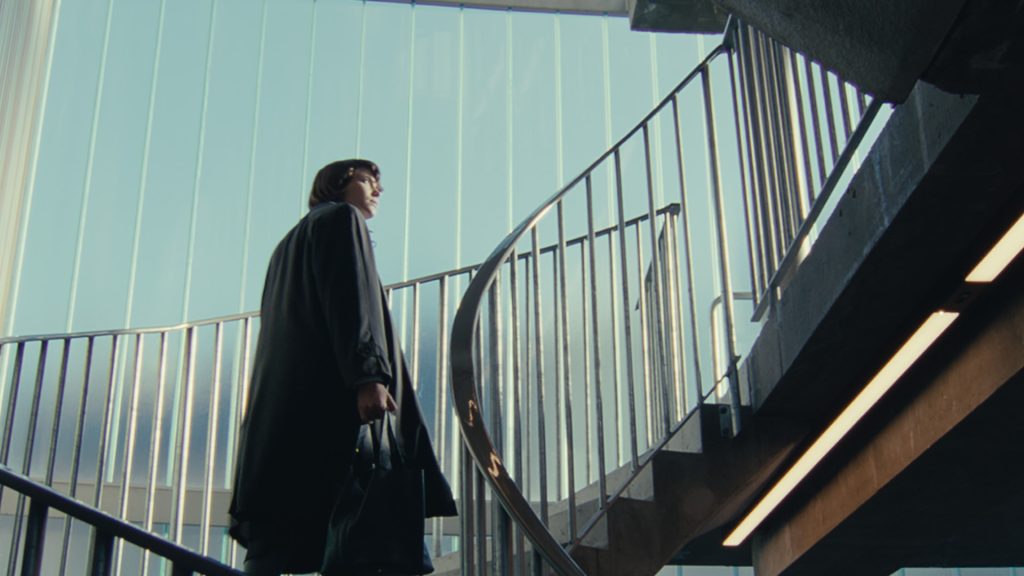 Julie (Eili Harboe, who you'll know as Ebba in Succession) is an intern at a renowned architectural practice. She is a bright graduate of an architecture school and is expected to feel fortunate to have landed a position at this Oslo practice, even though she spends most of the day making artisan drip coffee.
Average rents in the city have become unaffordable for most, so although Julie works for a firm who design large, luxury developments, she can't afford a flat of her own. She is forced to live in a makeshift space in a disused underground car park.
When the architects practice is invited to enter a competition to build a thousand flats in downtown Oslo, Julie has an idea to solve a seemingly impossible task: why not convert empty underground car parks into residential buildings?
This incisive satire explores themes of societal imbalances, privilege and the global housing crisis. We learn that in this Oslo of the future, most of the luxury housing owned in Oslo sits empty, their owners living elsewhere. This is already a common problem in major cities with many of those who actually inhabit and work in these cities not able to afford to buy or even rent a home.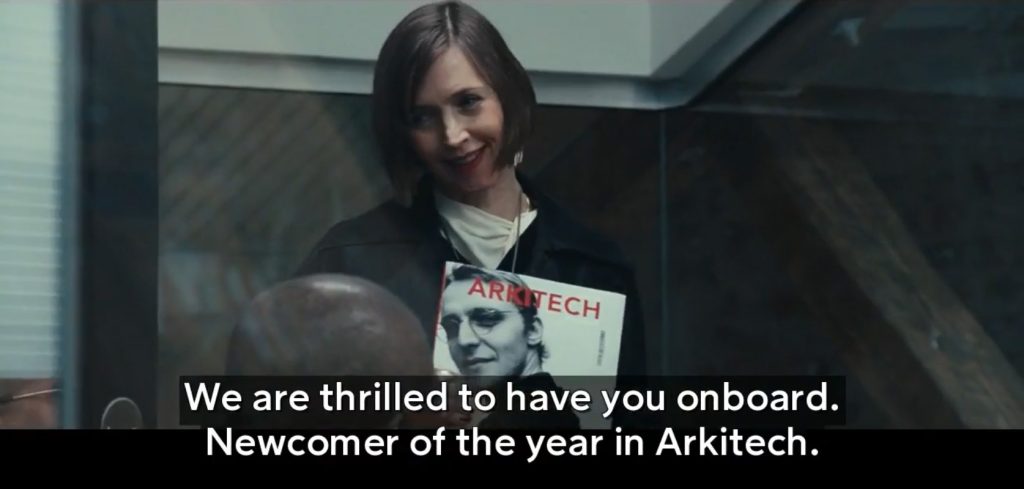 Another interesting point covered in the series is the veneer of success: When new star architect Marcus joins the firm, the team are shown an important architecture magazine featuring him on the front cover. He appears to be the successful wonder boy, garnering press coverage and living in a smart apartment, yet behind-the-scenes his life is fraught with financial problems too, and he and his wife Nina will go to extraordinary lengths to keep up appearances.
The design details of The Architect
Marcus's flat, even though fairly small and compact, is a dream for most in this modern city presented in The Architect. It has a minimalistic warehouse feel with white painted brick walls, and he and Nina organise their designer mobiles and vases, and invite friends over for dinner.
The mobile we see Nina hanging for their forthcoming baby, is a Flenstead mobile. Designed in 1970, this was the first of many mobiles by Ole Flensted. Bars of light and heavy elements in dynamic tension suggests six planets with their moons – or perhaps different levels of the light and the dark sides of the personality. Handmade in Denmark, this beautiful sculptural mobile works equally well for adults or children. It is perfectly balanced so that all elements are in constant motion. 
Their open plan kitchen/dining area features a long built-in wooden sideboard used to display their art and sculptures, all signifiers of their design sensibility and success.
Their dining chairs are Gervasoni Brick 23 Chair designed by Paola Navone for Italian design house and manufacturer Gervasoni. This eye-catching chair features chrome-plated steel piping and mesh made from quality rawhide. 
The silver ceiling pendant lamp above the dining table is a Ktribe Suspension Lamp designed by Philip Stark.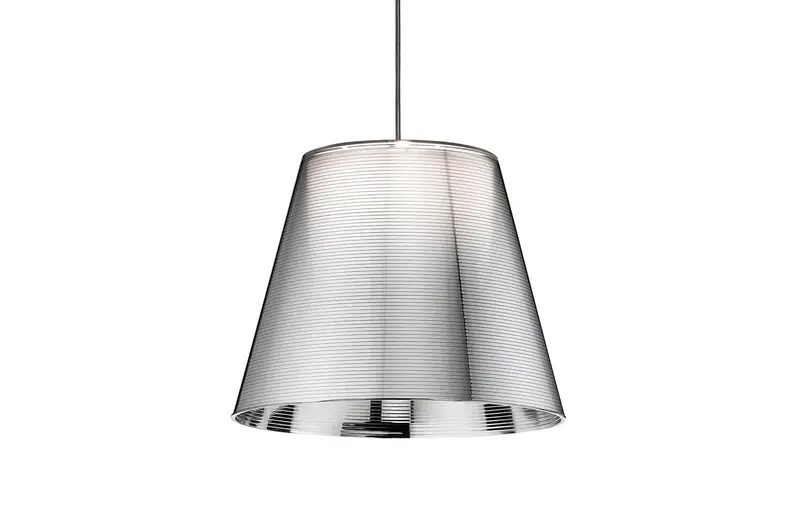 We also spot a Mayday light in Marcus and Nina's apartment. Designed by Konstantin Grcic for Flos, the Mayday light can work as a table lamp or can be hung from other furniture, or even from the wall. Thanks to the practical hook, the lamp can be hung anywhere and the use of polypropylene as a material also makes Mayday particularly durable.
Meanwhile, Julie lives in her underground car park space with fabric dividers. The 'landlord' lets her have the floor lamp that's been left behind, adding "it's Danish design" as a sign of it's status. She eventually makes it feel like a little more like home with bed, desk and a sofa found on the street.
In a city where dogs are walked by drones and where you can't wait in a public space for five minutes without buying a cup of coffee, this series makes some timely comments about the future, but in many ways that future is already here.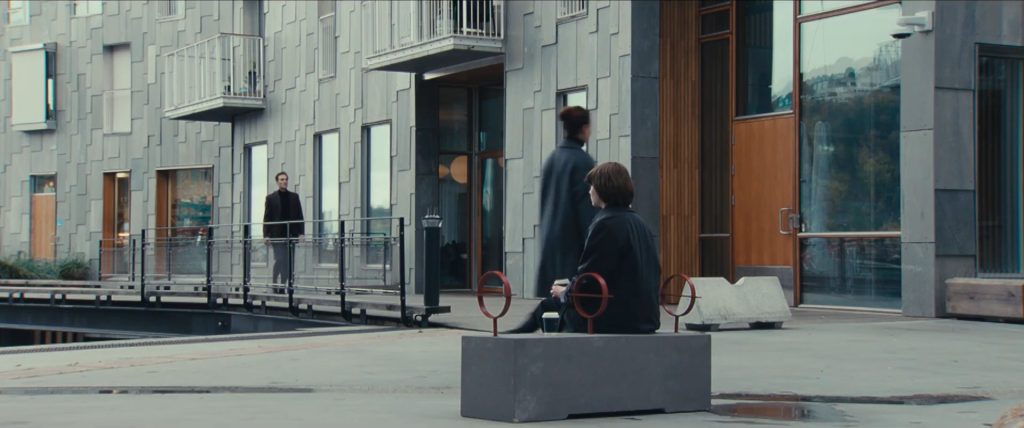 The Architect c
onsists of  four 19-minute episodes and was created by screenwriting duo Nora Landsrød and Kristian Kilde with director
Kerren Lumer-Klabbers
. Production Design is by
Signe Krab Nymann.
This debut series is a winner of the Viaplay Original Talent Awards, a student initiative that offers a unique opportunity for young Nordic creators to share their work with a global audience and aims to elevate young Scandinavian talent. The series received a Special Mention at the 2023 Berlinale Series.
The Architect is streaming now on Viaplay.