A new immersive book delves deep into the legacy of Kubrick's The Shining.
The lure and legacy of Kubrick's classic horror The Shining shows no sign of waning. In fact it continues to gain momentum by the year as evidenced by projects like the new book The Shining: A Visual and Cultural Haunting, an immersive, multi-dimensional examination of one of the most infamous films in cinematic history.
Conceived and delivered by designer and writer Craig Oldham and soon to be published by Rough Trade Books, this beautifully boxed publication is disguised as the 'writing project' Jack is typing throughout the course of the film and is available to back on Kickstarter.
The 400 page, loose-leafed 'book' explores the film's cultural impact through essays, original recollections, contributions from cultural luminaries, and art and visual ephemera. Rare, exclusive interviews with lead actors Shelley Duvall (Wendy Torrance) and Dan Lloyd (Danny Torrance), along with contributions from Cosey Fanni Tutti, Margaret Howell (whose iconic maroon jacket was worn by Jack in the closing act of the film) James Lavelle (UNKLE) and Gavin Turk re-examine the film through the lenses of music, art, mythology, fashion and gender.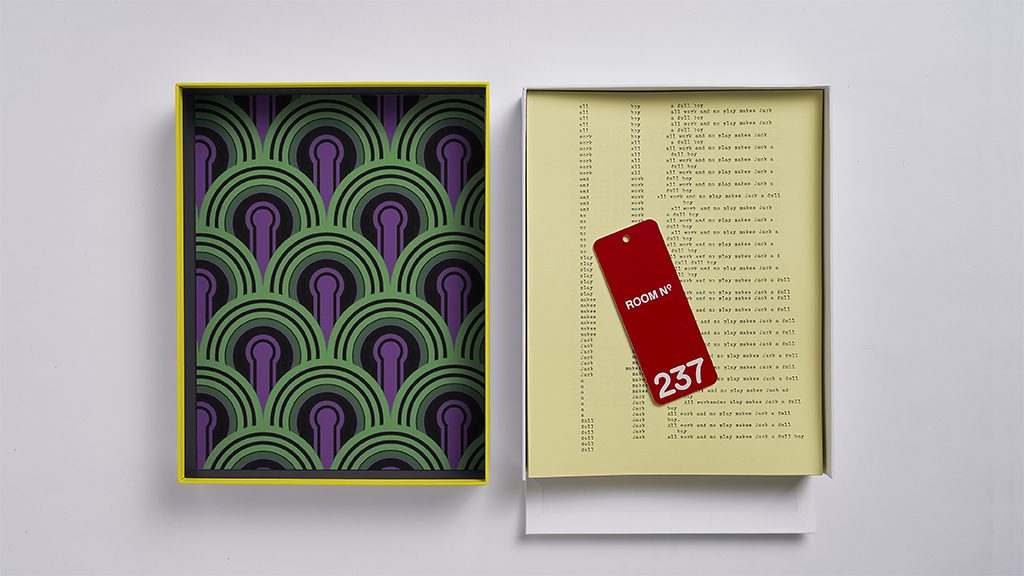 The film's most haunting character is the Overlook Hotel itself and with that in mind, architecture expert and writer John Grindrod investigates the role of the hotel in the film and the impact of spaces on our behaviour. Additionally, Oldham and his team have trawled archives and libraries to source photographs of the numerous existing and real locations and hotels which influenced the film set design. Reproductions of original promotional postcards from numerous research locations which were drawn upon for the design of the hotel are included together with original hotel ephemera from existing hotels which cite direct influences on the Overlook including Native American themes, promotional decor, and even room design and names.
The iconic hexagonal carpet of the Overlook's corridors is also put under the spotlight. Fans of Film and Furniture will know that its founder Paula Benson has spent years researching this carpet as well as the design of Room 237, and that we now sell officially licensed 'The Shining' hexagonal rugs, runners and wall-to-wall carpet. Her investigation into the Hicks Hexagon and theories of why Kubrick chose this mesmerising carpet design for the film are referenced in The Shining: A Visual and Cultural Haunting.
Stanley Kubrick was renowned for his rigorous research and this has inspired Oldham's approach to this project: Numerous rare texts read by the director in preparation for the production, as well as ephemera featured in the film (from music, magazines, commercial culture, and design) and original The Shining promotional material are all in the mix.
The book also focuses a contemporary lens on the film to readdress an apparent gap in critique from the perspectives of women, mental illness, domestic abuse and domestic violence. Shelly Duvall has said 'The Shining has been described as a film about domestic abuse. Of course it was — I think that's what a lot of Stephen King books are about. At times, working on the film felt like psychological warfare." 
It's an interesting format too: "There is no binding in this publication; it can be read in any order and, like the film itself, can be re-ordered, re-edited, pulled apart and put back together again, each time reforming and reframing a new understanding—forever and ever" say the publishers. 
We asked Oldham why he feels The Shining has such a lasting legacy: "It's legacy has sustained and is secure because, for me, the film contains so many contradictions. It's fascinating that it holds conflicting ideas, and because that's such an inherent characteristic of human nature, that it appeals to many both consciously and unconsciously. So many things about it don't add up. How does Kubrick, an established director with a big studio and big studio budgets, foray into a peripheral genre, largely a point of entry for new directors working independently and famous for innovation through necessity? Why does the ending bring no real resolution, or even an ambiguous sense of logic? Why does the architecture not seem to fit, seem to function, seem to be in flux? It asks you endless questions and offers limitless answers, but none feel resolute. So, you keep asking." 
We also asked Oldham if he had to choose one enduring image or object from The Shining, what would it be? "There's so so much to choose from. The way Kubrick deployed the Stedicam, even though not technically original, created some truly iconic imagery that has imprinted itself on our cultural history. The trike, the carpets, the key fobs, it's all there. If it were an object, I would be torn between two things. Firstly, that enigmatic Apollo 11 sweater. Never in the history of cinema has a jumper caused so much intrigue and sparked so much speculation, but I'm fortunate enough to have had a friend knit me a replica (exactly as we're offering one lucky backer in our Kickstarter campaign). However, for me it would have to be the manuscript. As a designer and a writer it's all there for me, and having seen and handled the original at the archives, it makes it all the more special. But the fact that this printed artefact is a catalyst in the story and the narrative, captures something for me, hence why we have tried so hard to replicate it as a publication. To share that moment, that intrigue."
The Shining: A Visual and Cultural Haunting is being funded as a Kickstarter project which you can back here. Get your skates on as backing closes Sunday, March 20 2022 at 8:00pm.
Alongside the standard edition, there are some impressive alternative editions for limited backers. 'The Overlook Edition' of 500 copies for example, is lined with flock printed Hicks Hexagon carpet. No guessing which version we at Film and Furniture have backed!