The French Dispatch café
We love Café Le Sans Blague in The French Dispatch and it sounds like the art department team had a blast sourcing all the furniture and set dressing for Wes Anderson's latest film.
Set Decorator Rena DeAngelo SDSA explained to Set Decor recently how she found much of the intriguing set dressing and props for the The French Dispatch café and other sets in the film from French flea markets such as those at Chartre and Le Mans as well as weekend brocantés and out-of-the-way country shops. What fun!
A local estate liquidator – Denis Gargolie, was also a source for many of the antiques, rugs, tableware and lighting.
DeAngelo explains how they were careful to avoid cliches of an Art Nouveau Paris café for Café Le Sans Blague, which becomes the setting for a student revolution. The film set was inspired by a particular photo reference the team found of a bright yellow cafe in Paris and French films of the '60s, particularly Bande A Part, the 1964 French New Wave film directed by Jean-Luc Godard. The bar itself and a lot of this furniture came from a liquidator near Paris called Bravo and the team also used a lot of Formica, mirrors and plastic in this space.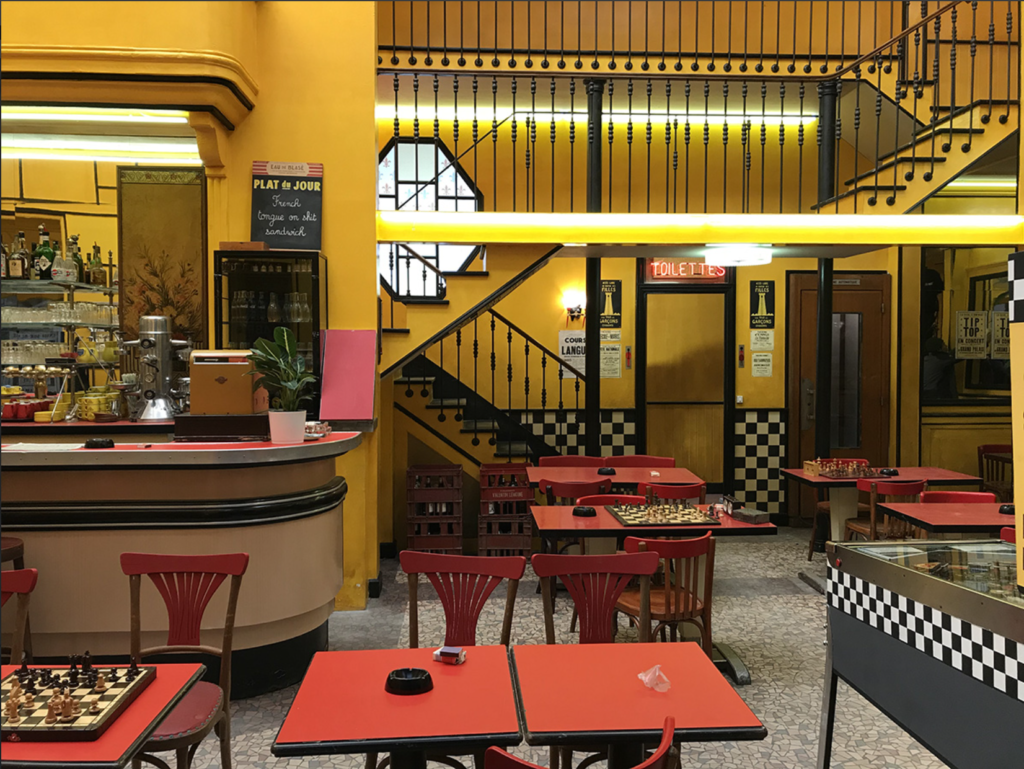 The bold colours of red and yellow were a decision made by long-term Wes Anderson collaborator, Production Designer Adam Stockhausen and from there the idea took shape with red Formica tables and with the painting of chairs. Red and black plastic lights and sconces found in many different flea markets completed the look.
Makes you want to fly to France to go furniture shopping post haste doesn't it?
Such is the lure of the café there have been recreations of it popping up in London, New York and LA.