5 Ready to Go sofas to hole-up with (and 5 films to match)
We're all spending more time than ever on our sofas in these unusual times, so we'd better make sure it's a sofa we love. When you settle down to binge watch the latest Netflix series or catch up on a film classic you've been meaning to watch for ages, it makes sense to hole-up on a sofa that's super comfortable and beautiful to look at. If you're thinking about buying a new sofa for this very purpose, we've discovered that Habitat have a fantastic range of Ready to Go sofas (and armchairs).
Not willing to wait?
It can be frustrating when you fall in love with a sofa and then have to wait half a lifetime for it to arrive, so there will be considerable gratification in ordering one now and having it arrive in 2 weeks: Habitat have a range of beautifully crafted sofas ready to arrive at your doorstep in approximately 14 days.
Yes, you read that right: 14 days (not 14 weeks). Whether it's a corner sofa, armchair, leather sofa or fabric sofa that you need in a hurry, their 'Ready to Go' collection is rather enticing and will bring some much needed joy if you've been stuck inside for a week or two already!
Here's our pick of five sofas from the Habitat "Ready to Go" collection, together with our carefully curated movie suggestions to complement each sofa design.
Ready to hole-up and hunker down?
1. The Hendricks sofa
The sumptuous Hendricks sofa features low, wide arms and soft, deep feather and fibre cushions finished with button detailing. Made in Italy, this sofa has a substantial, retro-styled design and is fully upholstered with removable frame covers.
The Hendricks range includes the 3 or 4 seater corner sofa with or without chaise, a 2 seater sofa, a 4 seater sofa and an armchair – and all are available in a choice of fabrics (including a gorgeous Velvet Orange shown above) and leathers in a variety of colours.
Get on board with the colour block trend with a bold bright fabric or something a little more subtle if you prefer.
What to watch from your Hendricks sofa: Mad Men
Once your Hendricks arrives, then we can think of nothing better than snuggling down with a tot of Canadian Dry (Don Draper's tipple of choice) to revisit Mad Men. The epic 92-episode TV series also stars none other than this sofa's namesake, Christina Hendricks who plays the enigmatic Joan Harris (née Holloway).
The furniture and decor of Matthew Weiner's series is a lesson in Mid Century design. Weiner, together with production designer Dan Bishop and set decorators Claudette Didul and Amy Wells raised the bar of TV film sets and had a major part to play in the Mid Century furniture revival.
The Hendricks sofa wouldn't look out of place in the Sterling Cooper advertising agency offices or even Joan's own apartment.
2. The Askem sofa
A contemporary update on a classic shape, the Italian-made Askem sofa is generously proportioned with deep seat cushions, wide arms and a comfortable padded back.
Perfect for families, the sofa is available in a variety of fabrics, from everyday to luxe, to suit the way you live.
The Askem collection is part of the Ready to Go sofas range and features a 2 or 3 seater sofa and a loveseat.
What to watch from your Askem sofa: I Am Love
Whilst sitting comfortably in the classic Askem, we recommend viewing the 2009 Italian romantic drama I Am Love (Italian: Io Sono L'amore). This unusual film delves into the politics of a wealthy Italian family and then curve balls into the story of the passionate love affair of a restrained housewife, played elegantly by Tilda Swinton (who steals the show).
The other star of Luca Guadagnino's much loved  film is the incredible Villa Necchi in Milan, a luxurious example of Italian architecture of the inter-war period, teaming with interior design inspiration.
3. The Hyde sofa
The Hyde is an elegant, sleek and restrained sofa collection which delivers high comfort with slender proportions. Contrasting a narrow, slim frame and legs with large, deep cushions, the sofa has an uncluttered profile.
The sofa has deep seating and generous padding, providing long-lasting durability and ultimate comfort.
The Hyde sofa collection comes in a 2 or 3 seater sofa, with and without chaise, in a variety of 25 fabric colours or leathers.
A footstool and an armchair also complement the range.
What to watch from your Hyde sofa: Dial M for Murder
The Hyde epitomises grace and therefore, wait for it… a Grace Kelly movie would be our choice of viewing from this elegant sofa.
Spotted for her beauty and poise at an early age by Director Alfred Hitchcock, he first cast her in the 1954 thriller Dial M For Murder which was was a huge success. She went on to star in two more of Hitchcock's films: Rear Window and To Catch A Thief. 
Kelly's five year career as Hollywood royalty ended when she ran away to become Princess of Monaco yet is still considered one of the most iconic film stars of all time.
Cary Grant once said of her: 'She never distanced herself from others, and she was enormously friendly to everyone – no stuffy attitude, no star complex.' 
4. The Kota sofa
The Kota is a fun, friendly and flexible sofa bed.
This sofa bed features a click-clack mechanism that allows the back to flip all the way down, transforming a 3 seater sofa to a comfortable bed in seconds. The compact proportions make it ideal for the space-challenged and is designed for comfort to convert as a sumptuous mattress.
The versatile sofa bed is equivalent to a small double bed and has a generous, supportive foam and fibre filling for comfort and durability.
The Kota is a 3 seater sofa bed which comes in a choice of 6 fabric colours.
A footstool and an armchair also complement the range.
What to watch from your Kota sofa: Despicable Me
Our suggested film to watch from this cheerful and characterful sofa bed is the animated comedy Despicable Me featuring the beloved minions, the yellow creatures characterised by their childlike behaviour and unique language.
In Despicable Me we find a happy American neighbourhood surrounded by white picket fences with flowering rose bushes. One house stands out with a dead lawn. Hidden beneath this house is a vast secret hideout with a small army of minions run by super-villain Gru who is planning the biggest crime of the century – to steal the moon.
4. The Clemence sofa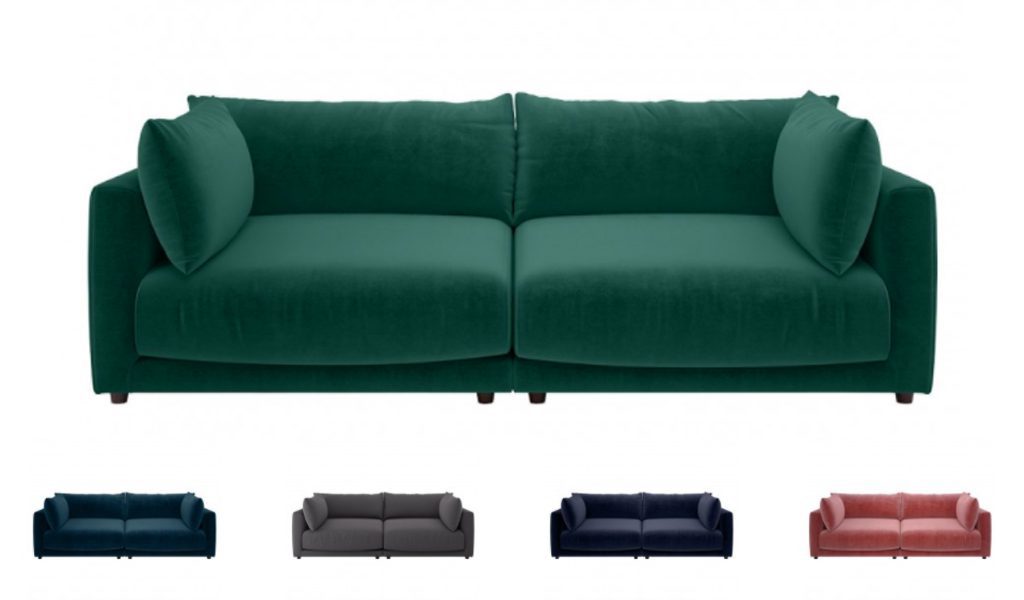 The Clemence sofa is suitable for some serious cosying up. A deep sofa with large plump cushions it ticks all the comfort boxes without compromising on style.
It's dreamy in deep emerald green velvet but also comes in wool, and a range of 20 fabrics and colours.
The Clemence sofa collection is part of the Ready to Go sofa's range and comes in a 3 or 4 seater sofa as well as a generous loveseat.
What to watch from your Clemence sofa: Emma
Snuggle down in your Clemence to watch Anya Taylor-Joy, Bill Nighy, Johnny Flynn, Miranda Hart et al in the romantic comedy Emma.
The latest adaptation of the Jane Austen novel directed by music photographer Autumn de Wilde is a beautiful film with beguiling film sets. Emma follows the story of a girl whole meddles in other people's love lives (mostly from the enchanting Georgian estate at Hartfield). But when it comes to herself, she discovers that the love she's been looking for has been right before her eyes all along.
The story is set against a backdrop of elegant décor and bright colours devised by production designer Kave Quinn in close collaboration with de Wilde who referenced films like Marie Antoinette and Wes Anderson's The Grand Budapest Hotel for colour. "Autumn also pointed to those Georgian dollhouses where everything is very crisp and each room has a very different style" said Quinn.
And you're in luck: To adapt to cinema's currently being closed, Universal Pictures have recently announced that instead of new movies being only available to view in theaters exclusively for 90 days, it will now make its films available for rent on streaming platforms.
Watch Emma now on Amazon Prime.
Check out Habitat's full range of 'Ready To Go' sofas, order in some popcorn and line up those films!