Music aficionados choose memorable audio and Hi-Fi in film
In celebration of Record Store Day we asked renowned musicians, music lovers, designers and Hi-Fi experts to pick out their favourite item of audio, music hardware or Hi Fi in film and movies scenes. Be it a turntable, Walkman or sound system, it transpires that all things analogue in movie scenes make a lasting impression.
Record Store Day is the one day of the year when over 200 independent record shops all across the UK come together to celebrate their unique culture. Special vinyl releases are made exclusively for the day and many shops and cities host artist performances and events to mark the occasion. Thousands more shops celebrate the day around the globe in what's become one of the biggest annual events on the music calendar. 
---
Nick Phillips: Technics turntables in La Haine (1995)
"What could be more classic than a pair of Technics to celebrate Record Store Day? Well here they are featured in this iconic scene from Mathieu Kassovitz's 1995 epic film La Haine.
We begin with Hubert smoking a joint, listening to Isaac Hayes on his ghetto blaster, cut to the Cypress Hill T-shirt wearing DJ, played by Cut Killer, positioning his speakers over the housing projects, cueing up the turntables, then blasting out his cutup track 'Nique la Police', which includes elements of NWA, Notorious Big and KRS-One. The track plays out on Edith Piaf, as the Flying-Cam floats over the estate down to Vinz and Saïd, where Vinz sees the mirage of the COW".
---
Liz Goodwin: The Walkman in Back To The Future (1985)
"In 1985 I was nine, and Back To The Future was the first film that I genuinely discovered by myself. Obviously it was wonderful: The skateboards! The orange body warmer! The Delorean! The electric guitar! Huey Lewis & The News! It was also the first time I saw someone using a Walkman. I knew I wanted one, but became obsessed with them when I saw 1985 Marty McFly trying to grab his young father's attention in 1955 with a pair of portable headphones, an Aiwa Walkman (with Auto Reverse!) and a Van Halen cassette. It really felt like a significant moment – the moment when portable music became mainstream".
---
Rod Thomas: The wall of speakers in Mannequin (1987)
"My pick is the scene in Mannequin where Kim Cattrall and Andrew McCarthy are in the department store's audio section. There is a wall of huge, 80s speakers (all the same model, I believe) and a giant sound desk – which doesn't make much sense for consumer electronics, but looks so 80s and so cool. When she accidentally triggers the music and shouts "where do they hide all the musicians?!" it's one of my favourite moments. The scene actually inspired my song Symmetry Of Two Hearts. I love how dated and oversized the speakers are. I'd LOVE them in my home".
You can buy the album Choreography via the Bright Light Bright Light website or find your local record store on the Record Store Day website.
---
Malcolm Garrett – The Esper Machine in Blade Runner (1982)

"I love the voice-controlled, image-enhancement Esper Machine that Deckard (Harrison Ford) uses in Blade Runner to navigate virtual 3D space in a 2D photograph, through to a tiny detail where the replicant Zhora is hidden within the image. I'm not sure if this really qualifies as an item of audio, but the distinctive sonic responses accompanying each of Deckard's spoken instructions are amongst the most iconic in film.
The machine is literally the most fantastic device. There is debate as to whether such an advanced machine could ever exist, given the way it looks around corners to see things that are not visible in the photograph. Observers have also commented on the incongruity of such advanced technical capability housed in decidedly clunky, analogue hardware".
Pour yourself a whiskey in the exact glass tumbler Deckard drinks from in this scene and watch the clip:
---
Lauren Fitzgerald – The Barrington Portable Record Player in Moonrise Kingdom (2012).
"The 1960's Barrington portable record player and radio featured in Wes Anderson's Moonrise Kingdom is Suzy's essential item for running away from home having fallen in love. Not only is it a beautiful bit of music tech, it provides the film with the most wonderful plot points and musical cues: Suzy's parents discover she has run away when she takes the record player without asking, and Suzy and Sam's confession of love and slightly awkward coming of age is soundtracked by Francoise Hardy's Le Temps De l'Amour spinning in the background.
Unfortunately Barrington discontinued the model but there are a few second hand models online it you're considering taking your 45's to the beach this summer".
You seriously need Francoise Hardy's Le Temps De l'Amour in your life. Download on iTunes now or buy on vinyl from your local record store using the handy search on the Record Store Day website.
If you're a Wes Anderson fan, checkout our Wes related merchandise.
---
Loren Weeks – High Fidelity (2000)

"I haven't seen High Fidelity in 16 years. It still holds up and is a fun story of love, break ups, music snobbery and music nerdom. Set mostly in the used record store Champion Vinyl, the main character Rob and his 2 (sort of) employees spend their day ignoring customers and arguing over top 5 lists. There is no occasion that doesn't warrant a top 5 list typically expressed in songs. There also seems to be an on going one-up-manship over mix tapes where music tastes are ridiculed and defended with passion.
The film sets of Champion Vinyl and Robs apartment are extensions of his character. Both are filled with records, CDs and in Rob's apartment – a great stereo component system. When I was a teen in the mid-70's stereo components were a source of pride to me and my friends. We never bought a one brand system: The receiver might be by Harmon-Kardon or Marantz, the turntable by Technics or Thorens, the stylus and speakers yet other brands. The stereo system was a real presence in the room, something to be crafted, a source of pride to be admired and respected. Rob's apartment is an extension of his record store, a visual support as to the importance of the music in Rob's universe. The walls are lined with shelves of plastic sleeved vinyl albums. In one scene Rob tells his employee Dick, that he is reorganizing his record collection. Dick's eyes light up, he asks how? Chronological order of Rob's life and yes, break-ups play a big role in the organization. The vinyl and stereo equipment is precious and loved, cared for and pampered, the constant other woman in Rob's life and always there in the background".
---
Paul West – The Hacker Grenadier GP45 record player in Control (2007).
"Hacker Radio manufactured domestic radio and audio equipment including mono record players, most of which could be converted to stereo with the additional purchase of a matching amplified loudspeaker such as the GP45 Grenadier. The GP45 record player (Dansette style) with SA45 Amplifier is featured in Control (Anton Corbijn's film about Ian Curtis – the enigmatic singer in Joy Division). It makes a subtle yet seductive entrance early in the film.
What resonates with me is that a young Ian Curtis (Sam Riley) does what all teens did in the 70's – he longed to be somewhere else. For now (dis)content, formulating his idea of the world within the world of his bedroom. Growing up in 70's Dorset, the soundtrack of my early years included Pink Floyd, The Who, Roxy, The Jam, Japan and the immortal David Bowie. My bedroom walls were covered in images of my heroes – Japan, Bauhaus and an amazing Scary Monsters poster I bought with my Saturday morning wage (missing out on my 7" that week). These pictures weren't just about the bands but what the bands represented – the alternative reality they offered. Intoxicating stuff when you're living in a town that closed shut at 5pm on a Saturday.
In Control we see Curtis stealing his sisters coat to indulge his burgeoning showmanship glam-existential sensibilities listening to The Jean Genie, surrounding his room with his idols – Bowie, Iggy and Lou Reed posters (photographed by Mick Rock) and books including 'Apolcalyptic' writers JG Ballard (Crash, The Atrocity Exhibition), William Burroughs (Naked Lunch, Ah Pook Is Here) – very art school and narcissistic – but that's what we had pre MTV and YouTube. We had Smash Hits for lyrics, NME, Melody Maker and Sounds for news, Radio Luxembourg and John Peel, Better Badges, and our dissatisfaction. And as Malcolm McLaren famously said in 1967: "Frustration is one of the great things in art. Satisfaction is nothing."
---
Robin Bruson – Transcriptor turntable in A Clockwork Orange et al
"Designed by the late David Gammon the Transcriptor 'Hydraulic Reference' turntable has featured in many films and TV programmes. In fact many of them have probably been provided by us here at Audio Gold. We have a had a long relationship with the turntable. Audio Gold founder Richard Goldsmith being one of the few people able to refurbish them fully. In the shops 25 year history many have passed through our doors, including rare 'curved cover' versions.
 
The turntable appeared most notably in A Clockwork Orange (1972) but versions have also appeared in X-Men First Class (2011) and The Look Of Love (2013) and countless TV appearances – from CS Lewis documentaries to CBBC!
 
We are one of the few places to deal with the turntable and take pleasure in it's unique and distinctive design, earning it a design award in he seventies, a future retro classic that is now becoming rarer than ever. It endures today and is the turntable people most ask for when using our prop hire service. I think anyone can see why".
---
So where can I get one?
For new, vintage and refurbished audio and Hi Fi's your first port of call should be Audio Gold >
They beautifully reconditioned this SK4 Snow White's Coffin for us recently.
John Lewis have a wide range of audio and Hi Fi equipment >
Ebay also have a large selection of pre-loved turntables >
So excited was Paul West by the Hacker Grenadier GP45 record player in Control, after submitting the above contribution to F&F he immediately started bidding on Ebay and is now the proud owner of this bad boy: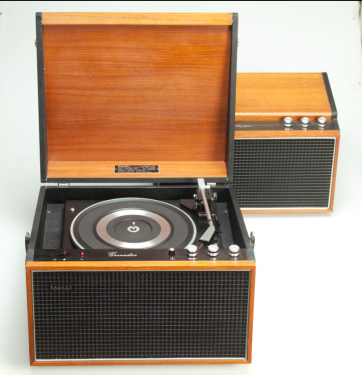 You may also enjoy:
How Blade Runner combines a multi-cultural past with a retro-fitted present (plus details on those iconic whiskey glasses) >
Essential viewing for Blade Runner fans: An atmospheric tour of Deckard's apartment >
Kubrick's A Clockwork Orange : Brutalism in exteriors, interiors and a quilt >