Daydreaming with Stanley Kubrick: Immersive, intense, inspirational
What a brilliant idea Mo'Wax and UNKLE founder, artist and musician James Lavelle had in conceiving the unique exhibition Daydreaming with Stanley Kubrick. Currently at London's Somerset House, a host of contemporary artists, film makers and musicians are showcasing works inspired by Stanley Kubrick, in celebration of this genius of cinema and a firm favourite of Film and Furniture.

So brilliant is the concept of this exhibition that a dream actually did come true: I followed in the footsteps of Dr Francis Poole in jogging around the circular centrifugal interior of Discovery One in 2001: A Space Odyssey. This dream became reality courtesy of Norbert Schoerner and Happy Finish who have created a 360 degree virtual reality experience of the awe-inspiring space craft interior. So real is this VR experience that when you look up, down and around you get a real sense of the space and a tinge of vertigo. It also provides a close-up look at all the colourful computer screens that have been etched in my mind since my first viewing of the film.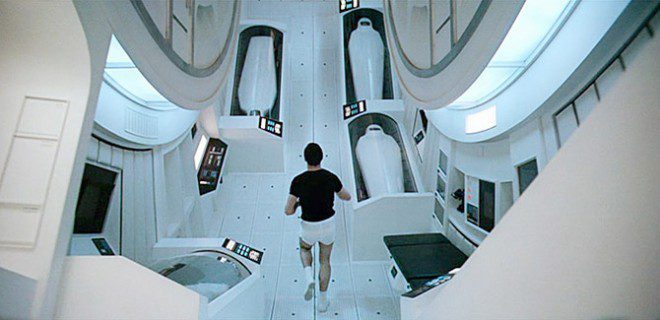 Each artist provides a new or existing work inspired by Kubrick, responding to a film, scene, character or theme from the Kubrick archives, or even the man himself. And let's face it, such is the wealth of visual and conceptual inspiration supplied by Kubrick, the hard part for each of the invited artists must have been in choosing which film or scene to 'daydream' about.
Kubrick began making films at the age of 25, with his first big feature The Killing in 1956. Over the following four decades, he directed cinema classics including Dr Strangelove, 2001: A Space Odyssey, A Clockwork Orange, Barry Lyndon, The Shining, Full Metal Jacket and Eyes Wide Shut. His extraordinary body of work is testament to the fact he did not allow himself to be controlled by the Hollywood studios, therefore delivering his own true vision with pertinence and power, and inspiring future generations of film makers and artists alike.
Upon arrival at the exhibition, one is greeted by a corridor of  block hexagonals 'designed' by Adam Broomberg & Oliver Chanarin – a vinyl representation of the carpet in the corridors of  The Overlook Hotel from The Shining (which any regular reader will know was the very piece of film set decor that inspired the Film and Furniture website). Very convenient that Somerset House West Wing gallery space provides a long corridor in which to execute such an homage.

I'm not sure 'daydreaming' is quite the right word to apply to some of the exhibits on show, however, as the experience is an assault to all senses. It's striking how Kubrick took ownership of creating a sense of unease – through both eyes and ears. What he left out is as important as what he put in: The visual and sonic pauses he frequently employed add a heightened dimension rarely seen in contemporary, big screen movies.
Haroon Mirza & Anish Kapoor capture this intensity with their installation 'Bitbang Mirror', influenced by Kubrick's sci-fi classic 2001: A Space Odyssey: In a dimly lit room, a loudspeaker is positioned from the ceiling in front of a large concave mirror.  The sound it reflects and the darkened space emulate the disorienting experience of the opening sequence of the film. The result make's one feel decidedly uncomfortable. Good uncomfortable. Challenging uncomfortable.
The uneasiness is exemplified whether by design or accident through the shear temperature of some of the exhibition spaces which were stifling hot during our July visit, further exasperated by Stuart Haygarth's exhibit consisting of a tower of electric fires which refer to a scene in The Shining which Kubrick shot twice, once for Jack Nicholson's take and once to capture the roaring fireplace.
Artist-film makers Iain Forsyth & Jane Pollard's 'Requiem for 114 Radios' features a choir of 14 singer-songwriters including Jarvis Cocker, Beth Orton and Elena Tonra of Daughter, performing a version of Dies Irae, the chilling composition used in the opening credits to The Shining. The recordings are broadcast over 114 vintage radios, which are in themselves another Kubrick reference; a piece of radio kit in Dr Strangelove was named 'CRM 114 Discriminator'.
This exhibit feels like something out of a Secret Cinema immersive theatre experience, where you have to spot the clues to make sense of the story. In this installation we spotted a book on Napoleon Bonaparte (in reference to Kubrick's planned but never realised, large-scale biographical film about Napoleon), a mini game of chess (in reference to Kubrick's passion for the game) and a mug featuring an image of the moon landing (in reference to the conspiracy theory that the Apollo 11 moon landing film was a hoax made by Kubrick).

London installation artist Paul Fryer has also chosen The Shining, with a waxwork of Kubrick dressed as Jack Nicholson's lead character Jack Torrance suspended in a freezer as large nod to the film's final scene. It proved a spooky experience to stare at this life-like waxwork and wonder about the man himself.
A room of two dimensional works by artists such as Philip Castle (original poster designer for Full Metal Jacket and Clockwork Orange) and Paul Insect, provide a well curated change of pace in the middle of the exhibition.
Dr Strangelove is a source of inspiration for Doug Aitken, Michael Nyman and Peter Kennard amongst others. Doug Aitken has created 'Twilight', a public pay phone bathed in a luminous glow, evocative of the Dr Strangelove scene where Mandrake attempts to make a collect call to the President of the United States.
Other artists have alluded to A Clockwork Orange such as Art taxidermist Polly Morgan has produced a snake in tribute to Alex DeLarge's pet.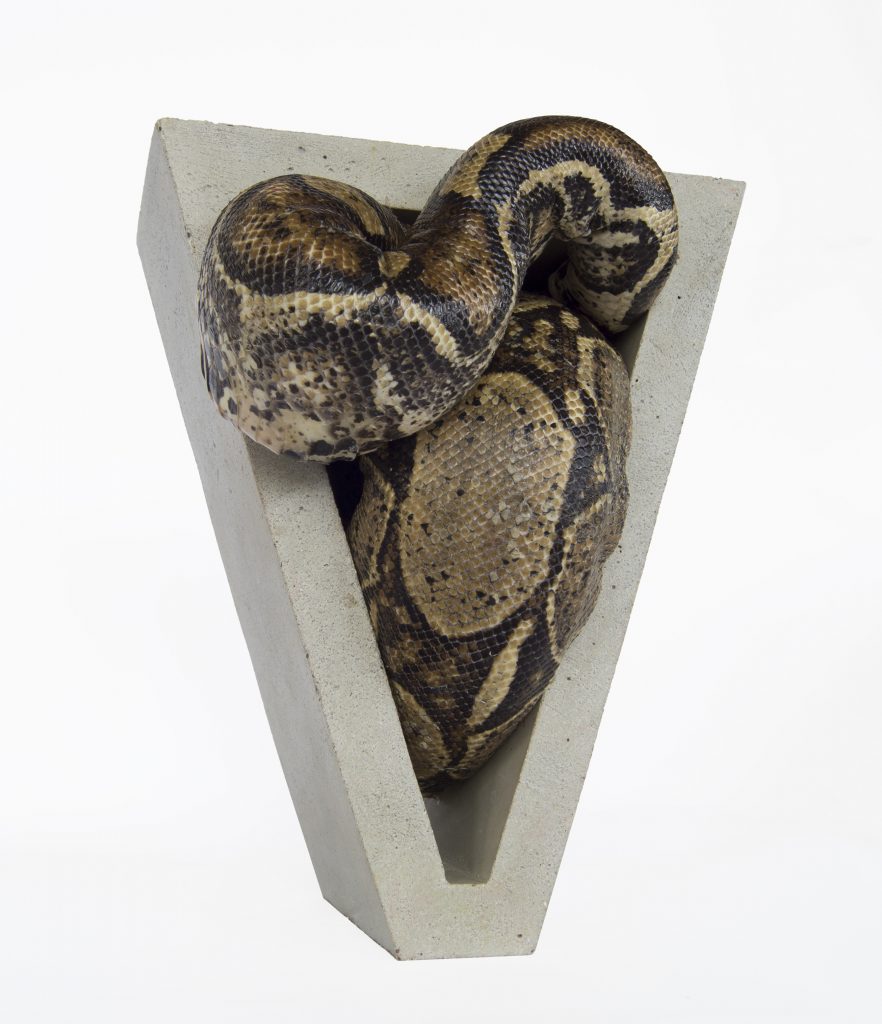 Other contributors include Gavin Turk, Jane & Louise Wilson, Jocelyn Pook, Joseph Kosuth, Marc Quinn, Mat Collishaw, Mick Jones, Sarah Lucas, Nathan Coley, Samantha Morton, Thomas Bangalter and more. Artist Christiane Kubrick, the director's wife of 41 years, has also contributed a portrait entitled 'Remembering Stanley' especially for the show.
This exhibition is immersive, intense and inspirational – go see!
Day Dreaming with Stanley Kubrick
6 July – 24 August 2016
Open Daily: 10am – 6pm, with selected late night openings on Wednesdays and Thursdays
Somerset House, West Wing, Strand, London WC2R 1LA
Admission: £12.50/£9.50 concessions
Host your own Kubrick inspired film night and dinner party with the cutlery from 2001: A Space Odyssey and a Kubrick box set!
The cutlery



The futuristic, elegant stainless steel cutlery used by the Jupiter Mission crew on Discovery One in Kubrick's 2001: A Space Odyssey (1968) were in fact designed a decade earlier by Danish designer Arne Jacobsen. This 24 piece '2001' cutlery set from Georg Jensen is available from Amara.
Buy Now >
The box set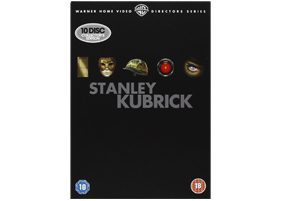 Kubrick 10 disc box set on DVD
This Special Edition box set encompasses some of Kubrick's best known and controversial titles including 2001: A Space Odyssey, A Clockwork Orange, The Shining, Full Metal Jacket, Eyes Wide Shut and the documentary A Life in Pictures.
Around £19.99. Buy Now >

Kubrick – The Masterpiece Collection on BluRay (region-free)
Includes eight Kubrick classics as well as the documentary: Kubrick Remembered which captures intimate moments in Stanley Kubrick's very personal life, two new-to-Blu-ray documentaries: Stanley Kubrick In Focus and Once Upon a Time…' A Clockwork Orange' plus three additional documentaries: Stanley Kubrick: A Life in Pictures, and O' Lucky Malcolm! Also a new 78-page hardcover photo book using never-before-seen archival photos, production materials and more.
Around £53. Buy Now >

The book


The Making of Stanley Kubrick's '2001: A Space Odyssey' Hardcover, by Piers Bizony
This behind-the-scenes spectacular of 2001: Space Odyssey sheds light on the lead actors, senior production designers, special-effects experts,  who together with the intricate mastermind of Kubrick himself, revolutionized science fiction and the art of cinema.
Buy Now >

4 other F&F Kubrick related features you may also be interested in:
• Kubrick's A Clockwork Orange : Brutalism in exteriors, interiors and a quilt >
• 2001 A Space Odyssey – a close look at those fabulously futuristic Djinn chairs and how Kubrick's vision of the future was brought to life through 'product placement' >
• Red Alert! 2001: A Space Odyssey Djinn chair for sale
• The Power of Pattern: The carpet in The Shining >