Maps in the movies – the Paris Connection
Film and Furniture are proud to present a guest feature by map and cinema expert Roland-Francois Lack (founder of The Cine-tourist website and teacher of French and Film at University College London) plus wise words by respected cartophile Ewald Van Der Straeten, map dealers RetroMaps, and details on where you can find your own cinematic maps:
I have been collecting maps in films for about ten years, and have posted about 600 of them on my website, The Cinetourist. The most distinctive of these maps are often animations created for the film, narrational devices that supply background as the story begins or make links between later episodes. Here is a simple example from Jean Grémillon's La Petite Lise (1930). The map narrates the passage of Lise's father from the penal colony in French Guyana, once he has served his time, back to his daughter in Paris:
About half of the maps I have posted are of Paris, because Paris is the place that, as a cinetourist, I most often visit when I watch a film. There are two places in Paris where one is sure to find a map of the city. The first is a police station, where a map is basic but essential background décor that serves to establish the authenticity of the setting, as here, in Chaplin's Monsieur Verdoux (1947):
The policeman's map remains in the background until he points at it:
The other place in Paris where there are always maps is the métro station, whether inside on the platform or outside on the street: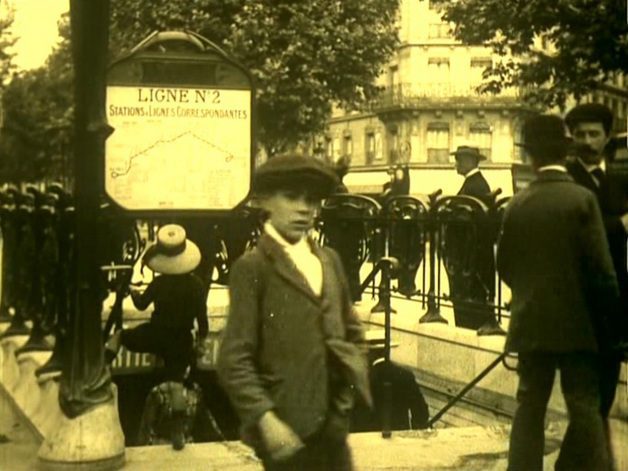 In domestic interiors, where there is no practical function for them to serve, maps are rarely part of the décor. The nouvelle vague supplied one striking example, in the apartment occupied by the doomed protagonist at the end of Godard's A bout de souffle (Breathless) of 1960. A film that has crossed late '50s Paris in all directions offers, in its last interior, a vista of a different Paris, the reproduction as wallpaper of an antique 'perspective' map of the city: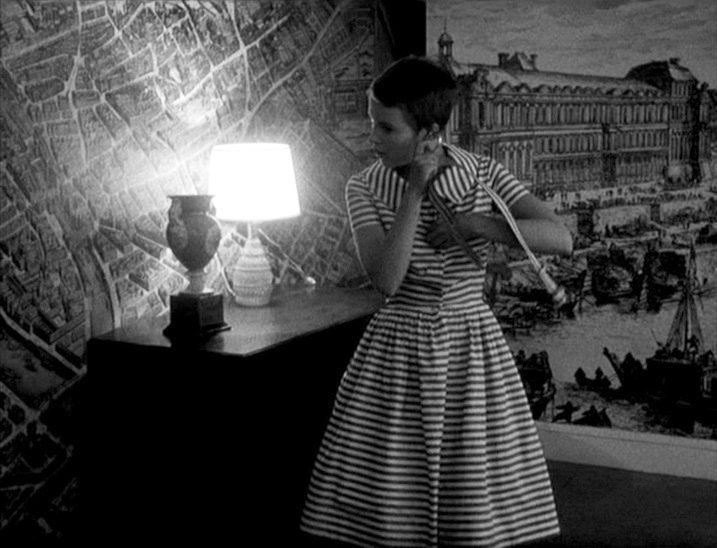 A similarly decorative function is served by a similar map in Louis Malle's Le Feu follet (1963), this time in a bar:
For the cartophile, any map in a film, even if only in the background, adds to the cinematic spectacle, but the map of Paris comes into its own as spectacle when the cinema brings it to the fore. When it is incorporated into the credit sequence it becomes a dominant signifier for the film as a whole. Roger Vadim turns the perspective map on its side in the credits of his Don Juan (1973), an act of erotic cartography:
The credits of Jean Delannoy's Maigret tend un piège (1958) superimposes on the map the emblematic pipe of its protagonist, reassuring us that he will overcome the evil that stalks the city:
It is certainly more reassuring than the credits of Jean Sacha's Fantômas (1947), where the initial of the evil protagonist grows and eventually blocks out the city over which he exercises his power:
(F&F note: Fantomos also features a fascinating 3D map illustration in it's original poster too)
The cinema's attraction for maps as spectacle takes a peculiarly Parisian inflection in that familiar setting I mentioned, the police station. Though often it is mere background, on occasion the policeman's map is transformed into something as spectacular as the cinema itself. This is done through two things: scale and illumination. According to the cinema, the Parisian police used to have at their disposal vast maps of the city with lights that flashed to indicate crime scenes or the trajectories of fleeing criminals. I don't know whether this was true, but I believe it because the cinema tells me so:      
The most spectacular cinematic combination of maps, policemen and flashing lights comes in a film that also has many of those maps in and around métro stations. Jean-Pierre Melville's Le Samourai (1967) is the most cartographically rich of all Paris police films, not because of its many maps but for just one in particular, the large map of Paris on which the police inspector follows the criminal's journey through the métro via a succession of illuminated lights, a fantasy of surveillance as spectacle that makes this my favourite map in the movies: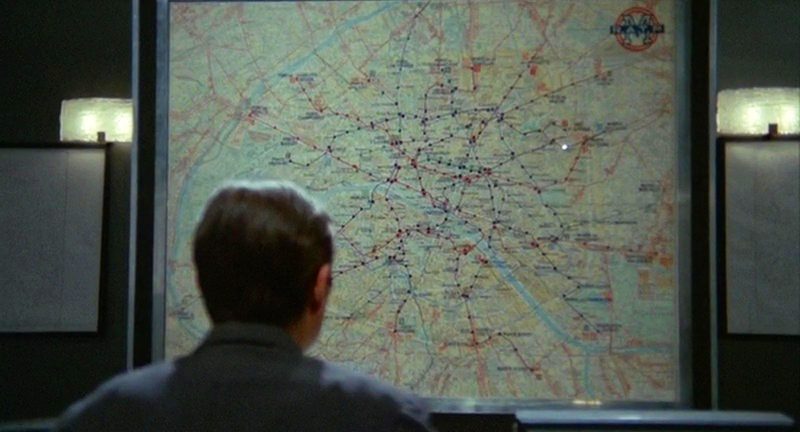 Thank you Cine-Tourist.
We at F&F have a big thing about maps too and given that a giant wall-mounted map is an essential tool for any espionage control centre as well as a police station as Roland mentions above, we have discussed them in our articles on the Goldfinger Rumpus Room and Man From Uncle HQ. Set for Adventure, the guest feature on spy film set design by SpyVibe also discusses the epic map in The War Room from Dr Strangelove.
On that note, we got chatting recently with map master Ewald Van Der Straeten whose collection we encountered at Modern Shows. He told us:
"I suppose my interest in large maps started in geography classes in primary school days. Only a few times a year, the teacher would role out these huge colourful maps in front of the pupils and discuss a certain continent or country for that lesson. Everything seemed a lot larger when you are young and the size and detail on display certainly made an impact. I wasn't the biggest fan of our geography classes but at least something stuck with me making sure I could relate the curriculum to something physical.
Being a bit older and having watched Stanley Kubricks 'Dr Strangelove' this interest was fueled by the fascinating link between a world map on display and the feeling of power and world domination. I started looking actively for my first map (I was after a world or Europe map at the time) and found a Europe map in my home country of Belgium. It was in the time of schools getting rid of their maps as computers took over and I started snapping them up to collect a few and to have a few options to change around on the lounge wall.
There are a great talking point during dinner parties and a great display of the travel 'menu' to see where we want to go next. After all these years, I think I now know why I love maps;  they remind me of where I come from, where I am now and where I would like to go in the future".
Here are some examples of maps that Ewald sells:

You can buy vintage and original retro maps directly from him by emailing [email protected] and he will even try and find a specific map if you have anything in mind.
We also recently met Alex Tyrie from Retromaps which was born from a passion for collecting rare and decorative vintage maps and charts that typically combine beautiful design elements and typography with an amazing colour palette. Their collection spans the countries and continents of the world, with pieces to suit discerning, nostalgic and design conscious travellers. They're experts in finding the gems and framing them beautifully.
Alex told us "I am dealer & avid collector of vintage maps & school charts dating from the 1930s to the 1970s – with a unique collection of rare & stunning statement pieces. I started collecting maps 8 years ago and it took me several years to find the bold, striking & decorative pieces that I wanted to hang on my own walls. I've always been interested in cartography and  I think maps are an emotive symbol of life and travels. By dealing in maps I have the perfect excuse to carry on hunting & the pleasure of passing on the notion that maps feature stunning artistry & design elements & tell fascinating stories".
Here are a selection of Retromaps wares which are available to buy from their website.

Wallpapered provide an amazing service and can print custom wallpaper world maps, country maps, tube maps or even your own postcode – to any size. All you need do is supply them with a postcode or a specific area and they send you a quote and PDF proof to approve. Have fun on their website visualising different maps in different rooms.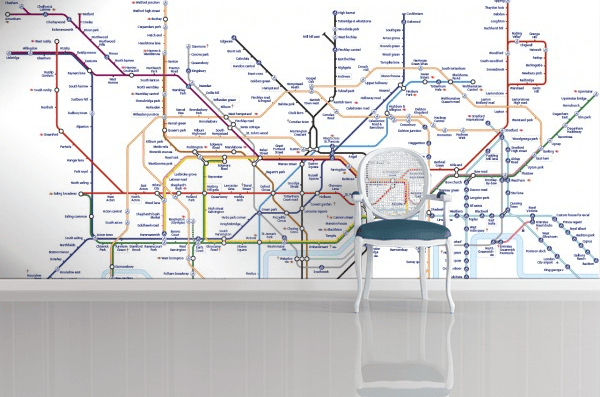 Rose and Grey sell this retro style Map of the British Isles Wall Chart for £62
Wallpaper Direct sell subtle vintage map wallpaper which also looks like a marbling effect from a distance. It's called Vintage Map Albany Wow! (2015) by Albany from Wallpaper Direct at £15.98 a roll.
They also sell this vintage map collage called Globetrotter by Albany (£19.99 per roll) and Galapagos by Sanderson (£55 per roll):
Murals Wallpaper sell many different map murals, custom made to fit your wall size including this Parishes of Paris Vintage Map Mural. Prices start at £23.50m2.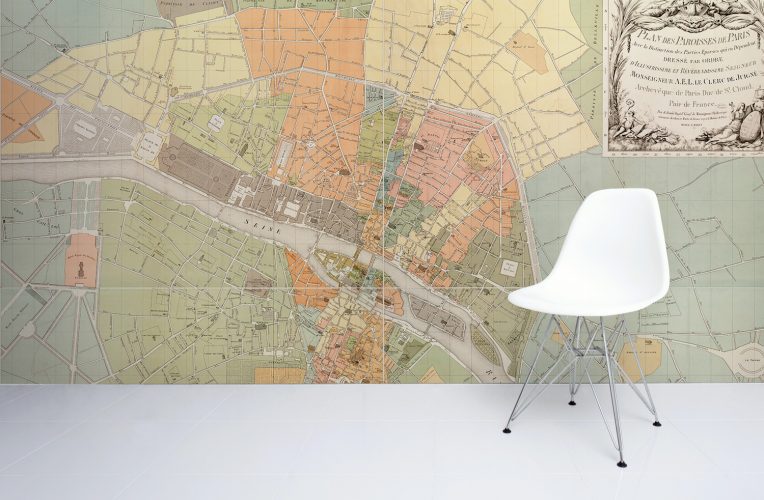 You can also source giant maps or map murals from AllPosters.
Happy mapping!