Spotted in Paddington: Two colourful throws in the Brown's family home.
After finding the bear in Paddington Station and and naming him accordingly, The Brown family take the red-hatted little fella back to their eclectic abode in Windsor Gardens, where he proceeds to wreak havoc.
The highly colourful house in Paddington (essentially a film about immigration) is full of interesting details and a mix of both vintage and contemporary furniture and homeware. With a hint of the original Paddington era (Michael Bond's first Paddington book, A Bear Called Paddington, was published in 1956) production designer Gary Williamson told 3 Story Magazine "The aim was to create 'a heightened reality', a place where a talking bear would feel right at home but also one that felt new and exciting".
Above we see housekeeper Mrs Bird (Julie Walters) in Henry Brown's (Hugh Bonneville) blue library. The carousel horse obviously caught my eye, but the other eye was drawn to the colourful throw draped over the side of the blue sofa. We can identify this as a Wallace and Sewell colourful, honeycomb throw, made from 100% lambswool.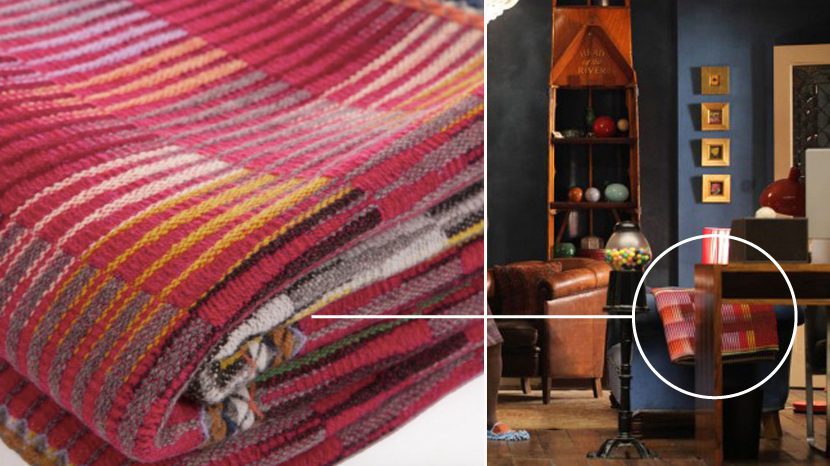 Woven in the UK, the 'Lambswool Triangle Weave' throw, this one in Grenadine, comes in 2 sizes: Small: 115cm x 195cm and Large: 195cm x 220cm and various colourways, priced £250.
Production Designer Gary Williamson created a distinct colour palette for each of the characters rooms and clothing. Mary Brown (Sally Hawkins) has a leaning towards red exemplified through the red patterened walls and headboard in her bedroom:
On the bed she has a 'Kandinsky Chenille Patchwork' throw in deep reds, browns and beiges. This bold Wallace and Sewell throw is 50% Wool /  50% cotton and a grand span of 290cm x 300cm. Priced £499.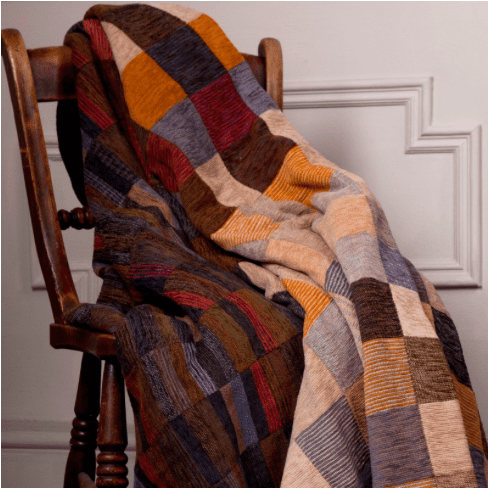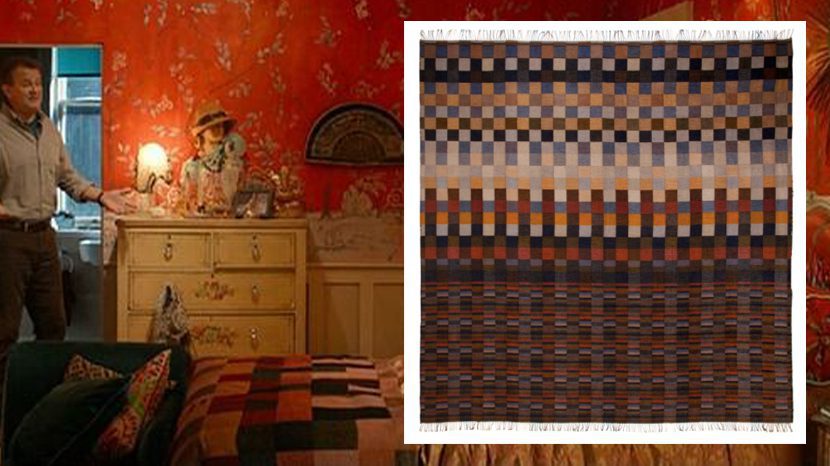 Both rugs are available in the UK from Liberty and SCP and from various stores throughout the world – see stockists on the Wallace and Sewell website for full details.
They work closely with a mill in Lancashire which weaves larger pieces and also with finishers W.T. Johnson & Sons, in Huddersfield, who draw their water from their own borehole in pursuit of the softest and purest water, perfect for textile finishing.  I can vouch for their super-soft texture as me and our Jack Rusell, Poppy curl up on one of their cushions most winter nights!