The filmsets and furniture of Kubrick's A Clockwork Orange "A real horrorshow" Part 2
Half a century on, A Clockwork Orange remains a source of controversy and discussion despite being largely embargoed for nearly three of those five decades. To mark the 50th anniversary of the film's UK release on 13th January 1972 (following the December 1971 premiere in USA), we present Part Two of our investigation into A Clockwork Orange film sets, furniture and décor details (see Part One here) and the roles they play in telling a provocative story. 
Set in a near-future Britain and based on the book of the same name by Anthony Burgess, the film was adapted, produced and directed by the one and only, Stanley Kubrick. 
Exaggerated, electrifying and exuberant at every turn, A Clockwork Orange brings us hyper-stylised film sets, vivid costumes, distinctive music by transgender composer Walter (later Wendy) Carlos, unusual use of language (a mix of English, Russian and slang called Nadsat invented by Burgess) and an unforgettable villain-antihero in the form of Alex DeLarge played by Malcolm McDowell.
The production design by John Barry is well worthy of scrutiny and after bringing you my analysis of the Korova Milk Bar, 'HOME' (Mr and Mrs Alexander's House), and Alex's bedroom and parents flat in Part One, I now invite you take a good look around the Record Shop, CatLady's house and The Ludvico Medical Facility where the thuggish teenager Alex is subjected to radical brainwashing techniques designed to make him 'good'.
The Record shop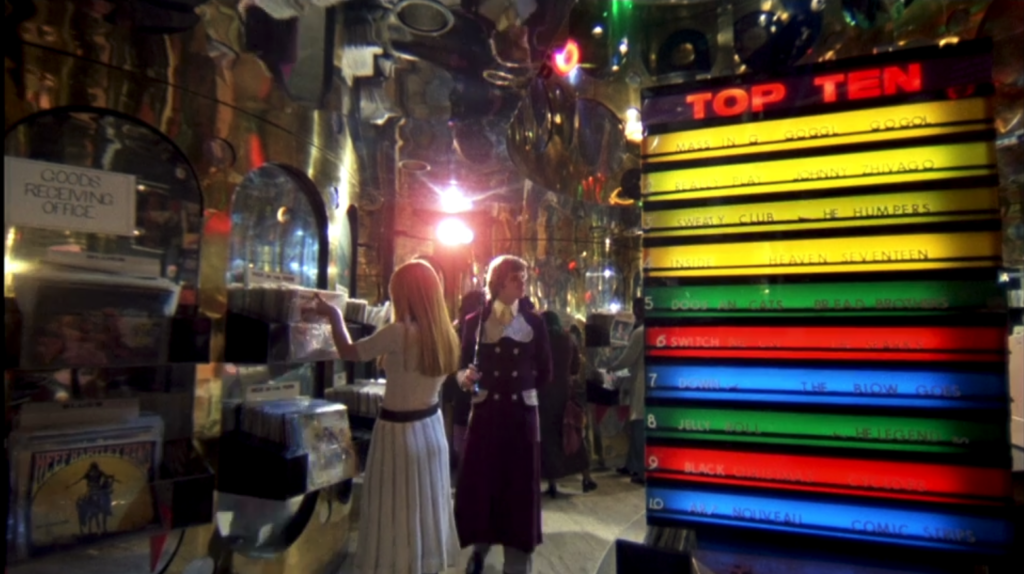 Who doesn't love a traditional record shop? I've been 'guided' into hundreds of vinyl stores from London to Bridport, and from Berlin to LA, Tokyo, Mexico City and everything in-between over the years by Paul West, my partner in life and business, and although I'm not quite as much of vinyl junkie as he, I do love the atmosphere of record shops and all that potential sitting inside all the catalogued record racks. Together, we've designed many of the record sleeves that sit in these shelves.
A record store condenses all forms of culture and counter-culture into one perfect space. You generally encounter interesting people in these places and conversations can be struck up quite easily. The record store in A Clockwork Orange is no exception, but with a darker undertone. 
The filming location for the record shop scene was the basement of London's amazing Chelsea Drugstore, a striking three story travertine and brushed steel building designed by architect Antony Cloughley and designer Colin Golding of GCB Associates. Inspired by Le Drugstore on Boulevard St Germain in Paris, it opened in 1968 to quickly become a forward-thinking kind of mini department store featuring bars, a chemist, newsstands, record stores and food outlets, and was open sixteen hours a day. It's now, wait for it, a McDonalds. 
Located on the corner of Royal Avenue and King's Road in Chelsea, several high profile bands and artists met each other for the first time within its walls. Oh to be a fly on those walls. It was also frequented by The Rolling Stones and is mentioned in their lyrics for You Can't Always Get What You Want as well as in The Kinks' Did Ya ("Now the Chelsea Drugstore needs a fix…"). 
The interiors served Kubrick's vision of the film being set in a near future – recognisable but certainly farther away than "now". The space is decorated in space-age mirrored surfaces which reflect all the records and magazines in its midst.
Alex struts around the shop with an air of self-importance wearing a purple velvet (60s interpretation of a) double breasted Edwardian coat with snakeskin lapels, pockets and cuffs over a pale yellow shirt. Maybe the purple coat is a reference to the purple catsuits the real Drugstore 'flying squad' delivery girls wore when delivering Drugstore purchases on motorcycles. Beats a boring DPD delivery any day. What did happen to creativity in retail?
As we follow Alex through the space you can spy many records of note including Canned Heat, the Keef Hartley Band, The Incredible String Band, Pink Floyd, The Beatles and others already catalogued brilliantly in a blog by John Coulthart. 
Alex also passes a section of magazines, one of which (Cinema X) he picks up and casually thumbs through, then puts it down again when one of the female shop assistants eyes him with it. As he does so, he passes the album Stray and a poster for the film Ned Kelly which starred Mick Jagger – who had not only sung about the Chelsea Drugstore but had also been rumoured to be up for the part of Alex at one stage. The rumour goes that Anthony Burgess originally sold the movie to Jagger for £500 when he needed quick cash and Jagger intended to make it with The Rolling Stones as the droogs.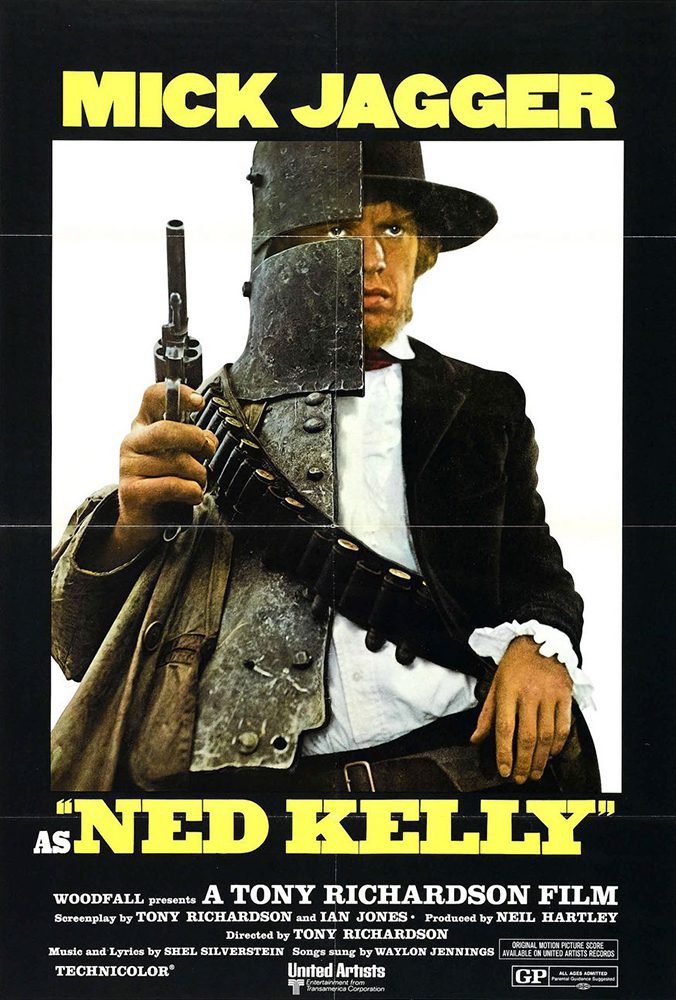 Alex arrives at the record booth to collect his pre-ordered records where we see a psychedelic black and white swirl on the ceiling. In the record rack in front you can see an obvious easter egg –  the sound track to Kubrick's 2001: A Space Odyssey with the cover showing the earth rising. Eagle eyed Kubrick analyst Juli Kearns also spotted that another version of the soundtrack was seen briefly earlier in the scene with the cover being the version with Orion III docking at Space Station V.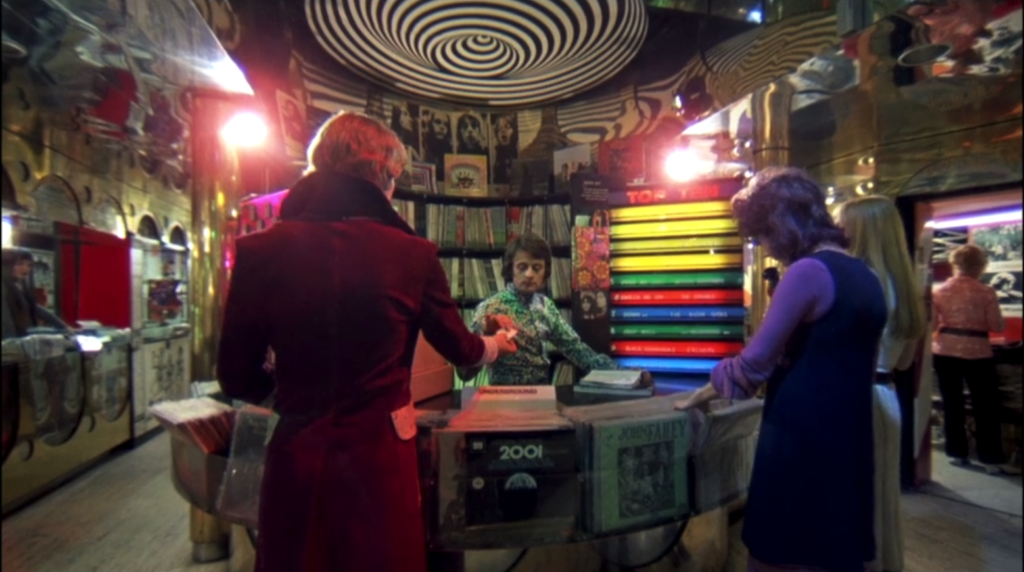 The black and white swirl is the logo of Vertigo Records, home to early 70s British cutting-edge prog-folk-rock bands such as Colosseum, Jade Warrior, Affinity as well as Black Sabbath and Rod Stewart.
Vertigo's early releases came with a black and white spiral on the labels, which was replaced in 1973 with a spaceship design by Roger Dean, who co-incidentally designed the The Retreat Pod seen in the Clockwork Orange filmset 'HOME' (Mr and Mrs Alexander's house) seen earlier in the film.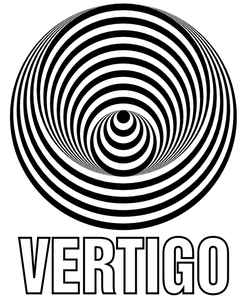 Below the black and white swirled ceiling, we find the now famous multicoloured Top Ten board, a culture vulture's absolute delight: Number one is "Mass in G" by Goggly Gogol (the same music Alex had ejected from his bedroom stereo the previous night before putting on Beethoven's 9th). The top ten listing also features Johnny Zhivago, The Humpers, Heaven Seventeen (from which the 80s band Heaven 17 took their name), Bread Brothers; The Sparks, The Glow Goes, The Legend, Cyclops and Comic Strips.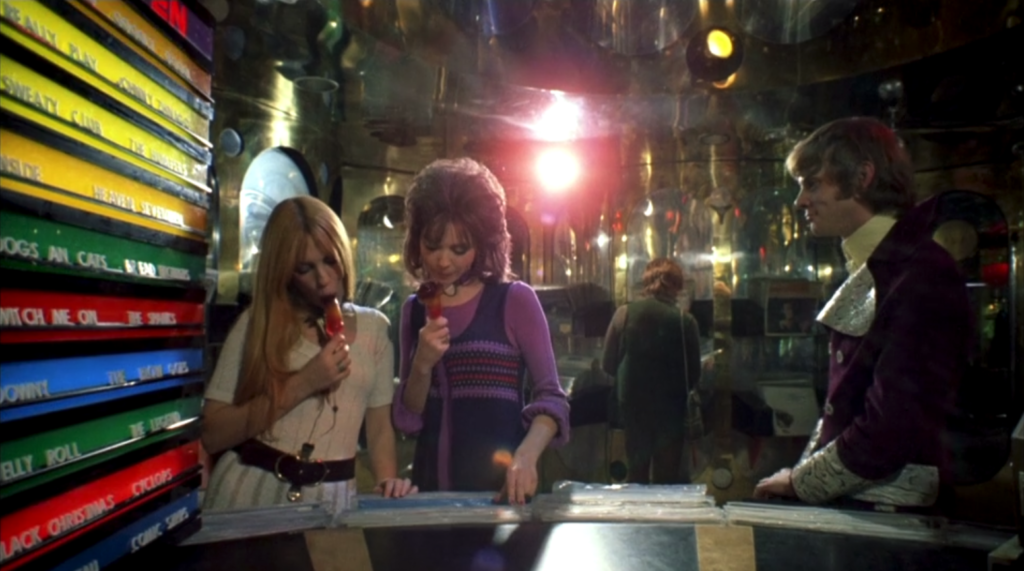 Here Alex eyes up two women, one in a long purple tunic and the other in a long white dress and they both suck on a purple, orange and red phallic ice lollies. He edges his way between them both and they all rummage through the racks of records. "Come with Uncle and hear all proper. Hear angel trumpets and devil trombones. You are invited" Alex says to them. They fall for it and later end up back at his flat for a bit of the "old in-out".
The Record shop scene also includes cameos from members of the Kubrick family and close collaborators: His daughter Katharina Kubrick, Jan Harlan, Kubrick's brother-in-law and executive producer and Andros Epaminondas, Kubrick's personal assistant (in the brown leather jacket with bushy hair and a beard, often mistaken for Kubrick himself).
The house of Catlady
The antisocial Alex and his gang of droogs reap havoc wherever they go. In another scene, the gang descend upon the grand health farm home of a yoga-loving 'Catlady' played by the husky-voiced Miriam Karlin.  
'Catlady' is how the role is referred to in the credits although we know her name is Ms Weathers of 'Woodmere Health Farm' from the telephone call she makes to the police to alert them to the fact that Alex had tried to lie is way in.
Georgie Boy explains in the voice over "It's this Health Farm. A bit out of the town. Isolated. It's owned by this like very rich ptitsa who lives there with her cats. The place is shut down for a week and she's completely on her own, and it's full up with like gold and silver and like jewels". They cannot resist the urge to check it out.
The exterior for the health farm was filmed at Shenley Lodge, Enfield. It was a real health farm at the time of filming A Clockwork Orange and is now known as Manor Lodge School. 
The entrance to CatLady's house is guarded by two stone sphinx sculptures (which may have turned up in an F&F readers garden). The very same front door appears in an episode of 1960s TV series The Avengers where it is seen with two lions either side rather than sphinxes, so we might assume that the sphinxes were chosen specifically as props for A Clockwork Orange.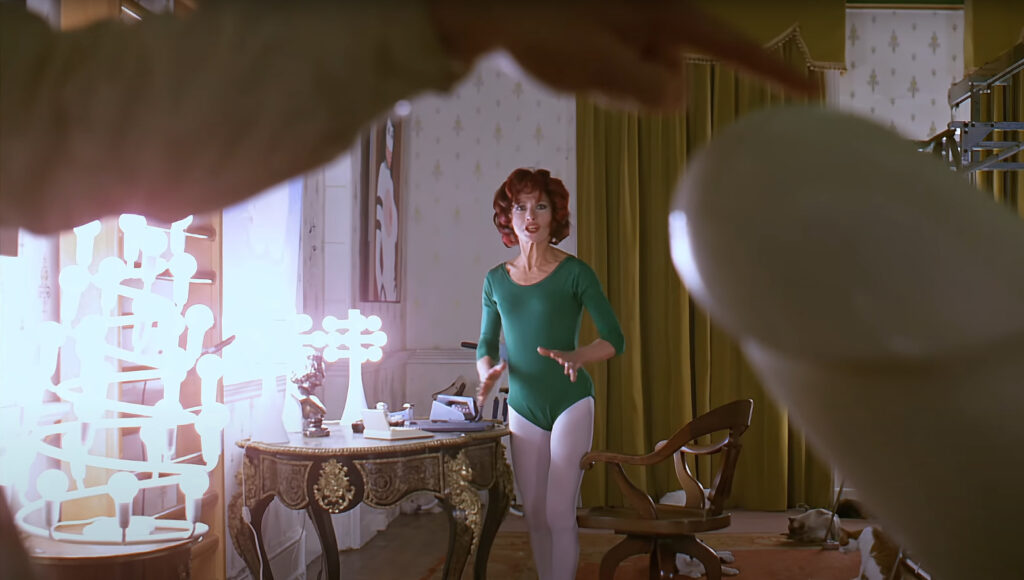 We see Ms Weathers in a green leotard and white tights practicing yoga in a large room filled with bold pop art of a highly sexual nature, some exercise equipment and a green painted ceiling. As she does her yoga she is surrounded by a surreal number of mostly white cats.
The provocative, colourful pornographic paintings which dominate this room are by Cornelius Makkink. Another Cornelius Makkink artwork is seen in Alex's bedroom in his parents flat, behind his bed. 
On Catlady's desk, to the right of a tall gym wall ladder, we see three fascinating white table lamps with tulip bases and multiple bulbs in a tree-like formation, and to the side – a tall spiral of bulbs forming a larger lamp. Large round bulbs are a theme throughout A Clockwork Orange: We also see them in the Korova Milk Bar, "the writer" Mr Alexander's home and in Alex's own bedroom in his parents flat. As there are so many sexual references in the film perhaps they were chosen to represent breasts or bulbous phalluses. There are many film props used in a Clockwork Orange filmsets that protrude or extrude into the space when you think about it – Alex's mask, the droogs' cod piece, the bulb lamps, Alex's pointy bedspread and so on. We see sex and violence everywhere.
Talking of which, the shiny white penis sculpture we see in this scene is by Herman Makkink, Cornelius's brother. Another of Herman's artworks – 'Christ Unlimited' (four dancing Jesus's) – features in Alex's bedroom.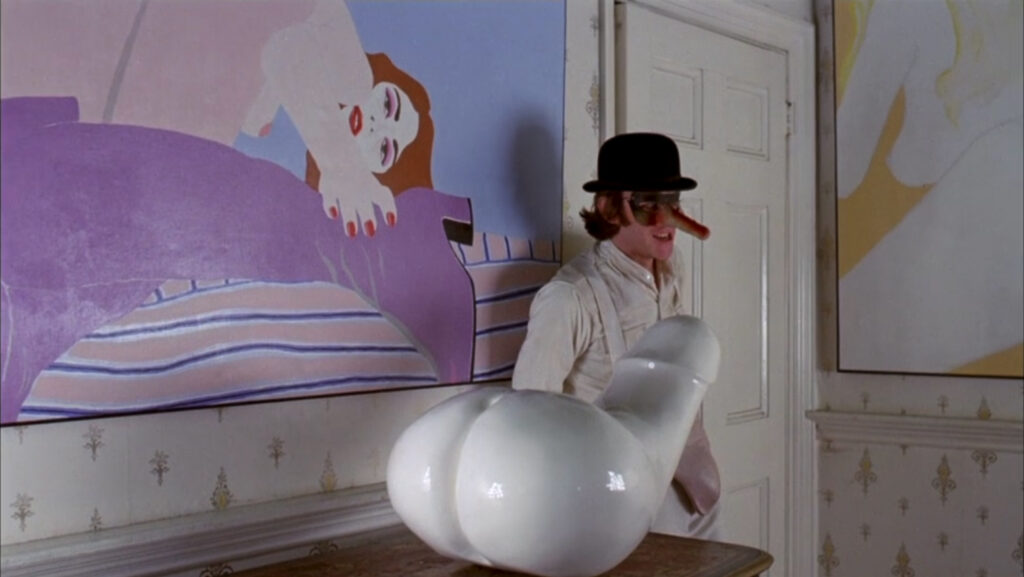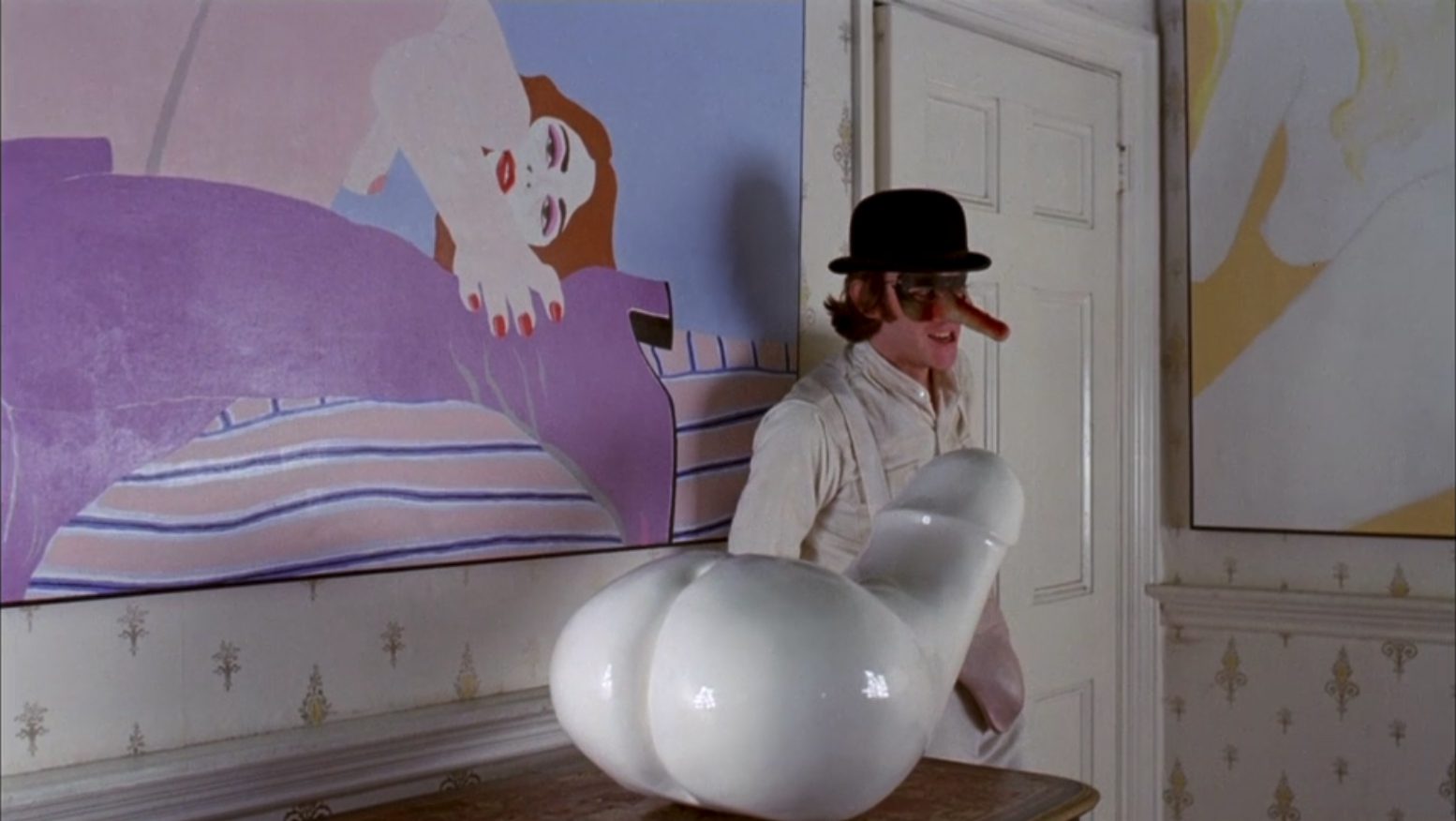 The phallus sculpture is called 'Rocking Machine', part of an edition of six made in 1969 and was not designed specifically for A Clockwork Orange. Makkink said "They formed part of my studio work at the time, and, after seeing them there, Kubrick wanted to use them for the film because they probably had the futuristic look he and his wife wanted. In the late sixties and early seventies, we, London based artists, felt terribly hip. We didn't want to fight the establishment so much as shock them. Pop Art was in full swing and so was the sexual revolution, so I combined a penis with a beautifully shaped female rear in fibre glass. I thought this would be really shocking. I thought I could make the object move by constructing a heavy pendulum swing inside. To my surprise I found that it made an irregular movement, so I exaggerated that by adding extra weights in various places. That resulted in Rocking Machine's specific, jerky motion." 
In tribute to the 50th Anniversary of the release of A Clockwork Orange, the Estate of Herman Makkink produced a small edition of two (with an Artist Proof) of his infamous 'Rocking Machine' sculpture. Made from Makkink's original mould, the new edition is covered in gold lacquer. It also features the internal kinetic rocking mechanism just like the original. This edition was produced specially for the Bonhams 'Pop X Culture' auction which took place on 11 Nov 2021 where 'Rocking Machine, Gold Edition, 2021' sold for £20,250.
Interestingly the dancing Christs and the 'Rocking Machine' by Herman Makkink also featured in the Tinto Brass film Dropout as pointed out on rjbuffalo.com Brass was also considered at one point for directing A Clockwork Orange. 
Alex goes to touch the penis sculpture which sits in Catlady's house to which she shouts "don't touch it, it's a very important work of art". Alex ignores her and goes ahead and rocks the phallus which jerks forwards and backwards. As the altercation continues, he thumps it and it rocks harder and faster.
As Ms Weathers becomes increasingly annoyed she picks up a sculpture from her desk as a weapon and runs towards Alex with it. The sculpture is a small bust of Beethoven which you will remember is the very composer that Alex adores and listens to in his own bedroom.
Alex and Catlady continue to chase each other around the room swinging at each other, Alex with the phallus and Catlady with Beethoven, all whilst Rossini's La Gazza Ladra-Overture plays on.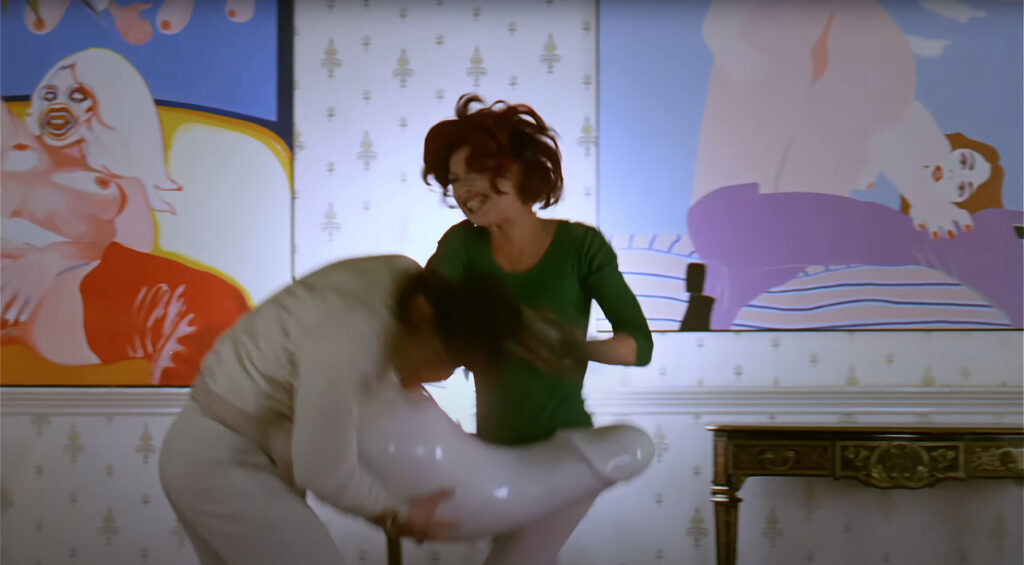 Eventually Alex uses the 'Rocking Machine' sculpture to bludgeon the woman to death on the floor. We don't see the result of the hit on the head, instead Kubrick inserts a fast sequence of visual extracts from the sexual Cornelius Makkink paintings in the room.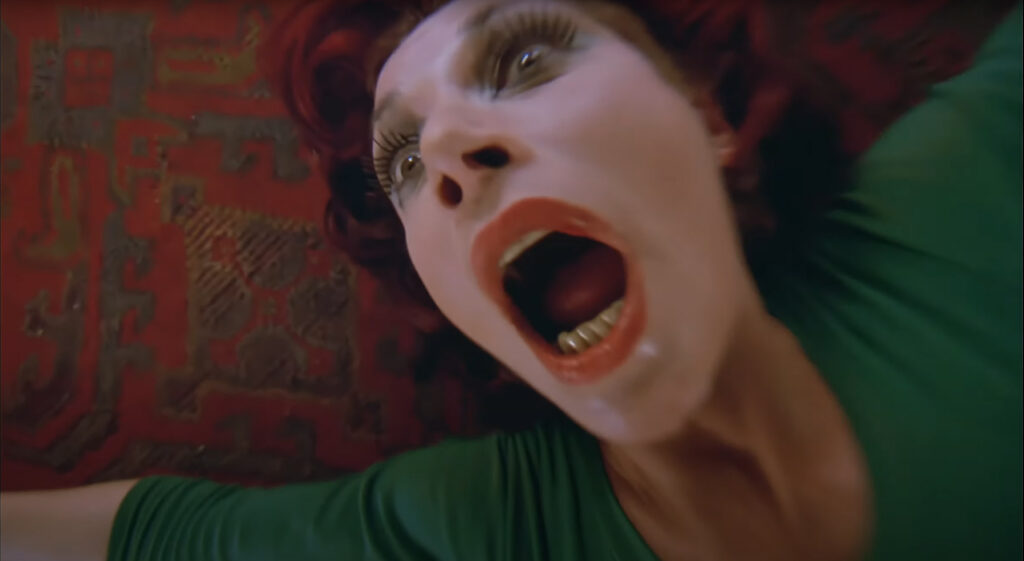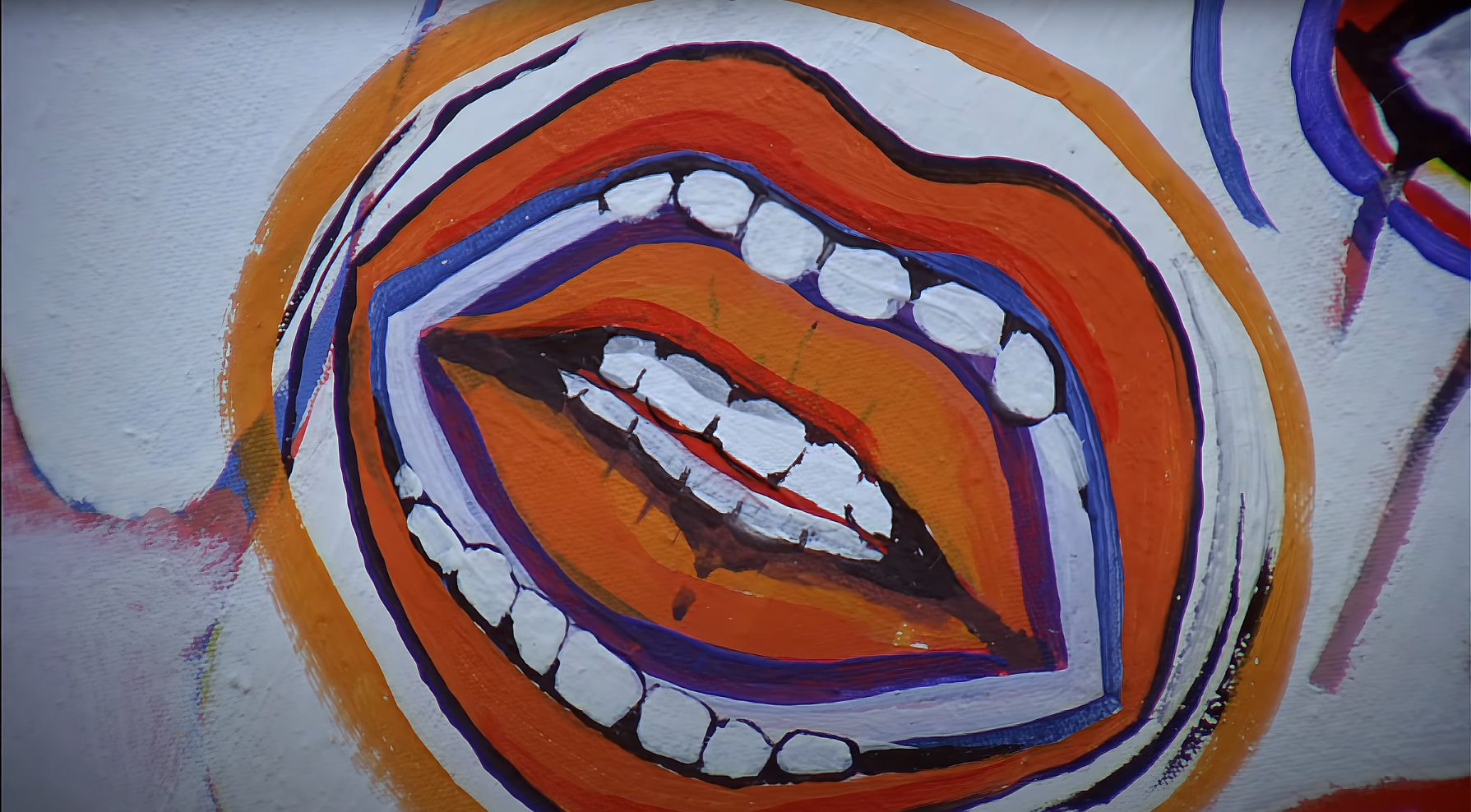 The Ludovico Medical Facility
A Clockwork Orange makes use of several architecturally distinctive buildings such as the Tavy Bridge Centre in Thamesmead (Alex's apartment complex) and Brunel University's Lecture Centre which is the location of the Ludovico Medical Facility where Alex goes to be "cured" of his evil ways. 
The Ludovico Technique treatment is the aversion therapy that Alex is subjected to inside the lecture theatre: He is forced to watch violent films with his eyes locked open by a brutal contraption (the idea being the patient experiences severe nausea when experiencing or even thinking about violence). This is probably one of the most iconic visuals in film.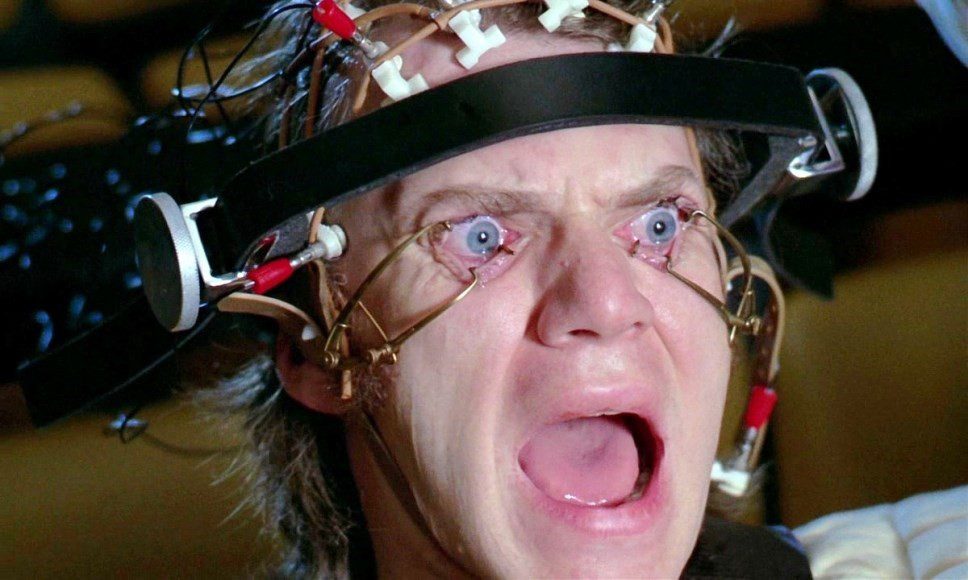 Brunel University (which was also used as the film location of the entrance to Alex's parent's flat) is located in Uxbridge, Greater London and was built in 1965-66. It is a fine example of Brutalist architecture designed by Richard Sheppard, Robson & Partners, Architects (now Sheppard Robson) who in the 50s and 60s pioneered the use of concrete shell structures.
Whilst Brutalism is often referred to as a 'style' of architecture, it has more to do with the use of materials and takes its name from 'beton brut', the French for 'naked concrete'. Some love it, some hate it, but either way the exterior of the Brunel Lecture Theatre serves as a dominating and oppressive grey concrete backdrop for Alex's horrendous treatment.
 The film doesn't include the 'happy ending' included in British versions of the book as was requested by Burgess' publishers. That ending features Alex showing remorse by renouncing his violent past and promising to be good. Kubrick actually based his screenplay on the American version of the book, which had the happy ending excised altogether.