Suspiria: A chromatic journey through Dario Argento's horror classic
For two decades I've had every intention of seeing Dario Argento's 1977 horror classic Suspiria but never quite managed to get around to it. I'm a little ashamed to admit not seeing this cult film before, given its film sets have been lauded and homaged in so many movies. So, before seeing the Luca Guadagnino Suspiria remake which hits UK cinema's this week in time for Halloween, the time was ripe to see the original (which I managed to find on Amazon Instant Video). It did not disappoint: It's a gory, visual, colourful and stylistic masterpiece.
Argento's original film is typical of the the 'giallo' genre made by Italian directors in the 1960s and 70s which often involved elements of mystery and the supernatural. Suspiria follows the story of Suzy Banyon an American ballerina student (Jessica Harper) who after enrolling in a German dance school, quickly realises that the school is a front for some very dark goings on. 
The plot is random and weird but strangely compelling, and from the minute Suzy reaches the exterior of the dramatic red and black Tanz Dance Academy you know you're in for a visual assault. The lighting and film sets use of vivid, saturated colours are both alluring and unsettling. Argento's trademark use of set-piece structures allowed the camera to linger on pronounced visual elements: Geometric patterned walls and floors, multicoloured stained glass, Art Nouveau style doors and windows, M.C. Escher reproductions, Aubrey Beardsley illustrated panels, and psychedelic furniture all sit side by side.
Arengto hired cinematographer Luciano Tovoli based on his colour film tests which Argento felt matched his vision. This vision was inspired by Snow White (1937): "We were trying to reproduce the colour of Walt Disney's Snow White; it has been said from the beginning that Technicolor lacked subdued shades, [and] was without nuances—like cut-out cartoons." said Argento.
This approach to cinematography, coupled with production design by Giuseppe Bassan serves to emphasise the colours, especially the predominant nightmarish red which in turn was heightened by the use of Technicolor print processing (also used in The Wizard of Oz and Gone with the Wind).
Blood red is prevalent throughout the film, but that's not the only colour that is used. In fact, the film takes a wild trip through a saturated rainbow. Allow us to take you on a chromatic journey…
Red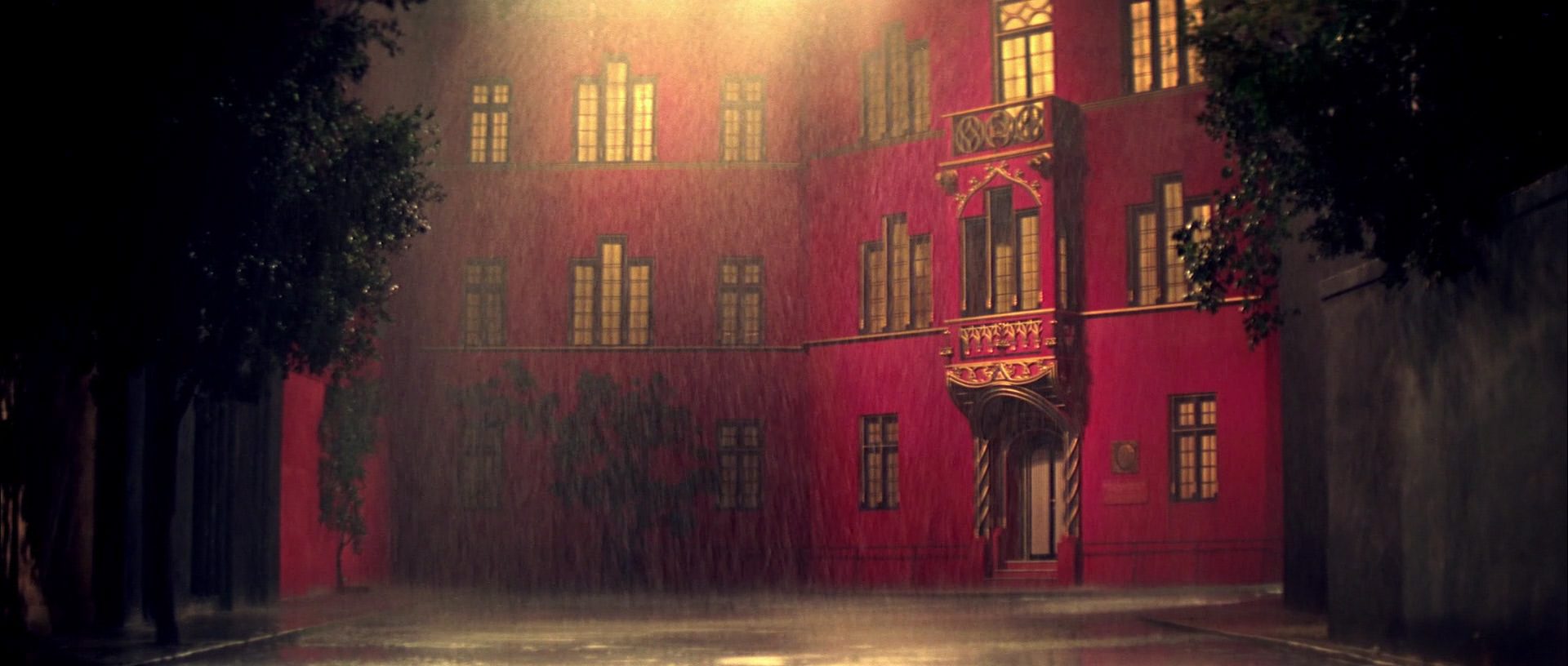 Orange and peach
Yellow and gold
Green
Blue
Pink
Black and white
The black and white wallpaper (above) reminds me of Marimekko's classic Veljekset and Siirtolapuutarha designs.
Multicolour
Watch Suspiria (1977) now on Amazon Instant Video
Buy the restored 4k version on DVD/Blu-ray in UK 
Buy the restored 4k version on DVD/Blu-ray and USA