Breakfast at Tiffany's set design: Holly Golightly's apartment
Breakfast at Tiffany's set design is a wonderful thing to behold. The overall styling and costumes have taken their rightful place in history as true cultural classics, as has the furniture and decor of the set design (not to mention the cigarette holder – now so un-PC but a symbol of sophistication none-the-less – and one of the most iconic props in cinema).
This Blake Edwards film, based on Truman Capote's bestselling novella, stars Audrey Hepburn as Holly Golightly, an enigmatic and eccentric New York city playgirl.
The bizarre claw-foot half bathtub sofa which takes pride of place in Holly's living room, is cushioned with pops of colour in the otherwise neutral apartment which acts as a beautiful backdrop to the action and costumes.

Her bohemian flat also features a stack of white suitcases, a box crate as a coffee table, a very cute Dansette record player (seen bottom right below) some open shelving and a gold weather vane – mostly vintage, junk yard finds one would imagine. The original hipster pad!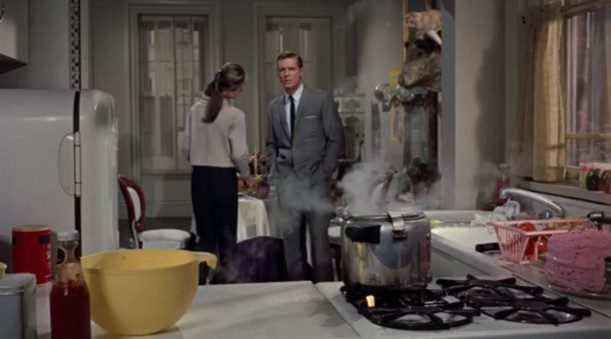 Check out this floor plan of Holly's apartment created by contemporary artist Iñaki Aliste Lizarralde who recreates interior floor plans from many film and TV shows (she's also created one of Carrie Bradshaw's Manhattan apartment):
By contrast, struggling writer Paul Varjak's (George Peppard) apartment upstairs from Holly's has been furnished by his interior designer (and wealthy older lover) Mrs. Failson, or '2-E' who is Queen of Park Avenue and has the style to match. The abundance of gold leafed furniture provides a perfect contrast to help set out the characters personalities.
Curiously, when Holly is with her Brazilian boyfriend, she comes over all zelig in her decor styling and revamps her flat like this:
Get the look!
There have been several (somewhat cheesy) articles in interior mags and websites on how to replicate the Breakfast at Tiffany's style (cue cheap chandeliers, champagne glasses and acres of Tiffany blue walls) so we've tried to pick out some less visited pieces for the discerning Film and Furniture reader.
If you're brave you could go for the bath tub sofa like this one from Reestore which is hand crafted from an original vintage cast iron bath and upholstered in a fabric of your choice. Once carefully cut and sandblasted the edges are painstakingly filled and prepared before three coats of paint are applied by their paint shop. £1,850 (plus delivery).
Stacked vintage suitcases look great and are very handy for extra storage or an occasional table. You can often find these at Pamono, Preloved or Etsy.
Pamono are currently selling this vintage light brown vulcanized fiber travel trunk for £76:
On Etsy you can find this collection of vintage brown leather suitcases for £260 for the collection.

For stylish open shelving like Holly's you need look no further than Vitsoe 606 Universal Shelving System. Designed by Dieter Rams in 1960 (The Apple design team took much of their influence from Dieter Rams). Another design classic.
Dansette record players are a wonderful way to play vinyl records. You can find a Dansette like Holly's (seen to the right of the door of her apartment) at Dansette.com or good vintage turntable dealer like Audio Gold in north London.
The pièce de résistance – the chandelier in Tiffany's window, which Holly stares through with breakfast of coffee and croissant in hand (I always look like this when I'm running to an early morning meeting with carbs and caffeine in tow, don't you?), deserves a dedicated blog post of it's own, but you can't have a story about Breakfast at Tiffany's without including this image:

Watch it now! 
Watch Breakfast at Tiffany's on iTunes or buy the DVD via the links in the sidebar of this page (desktop) or below this article (phone/tablet).