Commodus has a tête-à-tête with a striking bust in Gladiator
A short and sharp post to answer a question sent to us recently via twitter: I spent some time fondling this rather fine bust recently. It features in a seminal scene in Gladiator (2000) where Commodus, played by Joaquin Phoenix, murders his father, Marcus Aurelius. Joaquin Phoenix talks to the bust for what is quite a long scene.
The owner of the bust, Mark Farley, who gave me a private tour of his jaw-dropping film and TV prop house Farley's recently, gave me some low down on this striking antique. It is in fact a late 17th Century Italian piece, Heroic (size) white marble and porphyry bust of a philosopher with gilt bronze robes.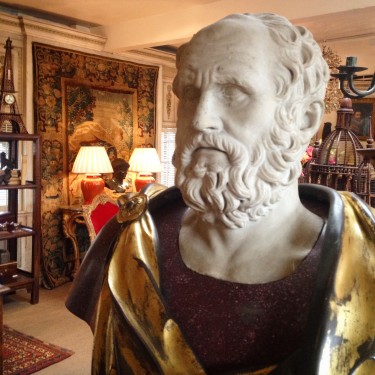 Mark bought it in 1995 from Mayfair antique dealers Mallet, London. They also have a New York showroom.
The bust was dressed on the set of Gladiator as it bore a striking resemblance to Richard Harris playing Marcus Aurelius.
Previously the bust appeared in 101 Dalmatians (1996) and latterly in Sherlock Holmes, Game of Shadows (2011) amongst others.
Here is the scene incase it isn't etched on your memory already:
http://www.youtube.com/watch?v=XPTyxZwuDGw
And since I had the pleasure of sitting next to the set dresser of Gladiator at a screening at the Royal Albert Hall with live orchestra (including haunting live vocals by Lisa Gerrard) a couple of months back, and considering my tour of Farley's highlighted many notable film props, you can expect more posts on both subjects on FF very soon…