Le Corbusier and Charlotte Perriand's famous LC4 recliner is a porn star (NSFW)
We haven't covered the set decoration of any adult film sets here at Film and Furniture before, but it seems we might have been missing a trick when it comes to classic chair spotting. Published by Éditions Monumental, We Don't Embroider Cushions Here is a book cataloging the appearance of the famous LC4 recliner in pornographic movies.
Artists Augustine and Josephine Rockebrune began to notice that the tubular steel and leather modernist classic, designed in 1928 by Le Corbusier and Charlotte Perriand, makes a common appearance in adult films. This led to the twin sisters watching hundreds more and to dedicate their findings and screengrabs to a book on the subject.
See, we told you once you start furniture spotting in films, it becomes addictive.
As unlikely as it may seem on the surface, Modernist design and pornography are frequent bedfellows. As the authors point out in an interview with Its Nice That: "[It is] probably the same reason the Coen Brothers made their character, the pornographer Jackie Treehorn live in John Lautner's Sheats-Goldstein residence in The Big Lebowski and eventually immortalised the house".
Don't mistake the intentions of this book however: We Don't Embroider Cushions Here publishers remind us that the contents of the book reveal a "new and outrageous chapter in the legend of designer Charlotte Perriand and her famous master Le Corbusier".
They continue "50 years after Corbusier's death, this book documents how his degrading view of women haunts the very chair his unpaid and uncredited assistant Perriand designed in his shadow: the LC4. Throughout 192 pages of screenshots, uncovered through meticulous research on adult websites, the sisters Rockebrune explore the diabolical irony with which Perriand's iconic chaise longue has become a preferred "fuck-prop" in the adult film industry. Readers will witness how the LC4 has become the leather "altar" on which women of all races are systematically reduced to objects, good for nothing but whoring or – as Le Corbusier suggested to Perriand – "embroidering cushions". There, that told you.
Which begs the question, if the artist authors feel Le Corbusier was verging on sexism and that the films they researched are objectifying women, then why create a 212 page tome honouring those very subjects?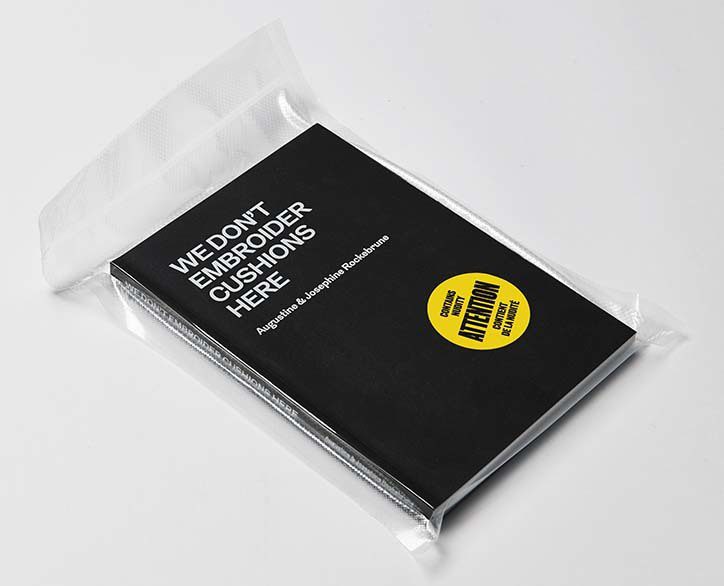 We Don't Embroider Cushions Here is printed in a limited edition of 500 numbered copies at $39 from Éditions Monumental.
The design classic that is the LC4 is produced by Cassina and available in USA from Design Within Reach, and in the UK, The Conran Shop sell the "Hairyskin" version.