We talk fantasy, 3D printing and Fifty Shades of Grey with one of Hollywood's biggest set designers: C. Scott Baker
The creative 'tour de force' C. Scott Baker has designed sets for some of Hollywood's biggest movies (Avatar, Alice in Wonderland, Bridesmaids, Thor, Star Trek, Terminator Genisys). He took some time out of his busy schedule to chat with Film and Furniture founder Paula Benson about how he landed a dream job, and to discuss his set design for Fifty Shades of Grey, one of the most hotly discussed films of the year.
PB: How did you end up with, what I would consider, the dream job of designing film sets?
CSB: I've always been interested in art. I was creative as a kid. I went to art school and I always knew I was going to do something with art for a living, but I didn't know what. When I graduated from High School, a friend of a friend worked in films and it occurred to me  – "Wow, you can actually do that for a living?! Actually earn money out  of it?". So I went on to study theatrical design, not that I was particularly into theatre but I was always thinking about how I could apply that to film, because film had always been my life-long love and my goal. Then I worked my way up, got to know the right people and here we are – I've been a set designer for films for 20 years now, and it certainly doesn't seem like that long!
PB: Tell me more about your art school.
CSB: It was fantastic – the University of North Carolina School of the Arts. It was a fabulous programme. They didn't have a film programme when I went, but they do now. I got to study amongst some of the most talented people I've ever met, from all over the world. It was a good early experience.
(PB Note: This is a common thread from many successful designers and creatives – being surrounded by, and learning from like-minded, creative, talented people, such as at art school – sharing ideas with people of similar interests. Really valuable).
PB: Something that's always confused me is how the roles of a film set designer, differ to that of a production designer, an art director, a set dresser and a set decorator. Could you clarify that for us?
CSB: As clear as anyone can make it!… This is the way it works in terms of hierarchy:
The Production Designer is the department head (hired by the Producer or Director and tasked with designing the film).
Their support crew are The Art Director and the Set Decorator (both are kind of sub-department heads).
Art Directors manage the Set Designers, and the Set Decorator heads up the interior decorating and selects furniture etc for the Production Designers approval, and comes up with colour schemes, wall coverings, fabrics, carpets etc.
The Set Designers and the Production Designer typically work together to generate ideas and finalise the designs for the space as a whole.
The Set Decorator and the Production Designer work as a team to decorate the space.
As a Set Designer, when I'm developing a space with the Production Designer, we're often talking about furniture placement, but we're not always including specific pieces into the design.
However, something I enjoyed on Fifty Shades of Grey was working with Set Decorator Sandy Reynolds-Wasco and Production Designer David Wasco (they are a husband and wife team who also worked on Pulp Fiction, Inglorious Basterds, Kill Bill etc). They have such a great relationship together, a fantastic team to work for and although sometimes in films our roles are quite separated, in the case of Fifty Shades we worked very closely. We worked in the same room, so when Sandy says "Oh, I have an idea to use a De Gournay wall treatment", I'll find a sample of it, texture map it, add it to a wall… So it was very close knit, with immediate feedback as to how everything will balance within the space.
PB Note: Fifty Shades, based on E. L. James' best-selling novel, is a story of contrasts – a searing love affair between a naïve college student and a billionaire entrepreneur. I loved the contrast of the two main characters' apartments to exaggerate their different personalities – Christian's (played by Jamie Dornan) is grand, powerful, opulent and controlled, whiles Anastasia's (Dakota Johnson) is more eclectic, bric-a-brac style in a warehouse apartment. It reminds me of the contrast in Breakfast at Tiffanys between Holly's bohemian pad and Paul's interior-designed flat upstairs (see F&F feature here >).
In Fifty Shades, I even noticed details like the yellow objects in Anastasia's apartment (mirror, light etc) to possibly symbolise her submissive's contract code for "yes".
PB: So what's the starting point for designing the sets and defining the characters interior taste?
CSB: The script is incredibly important. It sets powerful guidelines. It's typically left up to us as designers to solve problems and understand the story that's happening within these spaces and to reflect the inhabitants. So we do a 'personality profile' on these people. It's not like working in the real world where the person you're working for has certain tastes and requirements and you need to meet those needs with your choices, in cinema certain things happen within the story and the look of the environment ends up feeling more realistic if you allow the character, and the profile you have created for the character, make those choices.
PB: So you're defining the characters tastes in your design, as apposed to a real world interior design project being a reflection of taste?
CSB: That's right. With Christian's apartment – we know that he is very wealthy, we know he has some night time 'predilections', but he is a bit of an enigma, right? So we wanted to reflect that in the design by making it very clean, very stark, there's not a lot of accoutrements of life around his place. Just really well-chosen objects.
PB: It's a set then Christian's apartment, not a real apartment?
CSB: That's right, his entire interior was a set. There were multiple, separated stages, – his living room was one set, the upstairs hallway with Ana's bedroom and the red room was another set, Christian's master bedroom and bathroom suite (downstairs off the living room in the film) were actually another stage set. We tend to break things up, to make it easier for all the different companies working on the set to get into the space. If it was all one space, it would be impossible to accommodate all the things we need to do in film, like if we need to take a wall down to get the camera back far enough and so forth.
(see a floorplan of the apartment here >)
PB: I recognised many of the Boca do Lobo and Koket furniture and lighting (full details here >). Did you choose these?
CSB: That was mostly handled by set decorator Sandy Wasco and I know she was very sensitive in her choices as when she had an idea, she'd come to me with a photo of a piece such as with lighting, mirrors, fixtures and I'd go away and find the image, model it, and we check it works by putting it into the environment – but she was very careful in her selection of high-end design pieces.
PB: It all works wonderfully. You mentioned there about modelling, ie. technology and 3D visualisation, which I'm sure has changed your way of working from when you first started out. Do you think 3D printing will have more of an effect on set design in terms of film props and furniture?
CSB: Yes. I'm working on a movie right now with the model maker in our art department. In the past they would do a miniature, full-colour, design model – so say there's a big outdoor battle scene with a landscape, trees, rivers and tanks etc – the whole team would be able to see the model and all chat about the scenes and figure out our approach. Now, he has three Microbot printers and for several vehicles we're designing on this show, we'll give him a file and in 3-4 hours we'll have a high resolution 3D print of the object, which is incredibly helpful. Technology is getting better every day: With some vehicles I'm designing on this current movie, we sent them out to another firm to make full-size larger models and it's so exciting when they arrive back, it's like Christmas! (and I see this happening more as the price of 3D printers come down).
I think that ultimately though, the analogue style of having a physical model that everyone can look at, around the table is immensely helpful.
PB: You've worked on a lot of Fantasy and Sci-fi movies which are imaginary environments, or often worlds in space. So was working on real, 'current world' sets for Fifty Shades of Grey a different challenge to working on something like Avatar or Alice and Wonderland for example?
CSB: When I used to draw more by hand (and especially when I was located on the East coast) I was involved with a lot of Georgian, or Empire-style, or turn-of-the-century, or post war, domestic architecture, so I had to be familiar with styles of ornament and the design principals of the classical orders – this was my 'stock and trade' for many years. It's funny as the Sci-fi avenue has opened up for me since I started using digital. Now I feel like it's all Sci-Fi at this point. It's make believe.
Read our feature with all the details of furniture in Christian Grey's apartment >
………………………………………….
Check out Fifty Shades of Grey on Digital HD (out Monday 8th June 2015) and on DVD and BluRay (out on Monday 22 June 2015).
All formats include an exclusive unseen version and feature a never-before-seen alternate ending.
Pre-order here:
DVD >
Bluray >
Why not 'Cheers' your partner as you settle down to watch, with these Bacarrat crystal wine glasses as seen in Christian's flat (£129 for a set of 2 from Royal Design).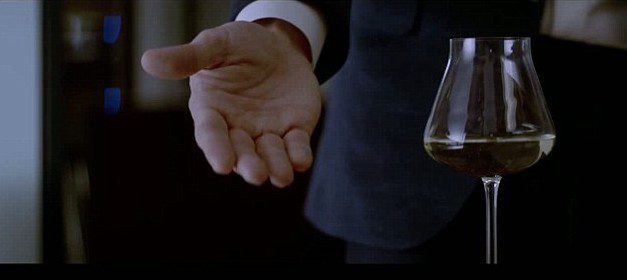 Cheers Scott! It was a pleasure.
Read our detailed new feature on the furniture and decor of Fifty Shades Darker plus interview with set decorator Cal Loucks here >
Fifty Shades fans will also enjoy this site: 50shadesgirlportland.com