Friel and Williams surround themselves with curvilinear furniture in Me Without You
20th Century furniture and design specialists 20th Century Marks have been in touch to let us know they supplied much of the furniture for British film Me Without You (2001) starring Michelle Williams, Anna Friel, Oliver Milburn and Trudie Styler.
This film follows the troubled relationship between two girls as they grow up from early 70s to the present day. Several scenes feature late 60s and early 70s furniture with organic shapes that are typical of that period of design. Curvilinear furniture, particularly in white was all the rage (and indeed remains much in demand today).
Here we see a Burke table and set of chairs for Arkana which 20th Century Marks supplied to the film set decorator and in fact they still stock and sell these, together with many of the pieces shown below.
The film also features a Keracolor TV. Part TV, part space helmet, Keracolor.com reminds us how TV design began to change in the late 1960's. The addition of the Saarinen tulip-style pedestals began to creep in (see also The Star Trek Tulip chair) and the TV cases themselves become smoothed at their corners. In 1968 British designer Arthur Bracegirdle designed and put into production the Keracolor television, the worlds first perfectly spherical TV made from fibreglass, which has gone on to become one of the greatest design icons of the 20th Century.

20th Century Marks sell these TVs from time to time, as do Karacolor.com in various conditions from £595-£950. They also come up on Ebay from time to time, as well as more formal auction houses such as Christies.
Me Without You also features a Panthella table lamp. This fine light, one of my personal favourites, is available as a floor standing or table top version and was conceived in 1971 by the one and only Verner Panton for Louis Poulsen. It's one of Panton's most popular pieces.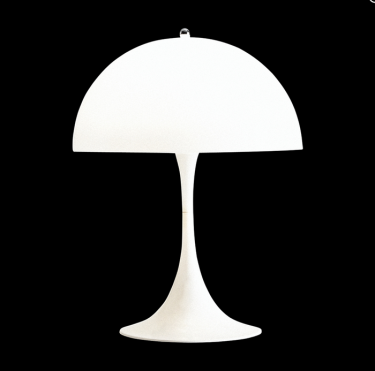 Panton's aim was to create a lamp in which the base as well as the shade would act as a reflector. The lamps light source is hidden under a milky-white, hemispheric acrylic shade and a white, trumpet-like, almost Saarinen tulip style base contributes to a beautiful distribution of light and a well-balanced form.
Original 70s Panthella's are often available at 20th Century Marks, Panamo and many other vintage dealers in the UK and worldwide.
Brand new official versions are available from shops like Skandium (table versions currently on sale from £450 to £382), The Conran Shop and Nest.
The shape of the Panthella, sometimes referred to as soft-edged design, echos this recurring theme with 60s and early 70s design like the Keracolour and the white curves of the Burke Arkana chair, not to mention the curves of a Panton Classic chair.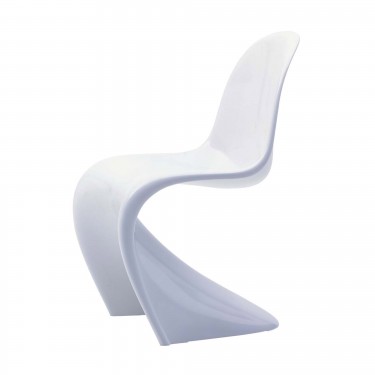 When the characters played by Michelle and Anna had a friendship fallout at least they had some nice furniture to comfort themselves with.
Film stills: Capitol Films / Fireworks Pictures / Samuel Goldwyn Films / Momentum Pictures
Watch it! Buy the DVD >
You may also be interested in The book Lighting 20th-Century Classics (Collectables) and to read about the visionary Verner Panton in the book Verner Panton: The Collected Works (Vitra Design Museum). You can buy both from the sidebar of this story (if on desktop) and below (on mobile and tablet).