Film and Furniture HQ: How a new look office helped address our work/life balance
Interiors website Apartment Therapy have featured our new-look office HQ interior design project and the reasoning behind it – see more pics and read the article here >
The original 1958 green fabric, low backed Herman Miller Eames Aluminium Group chairs at our desks are one of the 20th century's most significant furniture designs. Originally created for a private residence in Columbus (Indiana, USA), Charles and Ray Eames opted to use a pioneering new construction method. Instead of using the usual seat shell, they stretched lengths of fabric and leather across two side pieces made of aluminium. The fabric or leather was stretched so as to be taut but resilient. This could then adapt to the user's body, offering a high degree of comfort without the use of extra padding.
A white Eames Aluminium chair was spotted in The Holiday (2006) and also high-backed versions in TV series Scrubs.
The film below documents a little of the process Eames undertook in creating this iconic piece of mid-century design.
Originals can be found from good mid-century dealers like Studio Modern and new official licensed chairs are still in production by Vitra available in a fantastic range of colours.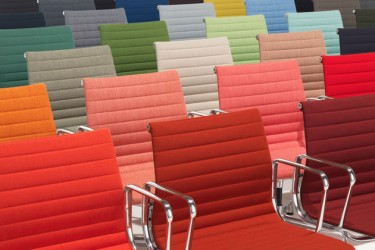 Pink Apple currently have them in their sale, as do Nest
Hope you like our new work environment!