Downton Abbey: A royal visit calls for a mini makeover
Downton Abbey graces the big screen as from Friday (13th September) with firm favourites Dame Maggie Smith as Violet Crawley, Dowager Countess of Grantham, Michelle Dockery as Lady Mary Crawley and Hugh Bonneville as Robert Crawley, Earl of Grantham. Maggie Smith may get all the best one-liners but the biggest star is Downton Abbey itself, played with poise (as it did in the ITV series) by Highclere Castle. F&F's Paula Benson talks with Production Designer Donal Woods and Set Decorator Gina Cromwell about the film sets and decor details of the 'upstairs and downstairs' of the Crawley family home, their refresh of Downton for the film and their personal interior design style.
Filming and furniture at Highclere Castle
Located on 1,000 acres in Newbury, UK, the real Victorian country estate of Highclere Castle is home to the Carnarvon family who have lived here since 1679. The house was renovated in the 19th century in the Jacobethan style by the architect Sir Charles Barry (who also rebuilt the houses of Parliament). "Barry's Victorian Gothic style often incorporated a glass roof in the atrium or hallway, as he did with the hall at Highclere. It lights all the gallery and is fantastic to film in" Set Decorator Gina Cromwell tells us.
The lavish, colourful 'upstairs' of Downton Abbey were filmed predominantly in Highclere's Dining Room, Drawing Room, Library and Main Hall, making great use of the opulent furniture of the real house wherever possible (including the dashing red sofas on which many scenes take place and the Napoleonic desk in The Library).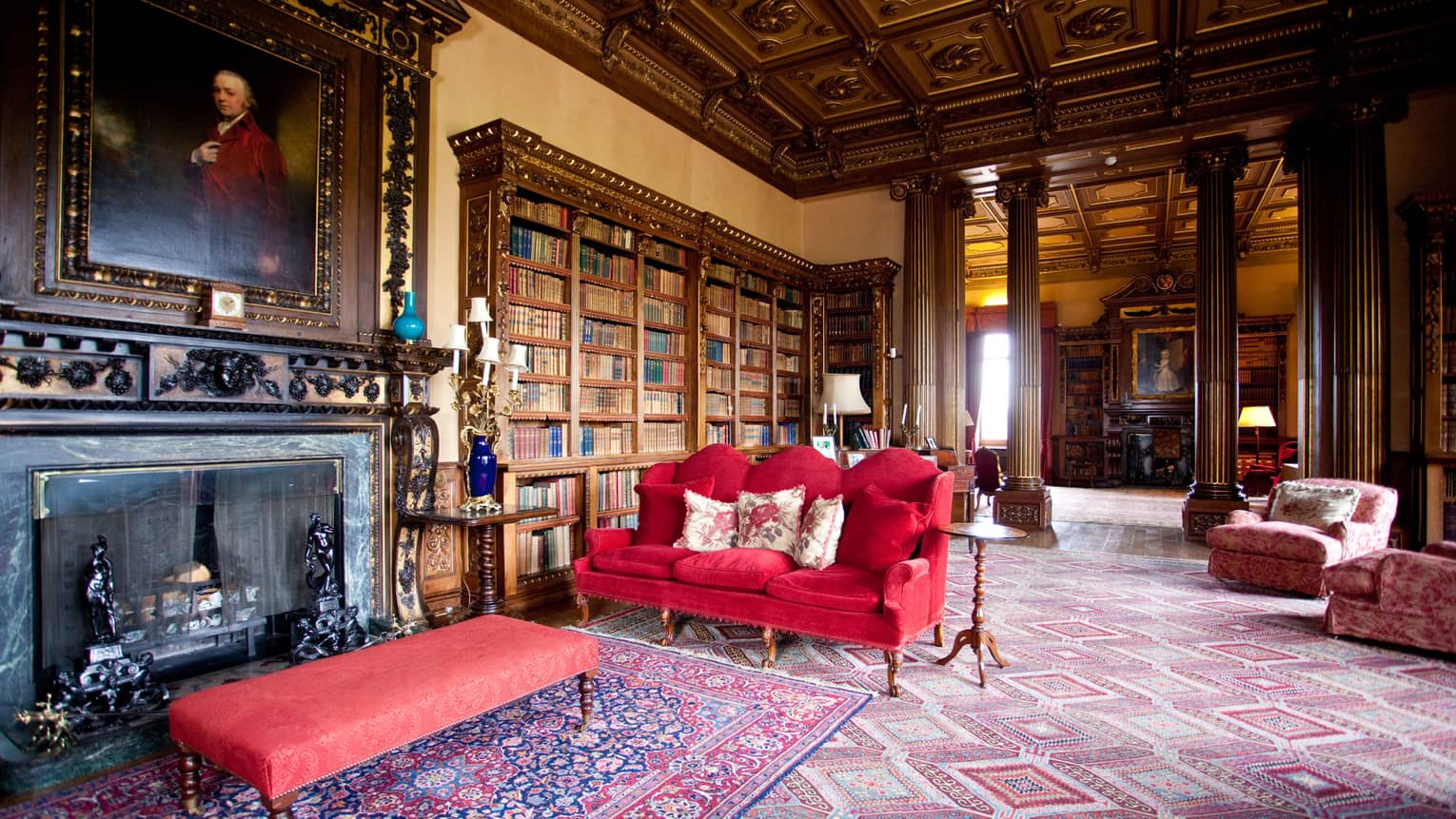 What we choose for our own homes doesn't always work so well for filming however: "We needed to also bring in some taller chairs and sofas, so that it's easier and more elegant for the actors to get in and out of" Cromwell tells us.
The Dining Room furniture and décor seen in the film is as you would find it if you visited Highclere today.
Additional props such as framed photographs, crockery, glassware, small furnishings and lighting were bought in or hired from specialist prop houses such as Farley (a Film and Furniture favourite). 
The bedrooms of Downton Abbey and the contrasting monochrome 'downstairs' servants quarters, offices and kitchens were predominately filmed on film sets in West London. We are particularly drawn to the dark, sage-grey walls in the servants quarters which are so on trend in contemporary interior design.
Donal Woods (Cranford, My Week With Marilyn, Homeland) received Emmy Production Design nominations for each of Downton Abbey's six TV seasons (winning it in 2016) together with three BAFTA nominations and three Art Directors Guild Awards. He explained to us how the intention was for Downton to be a "20th Century take on a period drama – which includes cars and telephones and the like."
Highclere was originally chosen to play Downton Abbey because "as with many historic country houses the rooms are lavish and gorgeous but with Highclere the rooms also differed from each other, which gives us more design variety and interest on screen" adds Woods. "We loved working here and having occasional cups of tea with the owners."
Drinking tea was not on the mind of Stanley Kubrick when he filmed the orgy scene for Eyes Wide Shut starring Tom Cruise and Nicole Kidman at Highclere.
Downton Abbey gets a makeover
Having visitors around to your home is always the excuse many of us need to have a spruce up! Although Downton Abbey has not changed a great deal since the TV series which opens in 1912 and the movie which is set in 1927, the house receives a serious going over when a royal visit by King George V and Queen Mary is announced.
The Earl of Grantham reads out the exciting news from a letter, based on a real royal letter in the ownership of the Earl and Countess of Harewood of Harewood House. This letter, with it's distinctive seal from the King and Queen, was excitedly studied and replicated by Downton's set decoration team.
"Everything must gleam and shine" demands Downton's housekeeper Mrs Hughes (Phyllis Logan) as furniture, crockery, glassware, pots and pans all get a fervent dust and shine ready for the visit. The furniture and set decoration also had to get a sprucing up in real life for the filming of the movie – such as new drapes, bed linen, carpets and reupholstering of furniture. Some new furniture had to bought and refurbished because some of the originals used for the TV series are now on loan to the Downton Abbey exhibition.
You may notice an additional subtle tweak from the 1912 house in the first season to the 1927 film: The plants. Cromwell created a characteristic Edwardian look with indoor Kentia palms and ferns for the first series which were removed for the filming of later seasons and the movie, to help ring the changes. 
Fringed lampshades quickly became a signature Downton look and so remained a key feature of the house decor throughout all TV seasons as well as the film. So much so, that when Cromwell came to working on Season 4, she encountered some problems in trying to find them as they had become so popular! (You can find a comprehensive range of fringed lamps for your own home on Etsy)
Keep your eyes out for a paper knife with the Earl of Grantham's military insignia and some silver cherubs (which were in fact porcelain and which Cromwell had specially 'chromed'). These are pieces that are central to the plot, as they go 'missing'.
The 'Downton effect'
Interest in antiques has been overshadowed in recent years by a lean towards Midcentury Modern furniture (somewhat driven by TV series like Mad Men) but Downton Abbey has certainly had an influence on recent interior design and can be credited for a revival in antiques. Fringed lampshades have made a big come back! 
Cromwell tells us that ever since she was a student she has 'bucked the trend' and been drawn to more a more 'decadent style', such as beautiful mouldings and sumptuous fabrics, and suggests the more people become accustomed to seeing things the more likely they are to adopt it themselves – and in this way Downton Abbey's interior styling has filtered into home decoration. 'Brown furniture' is also due to see a resurgence as interest in recycling and sustainability takes a stronger hold: "It doesn't wear out, you can pass it on to your family and is a beautiful thing to look at" adds Cromwell.
Downton has also been responsible for renewed interest in historic English homes with Highclere and similar country mansions experiencing a huge increase in visitor numbers. Lady Carnarvon, formerly known as Fiona Aitken (the real-life Countess of Grantham, played by Elizabeth McGovern) has cleverly capitalised on this by authoring several books such as At Home at Highclere: Entertaining at The Real Downton Abbey and Christmas at Highclere: Recipes and traditions from the real Downton Abbey. You can also take a tour of the castle, explore behind-the-scenes or take part in one of Highclere's many events.
At home with Downton's furniture
We ask Woods and Cromwell if they were allowed to take home a piece of furniture or homeware from the film set of Downton Abbey, what they would choose: Woods chooses the cast iron stove from Mrs Patmore's kitchen which he and his team had made, or the iconic servants bells (which it transpires Director JJ Abrams also wanted to get his hands on!). "It should have all been electric by the 1920's but the bells were so iconic we left them in use at Downton. We had 22 of them handcrafted in brass in Derbyshire" says Woods. The original bells are now in the touring exhibition so Woods had to have a second set made for the film.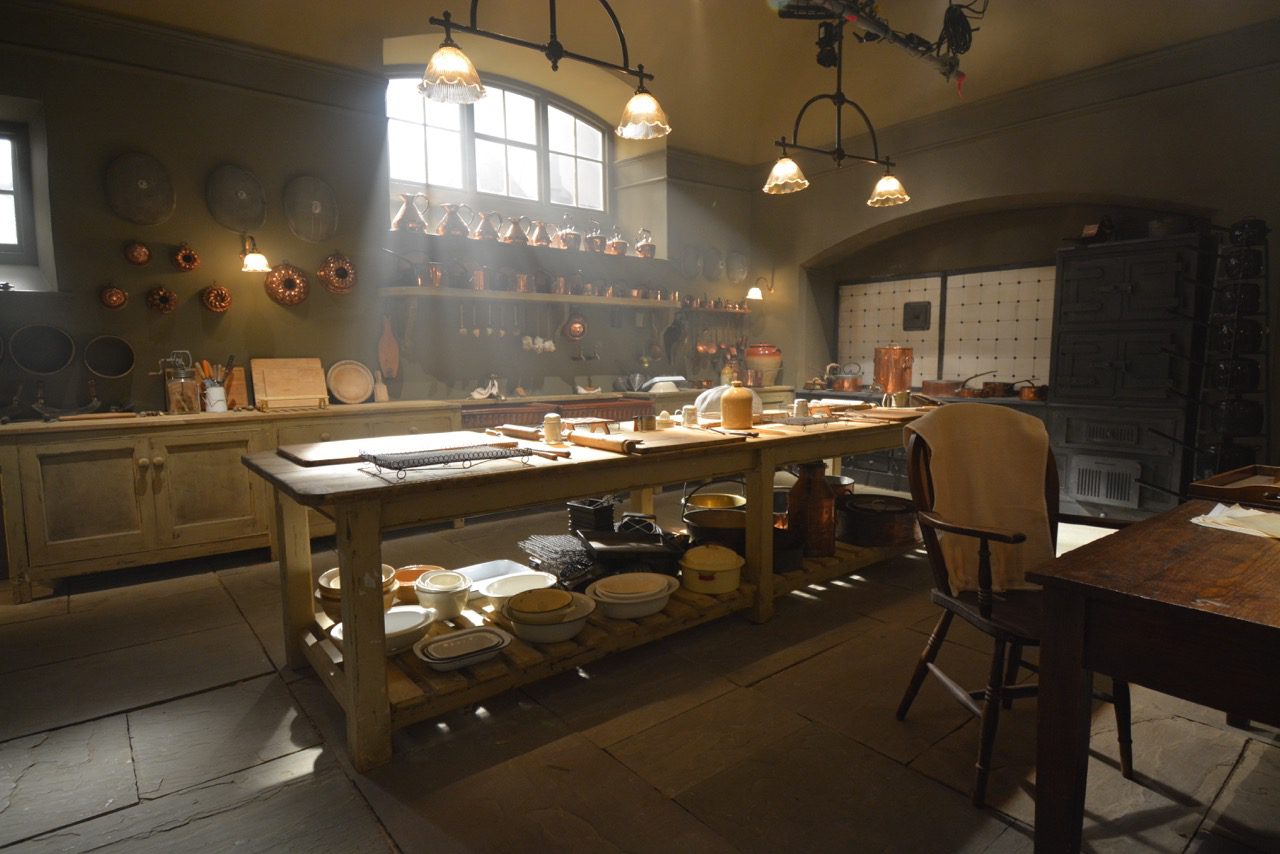 Cromwell chooses a tall boy she fell in love with – a small chest of drawers originally bought from a market for Tom Branson's dressing room, or the Georgian dresser which appears in the downstairs servants quarters.
The historical context
Downton's royal visit in the film's storyline was inspired by a visit the real George V and Queen (our current Queen Elizabeth's grandparents) took to Yorkshire in 1912. George V's 29-year reign saw the rise of socialism, communism, fascism, Irish republicanism, and the Indian independence movement, all of which radically changed the social and political landscape. 
Significant events which happened in 1927 – the year the film is set – include the first transatlantic telephone call (which was made from New York to London) and Charles Lindbergh became the first person to pilot an aircraft, solo, on a nonstop transatlantic flight (from New York City to Paris). The Academy of Motion Picture Arts and Sciences was founded, The Jazz Singer – the first feature-length film with synchronized sound was released and Fritz Lang's Metropolis premiered in Germany. 1927 also saw the premier of popular film It which sparked the term "It Girl".
Downton Abbey designers' own interior style
In contrast to Downton, Cromwell's own home is largely contemporary with the odd retro or antique piece. Soft blues together with teal accents are a colour theme in both the furniture and the walls of her home, with the addition of some seascapes, landscapes and Japanese art. Her favourite places for furniture shopping are the wonderful french flea markets in Paris such as Les Puces de Saint Ouen.
Wood's own home is white and light – a modern interior amid an 1857 cottage in Twickenham. "It's actually two workers cottages which we had knocked together: We have two front doors and two lots of junk mail!" he told us. We're pretty sure junk mail is something that doesn't reach the end of the long sweeping gravel driveway of Downton Abbey!
Downton Abbey is released by Focus Features in UK cinemas on 13th September and in USA on 20th September.