5 film scenes which make inspiring use of plants
Award-winning interior landscape designer Ian Drummond, picks out his favourite plants in the movies.
Houseplants have never been hotter, and creative interior planting is becoming increasingly easy to achieve. Indoor gardening is not just about simply growing a plant, but about using it as an accessory combined with other objects to create a particular style and mood. There are also proven health benefits to living with plants.
Plants in the movies
With this trend in mind, we asked award-winning interior landscape designer and RHS Chelsea Flower Show gold medal-winner Ian Drummond, who has co-authored the new book At Home With Plants with interiors writer Kara O'Reilly, to talk us through his favourite five film scenes which make creative use of plants. Ian knows what he's talking about when it comes to designing with plants as he has created installations for the Barbican Art Gallery, London Fashion Week, film premieres and a host of prestigious events including the BAFTAS and Sir Elton John's AIDS Foundation White Tie & Tiara Ball.
Here are Ian's favourite plants in the movies and we have two copies of his recently published book to give away to lucky F&F readers.
1. The Great Gatsby
Is there anything more decadent than this scene in The Great Gatsby (2013)?
On first inspection we see an abundance of cascading blooms and china plates brimming with cake. The space is filled, it's tasteful, one could occupy this room and feel only happiness. Leonardo Di Caprio, the eponymous Gatsby, superb as always and resplendent in a toning palette of pastels to delight the eye. Who could want for more?
But let's look more closely. The blooms in question are Phalaenopsis and Cymbidium Orchids. Frequently these are specimen plants, often displayed singly or in threes, the very epitome of restrained dignity. But look what's happened here. There are hundreds of them, colour co-ordinated with the macaron to an extraordinary and obsessive degree. And look at the expression on Gatsby's face as he sits alone – the scowling discontent. Too much, it seems, is never enough.
2. When A Stranger Calls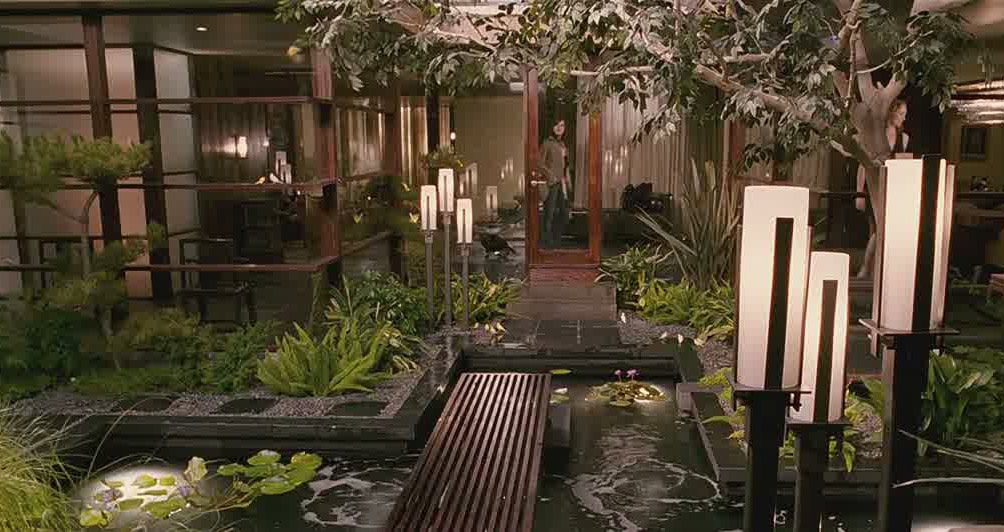 The Zen garden in When A Stranger Calls (2006) offers a visual masterclass in dramatic irony. This soothing oasis at the centre of the house appears to tick all the traditional eastern feng shui boxes, incorporating gently bubbling water, soft lighting, polished stone and reflective glass. The planting is abundant and varied – structural Olea (Olive) nestle peacefully alongside calming ferns and Aspleniums, Philodendron and Beaucarnea. The water plays host to Nymphaeceae (water lily) – it could not be more perfect.
But as babysitter Jill is soon to discover, not everything is as it seems. The house conceals a killer and it's not long before this garden, a space designed for refuge is reduced to exactly that: somewhere to stay alive.
3. Leon
Solitary hitman Leon (1994), when not efficiently despatching enemies of his Mafioso employer, displays a surprising (and slightly unbalanced) tenderness in this scene as he tends to his 'best friend', a Aglaonema silver queen.
I love how the plant injects colour into what is otherwise a dreary blend of dirty, faded neutrals. Look at the grubby net curtains, the wallpaper peeling from the wall, the ancient lampshade skewed at a drunken angle, the whole picture mumbles tired neglect.
In contrast the plant itself is full of life and perky vigour, a symbol of hope and the redemptive powers of the natural world. Beautiful.
4. Mad Men
Adultery, alcoholism, identity issues, it's all in a day's work for Mad Men's advertising genius, Don Draper, and this is where it all happens.
Surprisingly, Draper's office says little about him, there's nothing to betray his inner turmoil.
For all its exquisite 1960s design, it's a blank canvas, perhaps a clever metaphor for his character – the office, like the man, reveals nothing.
If only he had introduced more plants into his world, things could have been so different. While the Monstera is doing its glossy best, it's relegated to the furthest corner of the room, an afterthought, unable to imbue the environment with the happiness-inducing effects of nature that might just have saved him.
5. Alexander
Take a look at this set of Oliver Stone's Alexander (2004). Not for nothing are the Hanging Gardens of Babylon one of the Seven Wonders of the World and this interpretation doesn't disappoint.
The planting is the design of dreams and appropriately lavish. The scale allows for the tropical Musa Bajoo, stretching up toward the sky, while the creepers scindapsus and scandens trail and spill over the stonework.  
Multiple shades of textural green provide an abundant backdrop to the jewel-like cushions and costumes – the visual feast is set.
More about At Home With Plants
The new wave of unusual and dramatic indoor plants is as much about decor and statement as greenery. Used aesthetically as a focal point and sculptural element in interior design, indoor gardening is not just about possessing or growing a plant, but about using it as an accessory combined with other objects to create a style or mood. Ian and Kara show us how to transform our homes with plants and explain which plants will work best where and how to care for them.
Published by Octopus, At Home With Plants is available here >
---
Competition!

Ian and Kara have given us two copies of their wonderful book to give away and YOU HAVE TWO CHANCES TO WIN.
UPDATE: This competition has now closed and the winners have been notified.
---
Inspired to bring some greenery into your life? You'll need some statement pots in which to display your plants.
Amara have a great selection and you can combine three trends in one with this hanging brass planter.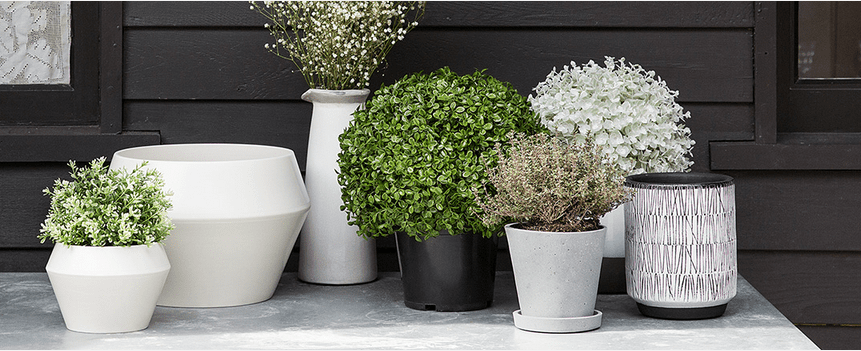 Big thanks to Ian for sharing his love of plants.