The photo of Marilyn Monroe on a brown sofa which Armas reenacts for 'Blonde'
One of the lead publicity shots for the movie Blonde features actress Ana de Armas reenacting a famous photograph of Marilyn Monroe sitting on a 1950s brown sofa. Join us as we take a closer look at the original Monroe photograph.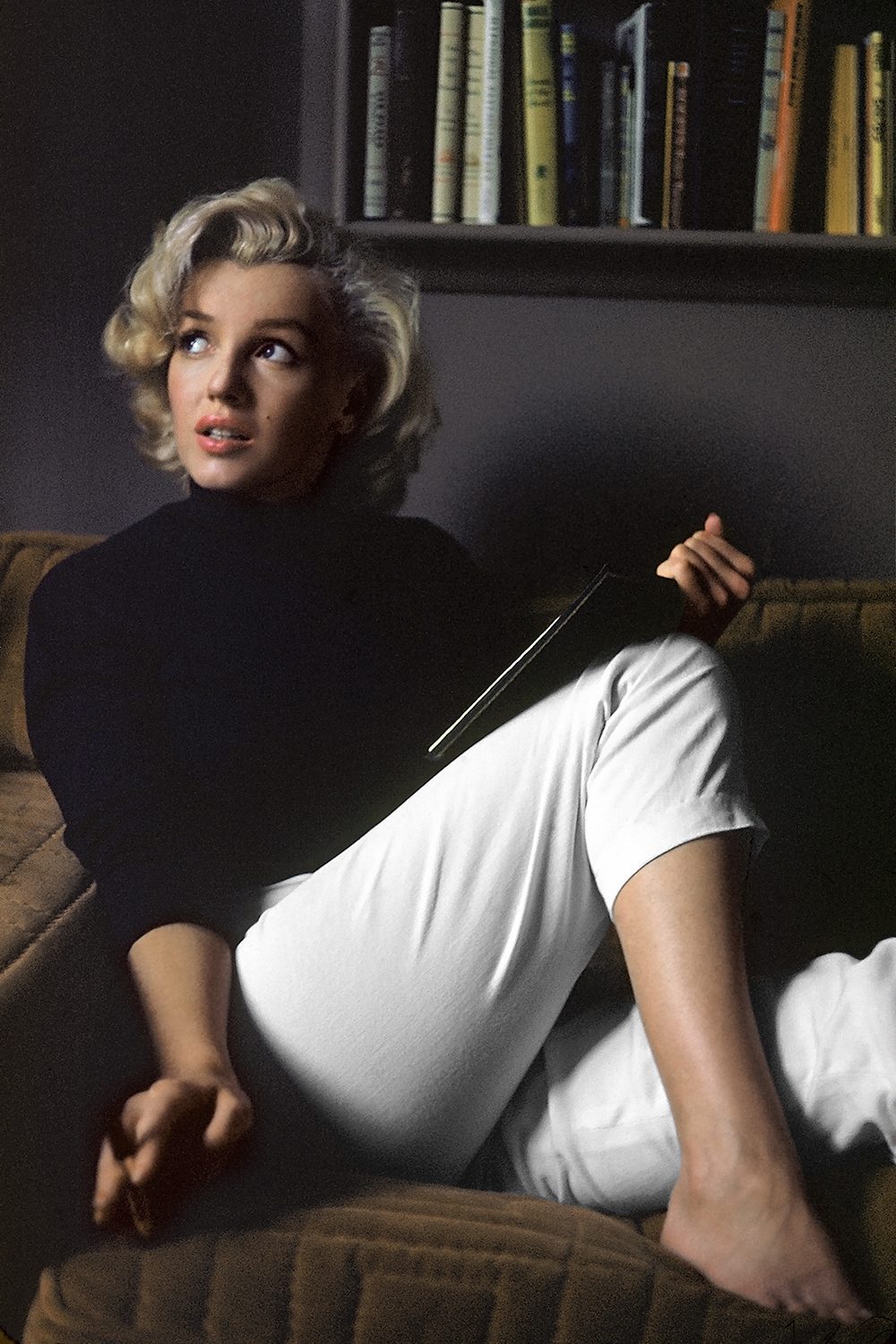 The photo, which has been recreated for Andrew Dominik's Blonde, is a 1953 photo (above) of Marilyn writing in her diary and was taken by Alfred Eisenstaedt for Life Magazine.
The simple styling combination of black jumper and white capri pants, coupled with the muted tones of the brown sofa and grey walls, make a perfect backdrop – her skin tones and blonde hair sing out of the image.
The sofa appears to be covered in brown velour with quilting which creates a subtle pattern of squares.
The books on the shelf add a hint of colour and the single orange book on the shelf behind her creates a visual dialogue with her orange lipstick.
This series of photos were taken at the movie legend's Hollywood home, when the actress was just 26. What's notable about these photos is how relaxed and at ease she appears, despite all that we now know was going on in her life.
At the time of this sitting, her roles in Bus Stop, The Seven Year Itch, and Some Like It Hot were all still to come.
Ana de Armas, the star of Blonde reenacts this scene with aplomb for a publicity still (above). The brown sofa, the grey walls, the book shelf and Marilyn's clothes have been replicated almost exactly.
The original photograph of Marilyn Monroe got us thinking about how she was often seated in a chair or sofa for her portraits. One of history's most famous faces managed to strike a pose and remain glamorous in many different kinds of chairs, be that a humble wicker chair or luxurious chaise longue.
The photo top left above sees Marilyn reclining on a contour lounge chair in the garden in 1951, seemingly entertaining a number of different photographers. Official prints of this image are available from Sonic Editions in various sizes.
This image top right above capture Monroe on the telephone, leaning back in a grey fabric 50s armchair, enacting a scene for the film How to Marry a Millionaire from 1953. Framed prints of this are also available from Sonic Editions.
From 1953-1957, the photographer Milton Greene took some of the most captivating images ever taken of Marilyn Monroe. They developed a strong bond and even became partners, establishing Marilyn's own production company, Marilyn Monroe Productions which produced Bus Stop and A Prince and a Showgirl.
The Wicker Chair series was photographed at Milton Greene's New York apartment in 1954. Marilyn wears matching jacket and trousers in turquoise against a backdrop of the same colour (above). The wicker chair, also often referred to as a rattan chair, is a peacock style design.
You can find a selection of vintage wicker and rattan chairs to reenact this scene yourself at Etsy!
Official prints of Milton Greene's photos of Marilyn are available from the Andrew Weiss Gallery and MiltonGreene.com
Above we see Marilyn in her recently purchased Brentwood home, sitting on the back of an Italian-style carved chair with green velvet upholstery. The photograph was taken by Allan Grant in 1962.
Allan Grant chose this chair and placed it below the window for the light it offered. 
He was briefed to simply capture Marilyn the person rather than the star, and Grant asked Monroe to choose casual clothes to wear.  She chose a black sweater, capris and spiked heels (perhaps why the chair has a small tear in the upholstery). As Monroe sat on the back of the chair she also caused a small crack in the wood.   
At the time of the article Monroe had just been fired from the unreleased film Something's Got To Give, but she agreed to three interviews to show that she was not beaten by this adversity.
The chair used in this sitting has had several owners since Marilyn's death and was sold in 2010 by Julien's Auctions in a "Hollywood Legends" series.
Above left we see Monroe in a 'Directors chair' with her name printed on the back. In an article on the BFI website, Nigel Arthur points out how when Monroe became the leading artist at Twentieth Century-Fox in the early 1950s, her public persona was constructed, to a large extent, through the distribution of a wide variety of images to increase her popularity.
"These were sent out to fan magazines with biographical details… If fans responded positively to their films, stars were offered larger and more lucrative roles. The volume of fan mail also dictated how much money the studio would spend on glamour portraits. The chief portrait and still photographer at Fox was Frank Powolny [who] did several famous sessions with Marilyn, including one for the 1953 thriller Niagara. A typical prop in such photos was a personalised chair, which worked as a way of identifying actors until they became more familiar with the public" says Arthur.
You can create your own personalised directors chair from Personalise Online. 
Unusually for Richard Avedon, who is more known for his black and white photography, the image above right is a photo of Marilyn taken in colour, with a cheeky grin on a grey silk covered sofa.
'The Last Sitting' is a series of photographs of Marilyn taken by Bert Stern in 1962. The shoot lasted 12 hours and this session together with two that followed yielded 2,571 portraits. They captured an unreserved Marilyn and and above right we see her in an iconic black velour gown by Christian Dior leaning on a dining chair from this session. These portraits would be the public's final glimpse into the life of the Hollywood icon, before her untimely death six weeks later at the age of 36.
Blonde is available to watch on Netflix from 23 September 2022.