Hitchcock and Post-war Modernism
After WWII, design took a deeper dive into Modernism as a form of celebrating the end of a dark and troubling time. 
Modernism was not new, but Post-War Modernism saw the introduction of the oh-so-popular Mid Century Modern design style that we still draw upon today. 
Film and Architecture began to smoothly mingle in the 50s and we witnessed the importance of interior design within the art of cinema. 
Cinematic history shows that architecture and interiors play a key role in storytelling in film. The degree of creative execution of this varies greatly from director to director. One stands out among the vast talent that lit up the Hollywood Hills.
Alfred Hitchcock is the founding father of Horror and Suspense. The mixture of dark fright and architectural beauty is Hitchcock's unique way of consistently leaving a lasting visual impression. 
In 1958, Vertigo premiered and became an instant success. Hitchcock's 15th feature film starred Kim Novak and James Stewart, Hollywood royalty at the time, and followed Stewart's character, Scottie. 
Scottie, a retired policeman, is plagued by a hefty case of vertigo and a fear of heights after his partner plunges to his death following a rooftop chase. Scottie then spirals into a deep state of depression and is unable to conquer his new crippling fear of heights. 
Ethereal and gothic architecture can be seen throughout the film, emphasising Scottie's grandiose fear. 
Midge's apartment is an area of eclectic design. The '60s were on the horizon and therefore Mid Century Modern design was soon to be at the forefront of interior decorating. It had already been sprinkled into the design world, but was transitioning into the iconic style that we know today.
I'm going to take you on a journey outlining the interior decor used in Midge's apartment and how you yourself can mimic this timeless look. 
Modern eclectic expression is quite poignant in Midge's apartment and the mixing of clean lines with warm rattan beautifully exudes the Mid Century Modern aesthetic. 
This was a time when furniture possessed a great deal of integrity and therefore crafted to the highest standard of quality. 

This Tommy Bahama solid wood dresser is the perfect pop of colour while upholding the warmth that is needed for a cosy atmosphere. You can view the Twin Palms dresser here.
Equipped with 4 solid wood drawers, and leather-wrapped bamboo, the dresser is substantial in craftsmanship and ideal in achieving a casual modern look.
Midge sits in a white Bertoia chair. The iconic wire chair series was designed by Harry Bertoia for Knoll in 1950 as a result of an experiment that involved bending metal rods into practical art. 'If you look at these chairs, they are mainly made of air, like sculpture. Space passes through them,' said Bertoia.
Clean design is key in obtaining the Mid Century look. Understated and low-profile, yet aesthetically modern. Gone are the detailed, ornate, and heavy furniture pieces that juxtapose this simplistic palette. You can find the Olalla daybed here.
Adding hints of greenery, like this Elephant Ear plant, will add a beautiful aesthetic, while purifying your space's air. You can find this faux Elephant Ear here, but if you're looking for the real deal, check out online plant service, The Sill.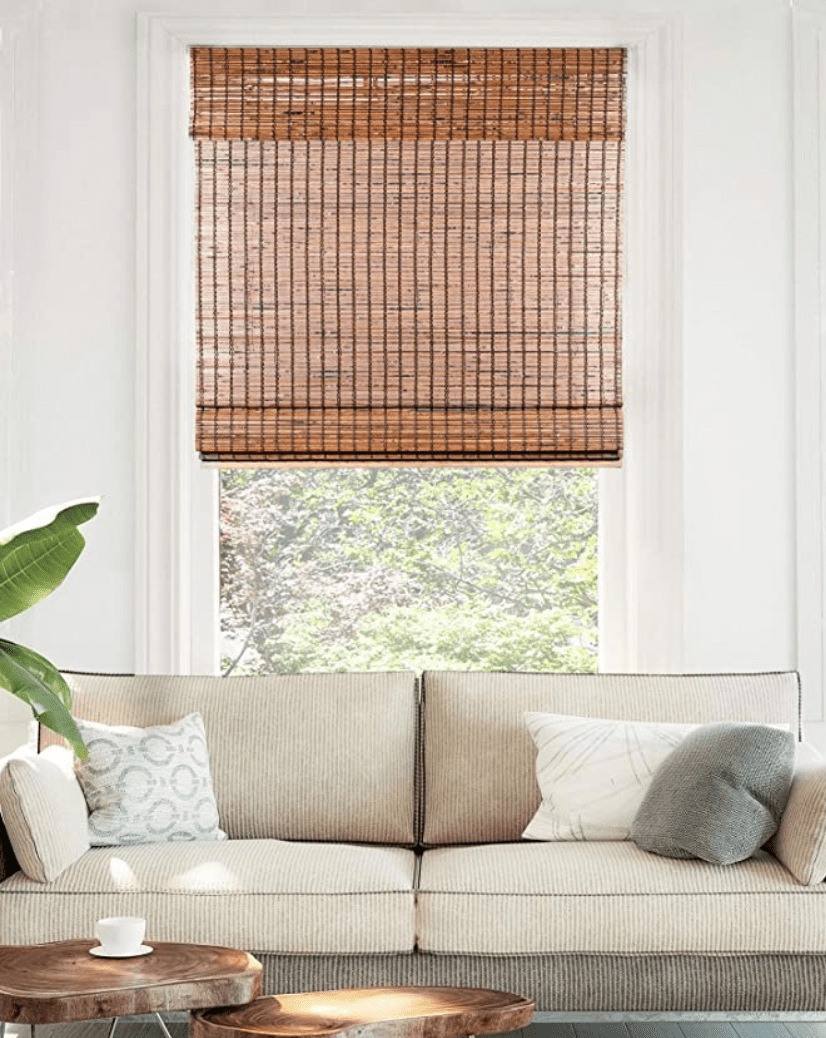 Add warmth to your space, just like Midge, with rattan Roman blinds. The texture creates subtle depth that has a not-so-subtle impact. You can find these on Amazon here.

Clean lines and monochromatic palettes are ideal for long-lasting design. You can carry this style over many years, as it is adaptable to any living space. You can find this Paul Mid-Century Modern Leather Classic Accent Chair here. 
The saying goes; what's old is new again. Trends are prominent, but timeless design is unique and impactful. It acts as a baseline for other developing styles, while upholding the integrity that made it so poignant. Hitchcock was a master of cinema, but also an appreciator of highly artistic architecture and design. This is strongly evident throughout his directorial career. Cinema is art. Architecture is art. Combining the two mediums allows for an explosive creation that will behi utilised for centuries and studied by many. 
If you haven't seen Vertigo, we highly recommend you schedule it for your next movie night. Grab your popcorn, a glass of wine, and a comfy seat (we recommend Valencia Theater Seating for their unmatched luxury recliners), and enjoy this iconic Alfred Hitchcock masterpiece. 
Sponsored Post.