From Eames office to Hollywood filmsets: Jeannine Oppewall is a Mid-century maven
From her first job working with design power duo Charles and Ray Eames to designing outstanding 'period' film sets, art director and production designer Jeannine Oppewall has always been at the forefront of the Mid-century world of design. Film and Furniture's Paula Benson caught up with her after her lecture on design for film at last month's Modernism Week.
I'm not the usual kind of journalist waiting for an interview after a talk or performance, so I have to keep pinching myself that after years of longing, here I am at Palm Springs' Modernism Week (having been flown over from London to give a talk myself) sitting in the beautiful garden of the E. Stewart Williams-designed art museum, chatting with one of Hollywood's most successful art directors and production designers.
I am a fan girl at heart so I am more than a little excited to chat with the four-time Academy Award nominated and 2017 Art Directors Guild Lifetime Achievement Award winner, Jeannine Oppewall. She has worked on over 30 films and has extensive experience in creating Mid-century worlds for film, especially those that depict Mid-century America. She's worked on L.A. Confidential and Pleasantville which were set in the 1950s, and The Big Easy, The Bridges of Madison County and Catch Me If You Can which were set in the 1960s.
Oppewall is a regular visitor to Modernism Week when she's not working on some major Hollywood film and takes an avid interest in design, architecture and furniture – particularly of the Mid-century period which the Palm Springs festival celebrates so well. She's been coming here since it was a handful of talks and a few house tours. Celebrating its 15th anniversary this year, the festival has now grown to encompass over 350 events each February with a smaller Fall Preview weekend each October.
With her background working at the Eames office, Oppewall was at the epicentre of where and when much of this period's design work was conceived and created. "Charles [Eames] was always at the back working on some new experimental piece of furniture" she says, "whilst the rest of us were upfront working on exhibitions and small films". As well as being at the forefront of post war modern architecture and furniture, Charles Eames loved films and learned much from his close friend Director Billy Wilder (and for whom the world-famous Eames Lounge Chair was originally designed).  
"The whole place was a hotbed of ideas and the people who worked there at the time still stay in touch and support and help each other to this day" Oppewall tells me. "Sometimes I think 'Bob Staples will know how to solve this' and I give him a ring. Everybody inspires each other to do great work. When I eventually left, I remember being told 'don't let the standards down!' and every time I meet a film producer that I think might require me to lower my standards I hear that voice and I think 'oh no you don't'" she exclaims.
In Oppewall's predominantly male-dominated industry she is a woman who has managed to rise to the top. She started her talk earlier today with a slide of the painting 'Hollywood' of 1937-38 by Thomas Hart Benton which she says sums up how women are perceived in the film industry. ­And of her experience working for the Eames husband and wife team she recalls how Ray often confided in her how dissatisfied she was at her treatment by the press as a lesser member of the partnership for being female. Such experiences taught Oppewall something she still often reminds herself of: "Never mix your credits up with a man".
Having worked on the production of many of the Eames' films (the office created in excess of 100 films over a 30 year period), her career as an art director and production designer kicked off in the early 80s with films such as the Brian De Palma thriller Blow Out – for which she was responsible for location finding as well as design and construction of the sets and interiors.
Oppewall made perfect use of an outstanding Mid-century building for the Steven Spielberg film Catch Me If you Can: Eero Saarinen's TWA Flight Center (also known as the Trans World Flight Center) at New York's JFK airport.
She explained in her Modernism Week talk how she found it in a very sorry state when she came to film here in 2001 and had to spend days having it cleared and cleaned before it was ready for shooting. She found Eero Saarinen chairs just lying thrown to one side: "It was a disaster zone" she says.
The recent restoration of the building into a hotel was quite a journey and one which Oppenwall joined in the campaign for: "It represented an era in American history when we actually stood on the brink of something new and wonderful, when people actually enjoyed flying, when it was glamorous and when it represented something about the country and its youth. To have destroyed that would have been to destroy a building that epitomises that time and mode of life" she tells me.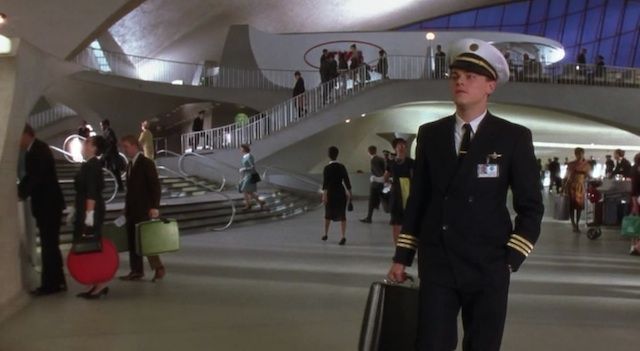 Iconic swathes of red carpet and pristine Saarinen furniture now once again adorn this magnificent space as after a £400m renovation the TWA building has reopened as a hotel with a vast extension. Architects Beyer Blinder Belle were responsible for renovating the TWA terminal and Lubrano Ciavarra Architects for designing the two new buildings.
Having also seen a talk by Richard W. Southwick (Partner and Director of Historic Preservation for Beyer Blinder Belle Architects) and Anne Marie Lubrano (Principal of Lubrano Ciavarra Architects) earlier that day, I applaud the renovation and how they solved the difficult task of including a very large numbers of hotel bedrooms onsite. They achieved this in a way that complements rather than overshadows the original design. The large dark glass profiles of the new buildings enable the sculptural elements of the original building to stand out.
When dressing the TWA for Catch Me If You Can Oppewall included her choice of carpet in the building but Eero Saarinen's son Eric, himself a cinematographer and film director, phoned her upon seeing the film to tell her she'd got the carpet colour wrong!
Knowing that Saarinen and the Eames had collaborated on many furniture designs, I asked Oppewall if she knew the Saarinen's from her time at the Eames office – to which she surprised me by saying that Eric worked at the Eames office as a cameraman from time to time!
"I must go and visit TWA" she says, "I like to make architectural pilgrimages when I'm not working. It opens up your mind and gives you new ideas about places and things. And it's a fun way to spend time to just look at things".
Our discussion then goes off on a tangent as we chat about the Alexander Girard exhibition which is currently on display upstairs from where we sit in the Palm Springs Art Museum garden. Aside from the wonderful designs we both know of this leading figure of postwar American design, we agree how blown away we are by his imaginary 'The Republic of Fife' for which he designed beautiful and intricate stamps, maps, trading cards, flags, coded language and games. If I hadn't known better I might have thought this section was research for a Wes Anderson movie. Which leads me to ask the creator of world's for film "were you full of imagination as a child – did you create imaginary worlds?"
"Well, I spent a great deal of time in my head, that's for sure, I had imaginary characters and imaginary play places, a rich fantasy life" she answers. "It was always about stories and story-telling more than about the physical characters and the architecture. For me the spaces were about the physical envelope for the story to be told".
She continues with passion: "There are many different ways people end up working in Hollywood in films but for many it's an 'addiction to fiction' and then you have these other skills and you put them together. Architects who come to this world of production design often miss the essence of imagining the lives of the characters and get caught up in what mouldings they should be using. It's not about the bloody mouldings! It's about the emotion of a place. It's not about what does it look like, but how does it make people feel."
I remind her of a lovely quote I read she'd once said: "The reason that it's fun to design sets is that it allows you to try on personalities that you'd never otherwise experience." This idea of delving temporarily into 'other' worlds or pretend personalities is something I relate to. For me it started with drawing my imaginary future house, then shifted into pouring over the pages of early The Conran Shop catalogues and interior magazines which transported me to other worlds. Presently this tendency is expressing itself in running a blog about the furniture décor and design of filmsets! When watching a film you are transported momentarily in these other worlds.
For Oppewall on the other hand, it started with a covetable job at the Eames office (one that happened quite by chance) and took her to designing film sets. "To create those worlds from scratch must be so incredibly rewarding" I suggest. "Yes" she answers, "but it's also incredibly terrifying, because you always start at day one with the pencil hovering over the paper and it doesn't know where to land. It's hard! You want to make sure the first line you put down it correct, because from that first line everything follows".
"But you also need to surrender to flummoxing around while you're trying to figure it out" she continues. "And sometimes it's really hard because you go through that stage of 'Oh God, this is the one I'm gonna fail, no-one's gonna hire me again!'".
"So you have self-doubt after all these years of doing amazing work?" I ask. "Always" comes the answer. I wonder if this is what drives her on – the idea that the next project might be better? "No, it's not the next one's going to be better, it's the next one is going to be different! 'Different' is what makes a lot of people in the film business tick" comes the decisive reply.
And which film would Oppewall have loved to have been given the chance to design? "It sounds crazy but it would have to be my favourite film director Tarkosky's film Andrei Rublev. It's about a priest set in the middle ages in Russia during the time that Russia missed out on the Renaissance and the Reformation because it was owned and operated by the Tsars. These are the kinds of films I'd like to make: They're styalised, they're emotional and full of information about other people, other places and other times. I love films like this that create images than burn into your head and never get out. I search for emotionally moving images like these".
Of her Art Directors Guild Lifetime Achievement Award she laughs: "Kind of premature don't you think? I don't do work to win awards, I look for experiences that will feed me something" and she has no intention of stopping any time soon (she is 73): "I'm always looking for something that's going to feed me something".