A global tour of furniture and home décor inspired by travel movies, Part 1
Films about global travel can widen our horizons, fuel our thirst for adventure and inspire our homes. In this two part feature we examine fascinating films about travel around the world and celebrate the creativity of global artisans to bring you some unique ideas for home decor. 
We often source furniture and home accessories with a global twist from Culture Vulture Direct who, each season, unpack their finds from a world well-travelled. For their Autumn collection they take us on a journey to India, France, Russia, and The Highlands of Scotland from the comfort of our armchairs. Film and Furniture decided to take parallel journeys via the big screen.
Part One: Furniture and home decor inspired by travel movies in India and France
India
Films set in India include Slumdog Millionaire (Danny Boyle, Loveleen Tandan, 2008), Bond's Octopussy (John Glen, 1983), Indiana Jones and The Temple of Doom (Steven Spielberg, 1984, 'though filmed mainly in neighboring in Sri Lanka), Eat, Pray, Love (Ryan Murphy, 2010) and The Best Exotic Marigold Hotel (John Madden, 2011). Given the spirituality of India, many of these films focus on personal voyages of discovery.
As we're big fans of Wes Anderson, our top Film and Furniture choice for travel in India is the quirky The Darjeeling Limited (2007), where estranged brothers Francis (Owen Wilson), Peter (Adrian Brody) and Jack (Jason Schwartzman) reunite for a train trip across this vast and visually evocative land. Their travels take them through cities and landscapes oozing with colour and highly decorative architecture and design, typical of India. The movie poster illustrates such colourful embellishments.
The train interiors' rich and vibrant blues are echoed in Culture Vulture's Sheesh Mahal Double quilt, which is hand block-printed in Jaipur. The lightly-quilted cotton throw is luxuriously soft and features intricate patterns recalling the designs of flowers and Cypress trees decorating the niches of the Sheesh Mahal (Mirror Palace) in Jaipur's Amer Fort.
Sheesh Mahal Double quilt
270cm x 220cm.
Made in India
Fair Trade
£180
Shop now >
The Chandaka mirror is hand painted with traditional mehndi motifs.
Chandaka mirror
Fair trade item, made in India.
61 x 30.6cm
£45
Shop now >
This vibrant cotton quilted Gudriwork bedspread uses traditional Rajasthan gudri stitching, a rustic style of quilting.
Gudriwork bedspread
100% cotton
Fair trade item made in India.
£165
Shop now >
The Assam occasional chair is a solid mango wood frame with dark strained legs and covered in hand-block-printed cotton.
Assam occasional chair
83 x 68 x 70cm
£710
Shop now >
France: French Kitchen
The heart of any French home is the kitchen. Amelie (Jean-Pierre Jeunet , 2001) is such a delightful film in every way and her Parisian kitchen is one we can take a lot of interior design influence from. This film set makes bold use of colour blocking, predominantly in rich reds with retro green accents, while the beaded curtains add a soupçon of kitsch.
You can bring a touch of French kitchen into your own home with these Colmar mugs – handmade in glazed terracotta, they evoke designs from the Grand Est. region of France.
Colmar mugs
10cm tall.
Available in blue, yellow, green and red for £11.99 each or a set of 4 for £45.
Shop now >
The archetypal French kitchen look centres on rustic simplicity and traditional materials echoing farmhouses from Brittany to Provence.
This borderie platter conjures up the ambience of 'al fresco' lunches in Carcassonne.
Borderie platter
Ceramic embossed with delicate floral details
£38
Shop now >
The cheerful Colmar tableware range is handmade in glazed terracotta
Colmar tableware range – bowls
Bowl £9.99 each or set of 4 for £38
Shop now >
Colmar plates
Plates £15.99 or 4 for £60
Shop now >
Chocolat (Lasse Hallström, 2000), starring Juliette Binoche and Johnny Depp tells the story of a travelling mother (Vianne) and her daughter, who open a chocolaterie in a small French village. Opening during lent causes concern amongst the traditional villagers but the evocative scenes of French village life (filmed in Flavigny-sur-Ozerain in Burgundy and on the Dordogne River), delicious chocolates and the design of Vianne's shop and kitchen will leave you hungry to recreate some of the ambience in your own kitchen.
This Gordes Mahogany Swivel stool is a rustic design inspired by a farmhouse stay at the foot of the Luberon hills. Made in solid mahogany this stool has been ethically sourced. The seat swivels 360 degrees so you can twist and turn as you prepare food.
Gordes Mahogany Swivel Stool
61.5cm tall, 40.5cm wide.
£170
Shop now >
This chocolat chaud tin houses an intensely rich chocolate mix.
Chocolat chaud – dark
£14.99
Shop Now >
We've fallen in love with this particular find from the eagle eyed Culture Vulture sourcing team – a Wild Boar wine jug. This hand-painted stoneware will help you fantasize about truffle-hunting excursions in the Dordogne.
Wild Boar Jug
£62
Shop now>
France: Chateau Living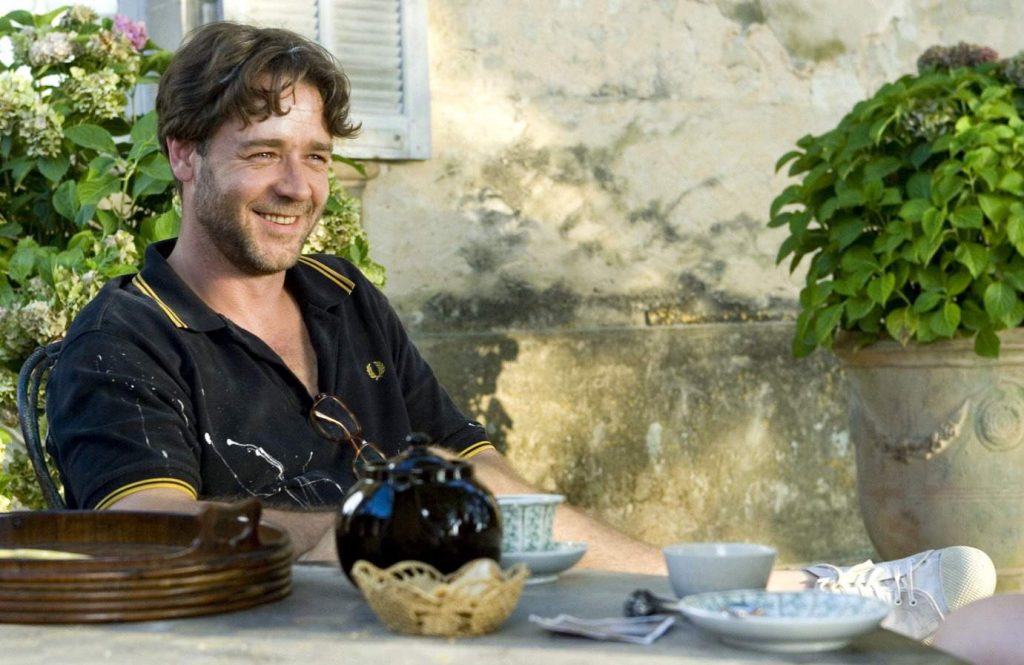 In A Good Year (Ridley Scott, 2006) Russell Crowe plays an investment broker who inherits his uncle's chateau and vineyard in Provence, where he spent much of his childhood. Arriving with the intention to sell the estate, the laid-back French lifestyle and happy memories of youth rub off on him. This film is a light-hearted Rom Com, if a little clichéd (surprisingly so for Ridley Scott and Russell Crowe) but the film location hunting team did a fine job of choosing beautiful southern French locations (Cucuron and the stunning landscapes of the Vaucluse and Luberon areas) which make us want to jump on the next Eurostar and set decorator Sonja Klaus picks out some inspirational and eclectic vintage furniture for the jaw dropping chateau itself.
A Good Year will inspire you to learn about wine, Provence and bring a touch of French décor into your home.
These Marseille wine goblets are inspired by vintage brocante finds.
Marseille wine goblets
14.7cm tall, capacity 23cl
Dishwasher safe.
£24.99 for a set of 4
Shop now >
The Lyonnais rug above is inspired by 19th Century Lyonnaise textiles and will bring a flavour of the faded glamour of a chateau into your home – as will The Bloom Chambord Velvet chair (below).
Lyonnaise Cotton Rug
Printed cotton rug inspired by 19th century Lyonnaise textiles
100% cotton
120 x 180cm
£110.00
Shop now >
Chambord Velvet Occasional Chair
Inspired by vintage pieces with dark stained beech wood legs
77 x 65 x 71cm, seat height 43cm.
£300.00
Shop now >
We hope you've enjoyed our whistle stop tour of India and France via the big screen.
Now see Part 2 where we journey to Russia and the Scottish Highlands.
Disclosure: We may receive a % commission if you click a link and purchase a product or service via this article.
We tell you this in the spirit of openness and please rest assured that all our recommendations are vetted, carefully chosen and genuine.