Our favourite furniture-in-film picks from furniture marketplace Pamono
When sourcing one-of-a-kind furniture and vintage decor we find ourselves returning again and again to Pamono, the decor and furniture marketplace specializing in distinctive design objects and the stories behind them.
Driven by the belief that a life well lived means surrounding yourself with beauty and soul, Pamono sources vintage and contemporary furniture, lighting, accessories, and crafts from around the globe and seamlessly delivers them right to your door. Of course, we particularly like the fact that among their thousands of design offerings, we can always spot a selection of fabulous furniture design classics featured in some of our favourite movies. To that end, we recently perused the site and came up with a bunch of fun examples…
Here's our top selection of pieces available from Pamono which have been featured in films:
The G-Plan 6250 in You Only Live Twice and The Beatles Help!

Possibly one of the most famous chairs ever to be captured on celluloid, supervillain Blofeld's chair in the Bond movie You Only Live Twice (1967) is the 6250 chair, launched by the very British company G Plan in 1962.
G Plan borrowed the swivel idea from the very best offices in the 60's, adding the hypnotic appeal of rocking and the sheer convenience of gliding. The black vinyl version of the G Plan 6250 became an iconic chair of the 60's and it appeared in the 1967 Bond movie You Only Live Twice where Blofeld, played by Donald Pleasance sat on it with his white cat (more in our feature >).
The original chair from the Bond film set was sold in auction for $16,000 in 2014 but we have some good news for you if you're looking to re-enact the scene in your very own Blofeld chair in your home or office: Pamono are currently selling this Black Leather 6250 Chair from G-plan (white cat not included) on behalf of The Furniture Rooms.
Mid-Century Black Leather 6250 Chair from G-plan
£1,360
Shop now
The G-Plan 6250 chair also appeared in The Beatles Help! With such big screen connections, this is the perfect chair to incite conversation in your own front room.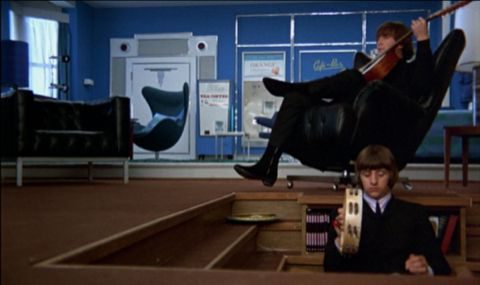 The Jacobsen Egg Chair and Arco lamp in Help!
Talking of Help!, this lovable Beatles movie (which is essentially a masterclass in 60s furniture) also featured a Jacobsen Egg Chair. Pamono currently has this original vintage beauty for sale:
Fabric Egg Chair by Arne Jacobsen for Fritz Hansen, 1970s
£4235
Shop Now
Paul McCartney's home zone in Help! features a huge, white, glowing organ, white carpet and the Daddy of all free standing lights – the Arco lamp.
Pamono currenly have this marble Arco Floor Lamp by the Castiglioni Brothers for sale:
Mid-Century Steel and Marble Arco Floor Lamp by the Castiglioni Brothers.
£1,412.
Shop now
Bertoia chairs in Broken Embraces, The Devil Wears Prada et al
Sculptural Bertoia chairs make an appearance in Almodovar's Broken Embraces (2009), The Devil Wears Prada (2006), The Perfect Match (2016) and The Lake House (2006) – more in our our feature >. Pamono have several Bertoia chairs for sale, including these shown below:

Italian Bird Chair by Harry Bertoia for Knoll International, 1950s.
£2259.
Shop now

Carlo Bugatti chair in Alien: Covenant
One of the stars of Alien: Convenant is in our option, a noteable chair: The film opens with Weyland Corp's synthetic David who we met in Prometheus sitting in a distinctive Carlo Bugatti Throne chair next to an Eileen Gray E1027 Side Table (more in our feature >).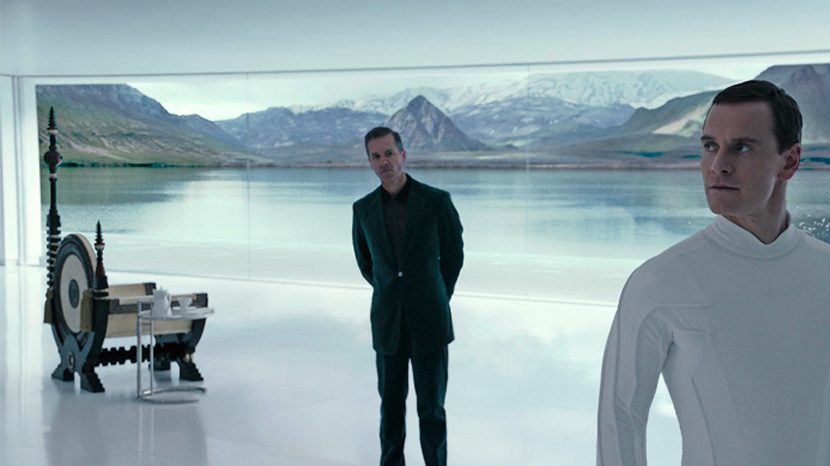 So incredibly rare, it's very fortunate that a Carlo Bugatti chair is currently available from Pamono in their "Exceptional" category. This side chair made from walnut with embossed copper and pewter inlay, vellum seat, and back painted with stylized flora with original silk tassels is dated circa 1900.
Walnut & Copper Side Chair by Carlo Bugatti, 1900s.
£18,750.
Shop now
A matching pair of vintage French adjustable chrome and glass side tables in the manner of Eileen grey's iconic E1027.
£1,083.
Shop now

Platner chairs in Luke Cage
In Netflix Marvel's Luke Cage, Cottonmouth's well-styled office in his Harlem Paradise club sports two black and silver Warren Platner Knoll chairs. In 1966, the Platner Collection captured the "decorative, gentle, graceful" shapes that were beginning to infiltrate the modern vocabulary. The Arm Chair, which can be used as a dining chair or guest chair, is created by welding curved steel rods to circular and semi-circular frames, simultaneously serving as structure and ornament.
Pamono are currently selling this very handsome set of 3 vintage 1725A armchairs by Warren Platner for Knoll.
Vintage 1725A Armchairs by Warren Platner for Knoll International, Set of 3.
£6210.
Shop now

Cherner chair in Toy Story 2

Last but not least, is the Cherner chair seen in Toy Story 2. This Pixar favourite may be an animation but their attention to detail with furniture is spot on.
Vintage Walnut Chair by Norman Cherner for Plycraft
£2,212.
Shop now
Take a browse around Pamono's website and marvel at their collections. Their search facility is one of the best we've found on a furniture website.
Disclosure: We may receive a % commission if you click a link and purchase a product or service via this article.
We tell you this in the spirit of openness and please rest assured that all our recommendations are vetted, carefully researched and genuine.