The 1960s Man from UNCLE: The definitive guide to furniture and decor in the original movie sets. Part 4: Helicopter Spies
Part 4 of this 5 part series looks at the film sets, furniture, interiors and décor of The Man From U.N.C.L.E: The Helicopter Spies (1968)
As mentioned in Part 1, Part 2 and Part 3 of this series, the remake of The Man from U.N.C.L.E (2015) directed by Guy Ritchie was released across the globe from 13th August (see full list of release dates on the official Man From U.N.C.L.E website). In anticipation of the launch, we thought it timely to take a good look at the spectacular decor, interiors, furniture and lighting in the film sets of the much loved and influential original 1960s TV series and their feature film spin offs.
Please take a look at the preface to this feature series together with an outline of the cultural and political zeitgeist (and an indepth look at U.N.C.LE. HQ) in Part 1 before reading this! You've read and digested? Then please continue!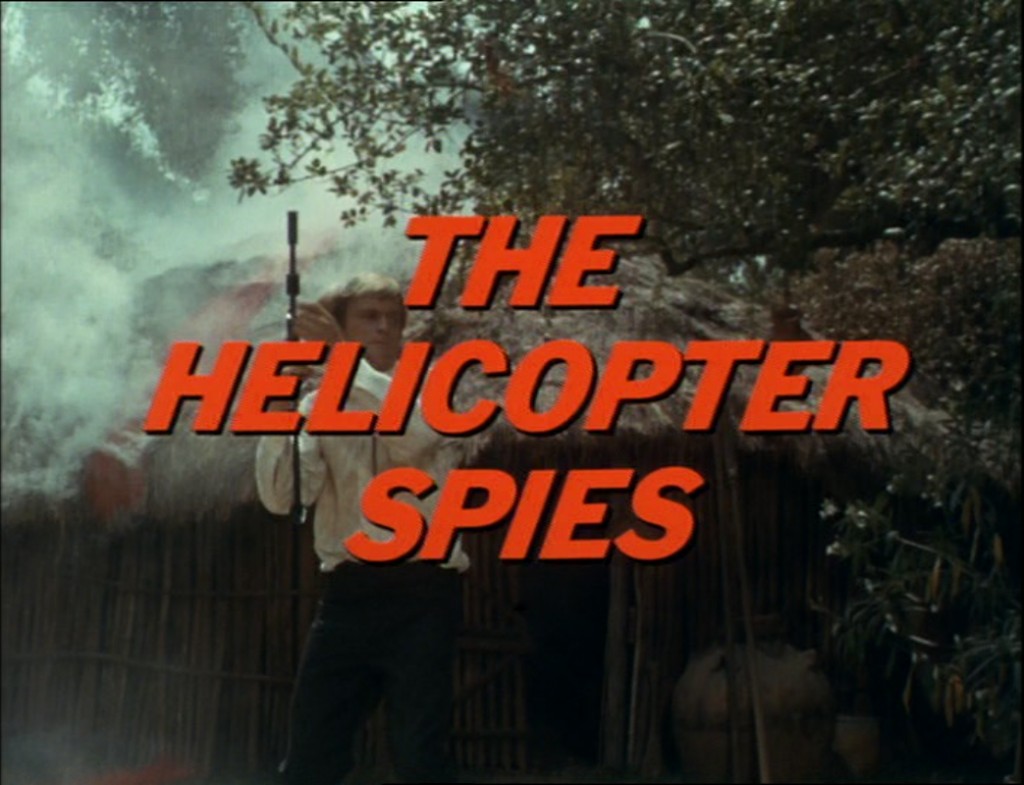 The Helicopter Spies (1968).
Set decoration by Henry Grace (also The Twilight Zone, Dr. Kildare) and Hugh Hunt (also Ben Hur, Forbidden Planet).
This seventh feature length film spin-off was based on the fourth season TV episode 'The Prince Of Darkness Affair' of 1967 and came the closest of the film series to showing a TV episode intact, with just a few minor changes. This time the agents witness the destruction wrought on an African village by Dr. Kharmusi using a "thermal prism". U.N.C.L.E then seeks out notorious safe cracker (and former thermal prism researcher himself) Luther Sebastian to help them obtain the device.
There are two scenes of particular note in The Helicopter Spies which pop with interiors inspiration. The first is the Moroccan/African pad of Dr. Kharmusi.

The main lounge area features a gorgeous, intricate, light turquoise/pistachio day-bed complimented with scatter cushions in sky blue, gold, pink and yellow – perfect for lazing the day away in (especially should one be wearing a sequined copper mini dress). By the side of this day-bed sits a blue jug with berber metal design work on a Moroccan side table:

To the left we see a bold as brass lamp, and in the background an antique North African carved chest.

The eclectic mix of coloured cushions are quite inspiring.
The Moroccan look is an enduring trend. Moroccan Bazaar in the UK have a fantastic range of floor standing lights such as this handsome trio: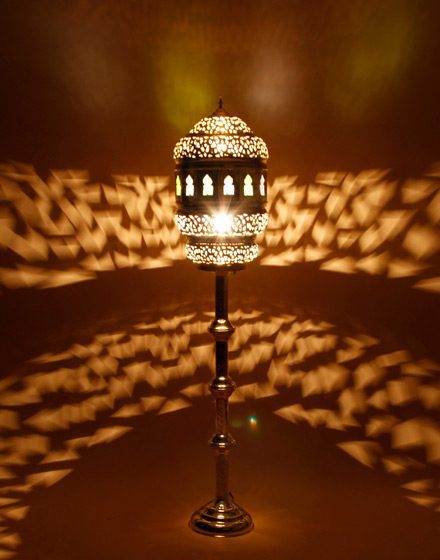 They are currently also selling this commanding Moroccan Chest of Drawers with Bone Inlay (£3,600.00)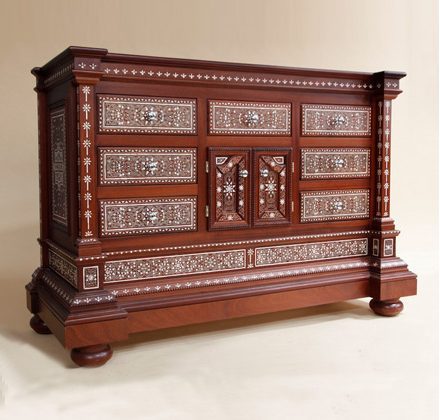 Berber Trading (based in USA and ship worldwide) sell a large range of Moroccan seating and antique chests including this one below in teakwood:
Moroccan screens are another way to introduce this exotic look. One Kings Lane have this wooden four-panel screen with an intricate floral design not unlike the day-bed shown above.
One Kings Lane (based in USA and ship worldwide) also have a 'Global Fusion' section on their website with many bold and bohemian vintage accents with an international influence – from vibrant glassware, classic Moroccan lanterns and tribal pillows which create a comfy area for lounging. They also currently have this pair of brass engraved Moroccan vessels:
And this beverage set:
The candelabra below is very grand, complete with an incense burner on top.

The bedroom of the same location features light salmon pink semi-transparent drapes, a center-piece table with white ceramic vessel and glass candelabras.
The turquoise pouffe here is fabric covered, but you can find leather ones quite easily such as this from Moroccan Bazaar:

We also see in this bedroom location (below) a light turquoise/pistachio chair with intricate detailing (matching the day-bed in the lounge) and a typical 1960s table lamp (Man from U.N.C.L.E set designers were crazy about their table lamps as seen in the other features in this series).

The pièce de résistance though, has to be the silver ornate bed head completed with a deep yellow patterned bed spread and a hanging Moroccan lamp.
We managed to track down a very similar bedspread: Eloisa Orange Cotton 3-piece Quilt Set (£98) from Overstock.com:
Just Morocco currently have this elaborate, handtooled metal Moroccan silver bed head:
And when it comes to Moroccan hanging lights, Moroccan Bazaar have a large collection including this large traditional Moroccan iron and glass hanging lantern (£62.50):
So now we've had our Moroccan fix, let's fly across the globe to the other location of note in the Helicopter Spies – Sebastian's wife's house in LA, which is a more grown up affair.
Note the classic damask blue and gold flock wallpaper seen here behind a bust of Nietzsche.

Design Your Wall have a very similar plush flocked wallpaper:

Retro Wallpaper also have this original 1970s flock retro wallpaper in blue damask on gold, available via Etsy.

and I Love Wallpaper have this shimmer damask metallic wallpaper in teal and gold:

Sebastian's wife's bedroom is another matter altogether. We find a young man, definately not her husband, sitting up against the most stunning tufted, satin yellow headboard and matching yellow, satin quilted bed spread. As a child I would have recoiled at this, but right now I find it jaw dropping and makes your common garden, John Lewis plain cotton Oyster duvet cover seem like a very dull choice indeed.
As luck would have it Beggars Banquet have this Gold Quilted Satin Bedspread for sale on Etsy.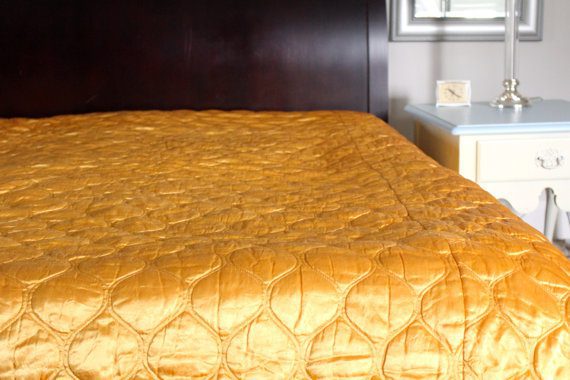 Unlocked Vintage on Etsy (ship worldwide) have these 1960s twinsize headboards in tufted, mustard yellow, crushed velvet and brass.
Check out also the gold/yellow curtains and free standing clothes rail/jacket stand, as well as the ceiling hanging light shades either side of the bed. A bedside ashtray is also an essential detail in any 1960s bedroom, it would seem.
Stay tuned for the next installment on The Man From U.N.C.L.E interiors, furniture and set design, coming soon.
Next up: Part 5 – How to Steal The World (1968)

Read Part 1 in this series: (intro, background and UNCLE HQ) >
Read Part 2 in this series: The Spy With My Face (1965) >
Read Part 3 in this series: The Spy With My Face (1965) >

Note: We titled this piece the 'definitive' guide as you won't find much on the internet about U.N.C.L.E. film sets – neither film stills nor analysis in this much detail. And we should know because we've been searching for weeks! This series of articles is the result of blood, sweat and several solo tears! To fellow writers and bloggers, that means don't lift this content without express prior permission and a link please.
Watch it!
Watch the TV series on iTunes now or order the complete TV series and the feature film spin-offs on DVD – all from our store, or by using the links in the sidebar next to this story (on desktop) or under this story (mobile and tablet).
Other sources for 60s furniture and décor:
The Old Cinema
Euro Vintage
Shagpile carpets:
Furnibarn Fine Carpets
Ryalux.
Chiswick Auctions host a 20th Century and Contemporary Art and Design Sale, the next one is on 22nd September 2015 – see Chiswick auctions.co.uk.
The Decorative Home and Salvage Show.
Panomo
1st Dibs
The Modern Marketplace
Danish Homestore
An excellent reference source for the period is Anne Bony's book Furniture & Interiors of the 1960s, published in 2004 which you can buy from our store.