The 1960s Man from UNCLE: The definitive guide to furniture and decor in the original movie sets. Part 3: The Karate Killers
Part 3 of this 5 part series looks at the film sets, furniture, interiors and décor of The Man From UNCLE: The Karate Killers (1967).
As mentioned in Part 1 and Part 2 of this series, the remake of The Man from U.N.C.L.E (2015) directed by Guy Ritchie is released across the globe from 13th August. In anticipation of the launch, we thought it timely to take a good look at the spectacular decor, interiors, furniture and lighting in the film sets of the much loved and influential original 1960s TV series and their feature film spin offs.
Please take a look at the preface to this feature series together with an outline of the cultural and political zeitgeist (and an indepth look at U.N.C.LE. HQ) in Part 1 before reading this! You've read and digested? Then please continue!
The Karate Killers (1967).
Set decoration by Henry Grace, Don Greenwood Jr and Richard Pefferle.
This film sees Napoleon Solo and Illya Kuryakin jet-setting around the globe to track down a secret formula that was divided into four parts and left by a dying scientist with his four daughters, all of whom live in different countries. Evil T.H.R.U.S.H agent Randolph also wants the formula, and is aided by his karate-chopping henchmen.
The secret formula is discussed and analysed in a laboratory which ticks all my boxes for set design and also my graphic eye, including coloured liquids in multi-shaped glass jars and bottles. These are set against a baby blue background of chemistry work units.

We also see walls, ducting and a chair in a contrasting mustard yellow and – a theme used several times on Karate Killers – pipe-work painted in multi-coloured stripes, here in grey, yellow and orange. An interesting way to add colour and life to a boring set of pipes and an idea well worth considering for home or office. There's a good blog post on Ehow by set designer Benna Crawford on 'How to Paint Metal Pipes'.
Later we find ourselves in a ski lodge, and as the cold snow falls outside we come across two canoodling characters finding warmth from each other (as well as from splendid jumpers) on a shag pile carpet in front of a lemon yellow, fabric covered, curved sofa with contrasting cushions in burnt amber.
The ski hotel lobby features yet another 1960s table lamp (Man From U.N.C.L.E is dripping with them) adjacent to sage green, fabric covered arm chairs.
On the hotel lounge bar we find Napoleon Solo helping himself to some popcorn in a lovely silver bowl and a fine glass ashtray.

The silver bowl is possibly from Georg Jenson or Tiffany & Co: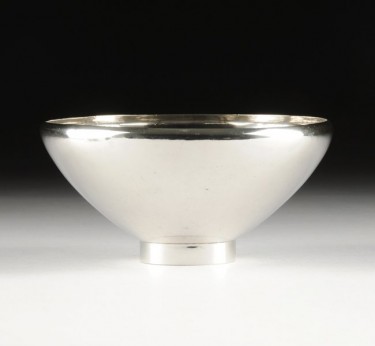 An alternative would be this Alessi bowl available from John Lewis for £112.
In terms of the blue and white ("milk glass") bowl or ashtray, it's most likely Murano glass which was made on the Venetian island of Murano and which led Europe glassmakers for centuries, developing or refining many technologies including crystalline glass, enamelled glass (smalto), glass with threads of gold (aventurine), multicolored glass (millefiori) and imitation gemstones made of glass.
We have found similar pieces from Etsy: This Murano Barbini 1950s large glass bowl below is currently for sale from Sister Jane Vintage.

This vintage Murano triple cased, bubble glass ashtray is for sale by Vintage And Gems (6.5 x 6.5 inches). It would also make a nice dish for sweets or jewelry.
There is even an online museum dedicated to the art of vintage ashtrays.
Following our globe trotting, crime fighting U.N.C.L.E. agents around the world, we find ourselves transported to Japan to a typical Geisha house with Japanese screens and traditional Tatami, straw mat flooring. Apart from the Giesha's beautiful costumes what really steals this scene here is the unusual shaped Japanese hanging lanterns in red and green.
The Hanging Lantern Company (UK) do a large range of paper hanging lanterns, as do the Paper Lantern Store in USA.
Cut to a series of corridors and factories to chase around manically in – again, with the brightly painted pipe work and metal work – no detail in Man For U.N.C.L.E is left unturned.
Stay tuned for the next installment on The Man From U.N.C.L.E. interiors, furniture and set design, coming soon.
Next up: Part 4 – Helicopter Spies (1968)
Read Part 1 in this series: (intro, background and UNCLE HQ) >
Read Part 2 in this series: The Spy With My Face (1965) >

Note: We titled this piece the 'definitive' guide as you won't find much on the internet about U.N.C.L.E. film sets – neither film stills nor analysis in this much detail. And we should know because we've been searching for weeks! This series of articles is the result of blood, sweat and several solo tears! To fellow writers and bloggers, that means don't lift this content without express prior permission and a link please.
Watch it!
Watch the TV series on iTunes now or order the complete TV series and the feature film spin-offs on DVD – all from our store, or by using the links in the sidebar next to this story (on desktop) or under this story (mobile and tablet).
Other sources for 60s furniture and décor:
The Old Cinema
Euro Vintage
Shagpile carpets:
Furnibarn Fine Carpets
Ryalux.
Chiswick Auctions host a 20th Century and Contemporary Art and Design Sale, the next one is on 22nd September 2015 – see Chiswick auctions.co.uk.
The Decorative Home and Salvage Show.
Panomo
1st Dibs
The Modern Marketplace
Danish Homestore
An excellent reference source for the period is Anne Bony's book Furniture & Interiors of the 1960s, published in 2004 which you can buy from our store.