The 1960s Man from UNCLE: The definitive guide to furniture and decor in the original movie sets. Part 2 The Spy With My Face
Part 2 of this 5 part series looks at the film sets, furniture, interiors and décor of The Man From UNCLE: The Spy With My Face (1965).
As mentioned in Part 1 of this series, the remake of The Man from U.N.C.L.E (2015) directed by Guy Ritchie with Armie Hammer, Henry Cavill, and Hugh Grant as Kuryakin, Solo and Waverly, is released across the globe from 13th August. In anticipation of the launch, we thought it timely to take a good look at the spectacular decor, interiors, furniture and lighting in the film sets of the much loved and influential original 1960s TV series and their feature film spin offs.
Please take a look at the preface to this feature series together with an outline of the cultural and political zeitgeist (and an indepth look at U.N.C.LE. HQ) in Part 1 before reading this! You've read and digested? Then please continue!


The Spy With My Face (1965).
Set decoration by Henry Grace and Robert R. Benton.
This, the second big-screen spin off, is based on the first season TV episodes "The Double Affair" (1964) and "The Four Steps Affair" (1965). T.H.R.U.S.H, U.N.C.L.E.'s adversary (known by fans, but never officially confirmed as Technological Hierarchy for the Removal of Undesirables and the Subjugation of Humanity) captures Napoleon Solo and replaces him with a look-alike to infiltrate U.N.C.L.E. and an operation called "The August Affair". While Solo is being held prisoner, Illya Kuryakin becomes suspicious by the unusual behaviour of his friend, and slowly starts to realise what has happened. The real Solo must escape and stop his T.H.R.U.S.H double before it's too late.
Napoleon Solo's (Robert Vaughn) put-upon air hostess girlfriend Sandy has an apartment shining with 60s delights. The bedroom which she shares with her air hostess friend, features two single beds with decorative, white painted bamboo, wicker or rattan bedsteads with matching bedside table.
We should not underestimate the humble piece of rattan furniture and can take inspiration from Sandy's abode: such pieces can be picked up in bric-a-brac shops very cheaply and painted or sprayed with a variety of contemporary colours to fine effect – as Centsation Girl points out in her article Decorative Rattan Roundup.
On that note, Horse and Hair are currently selling this rather beautiful 1960s white rattan chair (above) via Etsy.
Sandy's beds feature duck egg blue bedspreads, matching drapes/curtains at the windows and a splendid white lamp base and shade with detailing that perfectly matches the beige carpet and the beige (possibly hessian) wallpaper.
Hessian wallpaper. Hessian wallpaper. Hessian wallpaper. If I say it enough it might magically appear on my walls (him indoors turned his nose up at the idea when I tried to suggest this last decorating session). Harlequin do a range of hessian wallpapers called Juniper available in several shades from Wallpaper Direct.
Note also in this bedroom – the high-gloss white, rotary dial telephone in the foreground which the set decorator must have taken a particular liking too seeing as it crops up across many of the different Man from U.N.C.L.E. sets, including these two completely separate scenes from How To Steal the World:
You can find replica newly made rotary phone's from Geemarc or Protelx, both through Amazon.
Anique GPO Phones sell a large selection of original and reconditioned retro 60s phones.
Back to Sandy's bedroom –  the white dressing table and mirror is also worthy of a mention.
There are a plethora of gorgeous 60s table lamps throughout the entire TV and film series including this one on the dressing table.

Her lounge area adjacent to the bedroom is a slightly older, conformist approach and is probably a rented apartment which contains a wooden (possibly rosewood or teak) sideboard, chair, coffee table and side table.
The Old Cinema in Chiswick London have a large selection of retro sideboards, coffe tables and chairs, as do Euro Vintage.
Later we see Solo taking a shower in a bathroom which is a cacophony of peachy pink with gold highlights. Pink and gold. What a colour combo!
Solo is a cheeky chappy if not a little vain. And a womanizer of the highest order. Just like our Bond.
Check out the pink shag pile carpet…
Furnibarn Fine Carpets have a large selection of deep shag pile carpets manufactured from 100% Pure New Wool, as do Ryalux.
This freestanding gold towel rail below doubles up perfectly as a place to drape your gun holster because…
…I guess special agents would never risk being without their gun, even in the shower:
Check out those rose pink marble tiles. If done with style this would be a wonderful and daring look to recreate. It's also possible to get the high end look of marble without the cost using a lightweight resin that features a thin veneer of marble from Matimex which creates stunning effects – see some of the examples at matimex-ceramic.com.
I am also deeply in love with the Tea Rose marble tile from Rockstone below. Indian Stone Point also do a beautiful pink marble: Marble, the royal stone of India, is widely used in temples, hotel and homes. Indeed the Taj Mahal in Agra is grand the embassador of Indian Marble (which I photographed in much detail on a visit a few years ago).
Later we find ourselves in a more up market apartment which surely must have influenced Don and Megan's apartment in Mad Men. We know Mad Men writers and production team were familiar with Man From U.N.C.L.E. as they reference it an episode where Don's daughter Sally is seen watching it on TV (the scene where she, ahem… fondles herself).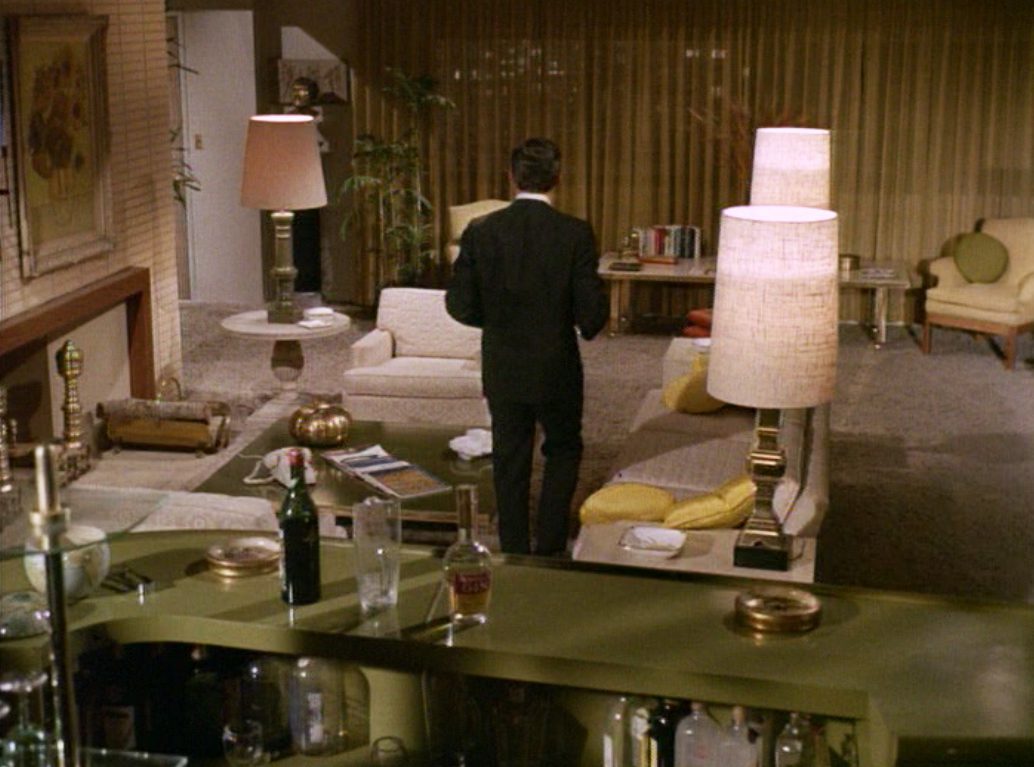 Open plan became all the rage and this apartment has it's own in-lounge bar in a fabulous 60s sage green which tones perfectly with the sage green lamp stand, semi transparent window drapes, coffee table and scatter cushion. All of which contrast with the classic off-white fabric 3-piece sofa adorned with lemon yellow satin cushions.
When it comes to flooring, shag pile is the name of the game again, this time in beige. We also see more gold highlights in the grand lamp bases (want), ice bucket, ashtrays and fire grill – above which sits a framed Van Gogh Sunflowers.

My search for brass and gold lamps led me to Nana Nic Nacs in Florida, on Etsy who will ship this one they currently have in stock worldwide:

Are you getting as hooked as me?
Read Part 3 of this series: The Karate Killers (1967) >
Read Part 1 of this series (intro and a look at UNCLE HQ) >
Note: We titled this piece the 'definitive' guide as you won't find much on the internet about U.N.C.L.E. film sets – neither film stills nor analysis in this much detail. And we should know because we've been searching for weeks! This series of articles is the result of blood, sweat and several solo tears! To fellow writers and bloggers, that means don't lift this content without express prior permission and a link please.
Watch it!
Watch the TV series on iTunes now or order the complete TV series and the feature film spin-offs on DVD – all from our store, or by using the links in the sidebar next to this story (on desktop) or under this story (mobile and tablet).
Other sources for 60s furniture and décor:
Chiswick Auctions host a 20th Century and Contemporary Art and Design Sale, the next one is on 22nd September 2015 – see Chiswick auctions.co.uk.
The Decorative Home and Salvage Show in Cheshire and Lincolnshire.
Panomo
1st Dibs
The Modern Marketplace
Danish Homestore
An excellent reference source for the period is Anne Bony's book Furniture & Interiors of the 1960s, published in 2004 which you can buy from our store.  Other good books covering the 60s include:
Sixties Design by Philippe Carner (Taschen)
Sixties Source Book by Nigel Cawthorne (Quantum Books)
Miller's Collecting the Sixties (Miller's)
Sixtiestyle (Middlesex University Press)
David Hicks A Life of Design (Rizzoli)